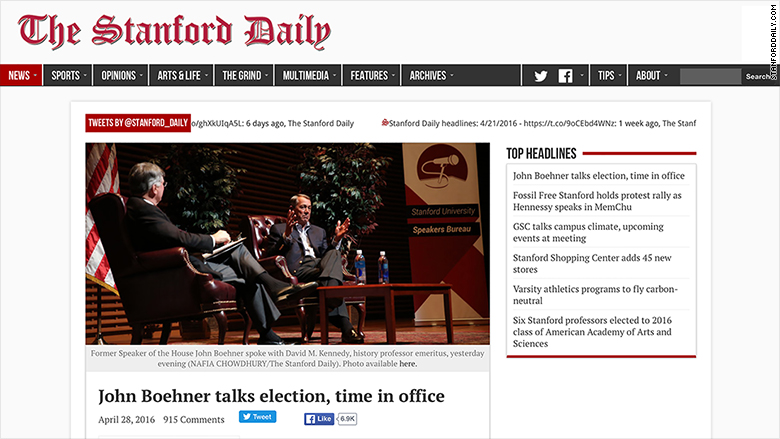 Former House Speaker John Boehner's colorful comments about fellow Republican Ted Cruz dominated the political news cycle on Thursday.
But before they popped up on the New York Times, the Washington Post and CNN, the Stanford Daily had the story first.
The Daily's Ada Statler-Throckmorton covered an event on Stanford's campus Wednesday, where Boehner referred to Cruz as "Lucifer in the flesh."
"I get along with almost everyone, but I have never worked with a more miserable son of a bitch in my life," Boehner said of the GOP presidential hopeful.
The Daily's story, which made no reference to "Lucifer" quote in the headline, caused the paper's web traffic to skyrocket.
Victor Young Xu, the managing editor of news at the campus paper, said that on a typical day the entire site draws between 11,000-13,000 page views.
Xu said by the afternoon, the Boehner story had 222,000 page views. "Every time I refresh the page there are hundreds more," Xu said.
For a comparison, the second most viewed story published over the last year -- a satirical piece on Stanford's admissions rate -- drew a little more than 40,000 views.
The Boehner story went viral, picking up coveted links from traffic juggernauts like the Drudge Report.
"I don't think we've ever had a connection with Drudge before," Xu said. "Many of the major newspapers, networks, and political outlets have reached out to us for the audio, photo, and to interview the writer. We've been inundated with media request emails starting at 4 a.m."
"You could certainly say that it's been a good day for our site," Xu told CNNMoney.
Boehner's comments were perhaps the biggest story of the 2016 campaign on Thursday. The former speaker's name trended on Twitter for much of the day, and Cruz was forced to respond.
As the story made the rounds online, Washington Post correspondent Jim Tankersley took time to consider what it might mean for the college newspaper that broke the news.
"I hope the @Stanford_Daily servers can handle this," Tankersley said on Twitter.