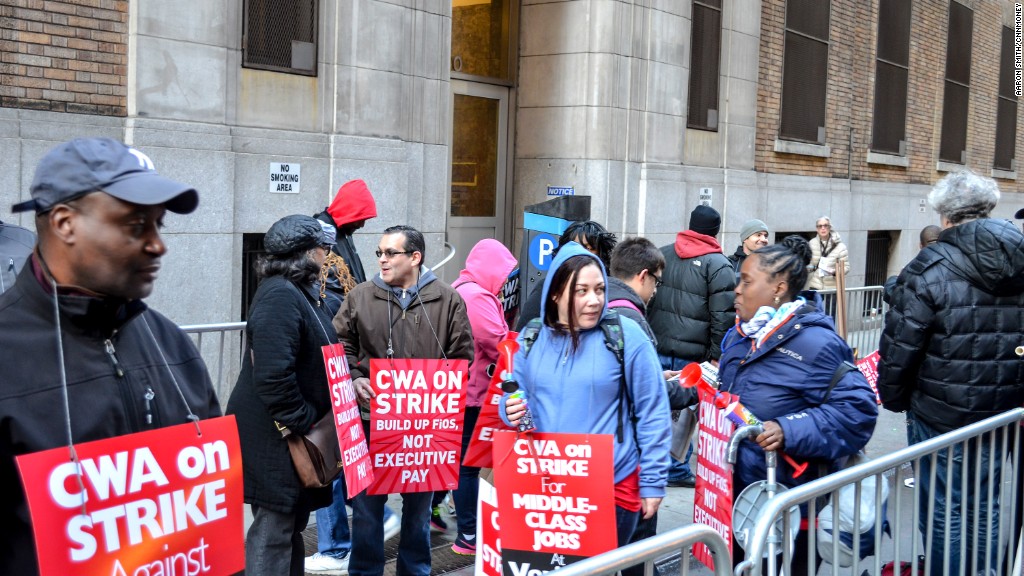 Verizon has put forward its "last, best and final offer" to striking workers.
In a statement released Thursday, Verizon said that it had met with union leaders and presented them with a contract after more than 10 months of negotiation.
The news comes more than two weeks after 36,000 workers went on strike -- the largest since 2011.
According to Verizon, the proposal includes a 7.5% wage increase and protection from layoffs.
The plan stipulates that the layoff protection is guaranteed so long as Verizon gets more control to manage and deploy workers. This would include "voluntary retirement incentive offers and other workforce flexibility changes."
It also features increased healthcare contributions from the company and will continue to provide workers with a 401K company match and a pension plan.
Related: Verizon: Sabotage incidents soar as workers strike
Thursday's meeting took place with the Communications Workers of America and the International Brotherhood of Electrical Workers, which represent the workers.
The IBEW could not be reached for comment, but the CWA said in a statement that workers will "remain on strike and are standing strong on the picket lines."
"Executives refused to back off of callous proposals that would hurt working families and destroy middle class jobs," the CWA continued. "Verizon workers, customers and shareholders need the company to get serious about negotiations and building a stronger company."
The CWA said it was considering its next steps.
Related: Giant cable merger cleared by regulators
In its statement, Verizon (VZ) said more than 1,000 of the striking workers have gone back to work.
Most of the strikers work for Verizon's landline phone business and FiOS network -- not its wireless service.
They went on strike after going without a contract since August.
Striking employees claim that Verizon has outsourced 5,000 jobs to workers overseas and that it's hiring more low-wage, non-union contractors. They are also upset about being relocated temporarily to work in remote areas.
In earlier negotiations, Verizon said it wanted to send workers all around its territory, which spans from Massachusetts to Virginia, for up to two months at a time. However, it later publicly said it would take that off the table in future negotiations.
Verizon, which reported about $132 billion in revenue in 2015, said this "final" proposal also had provisions about temporary work, but didn't specifically outline what that entailed.