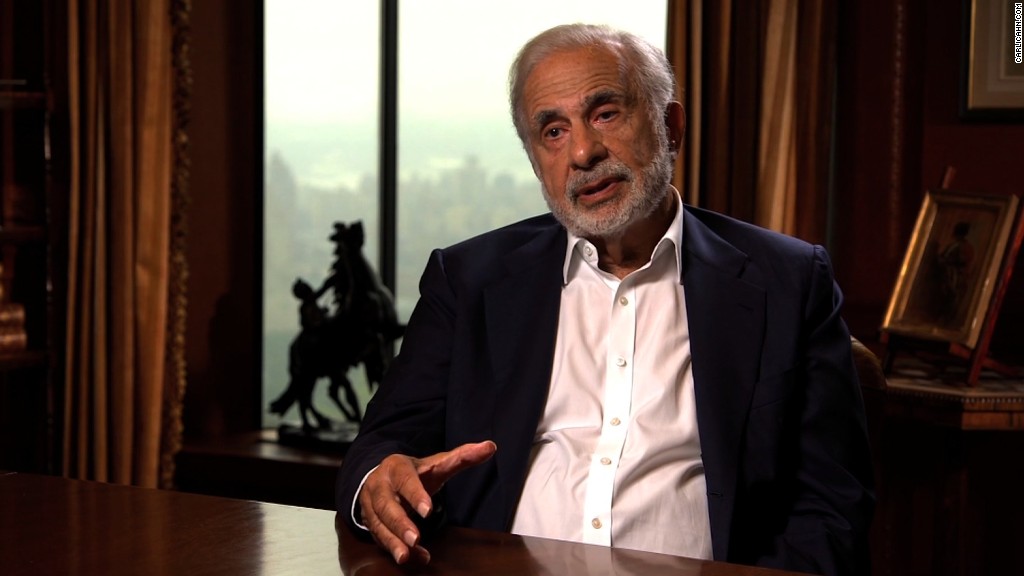 Famed investor Carl Icahn has dumped all of his Apple stock, but he's bullish on Donald Trump.
Icahn was an early backer of Trump's bid for the White House. On Thursday, he made the case for why Trump is the best candidate for the economy.
"I think Donald is a pragmatist. He's going to do what's needed for this economy," Icahn said on CNBC.
Trump is a fan of Icahn too. The Republican presidential frontrunner has said in the past that he would like Icahn as his Treasury Secretary, but so far Icahn has declined.
Related: Trump and Cruz predict stock market 'crash'
Economic and business experts have blasted Trump for his proposals to put big fees and taxes on Chinese and Mexican goods coming into the United States.
Some have gone as far as to say President Trump would cause a recession.
"His plan to put on a 35% tariff on goods imported would sink this economy into a recession," says Meg Whitman, a Republican and CEO of HP Enterprises (HPE).
But Icahn dismisses that criticism as too extreme. He says Trump is a businessman who understands what really drives growth.
Icahn says he "used to be more sympathetic" to the Republican Party, but it has since lost his respect. The exception is the more independent-minded Trump.
Related: Confidence in the U.S. economy plunges
"Congress is in this massive gridlock," says Icahn, largely because Republicans are "obsessed with this deficit to the point it's almost pathological."
Icahn has joined a growing pack of business and economic leaders calling for the U.S. government to increase spending to boost growth. Trump has vowed to slash the debt if he is elected into office, but Icahn thinks he would do more spending, if needed.
The U.S. economy was at a standstill in the first three months of the year. A drop in federal spending was one of the factors pulling growth down.