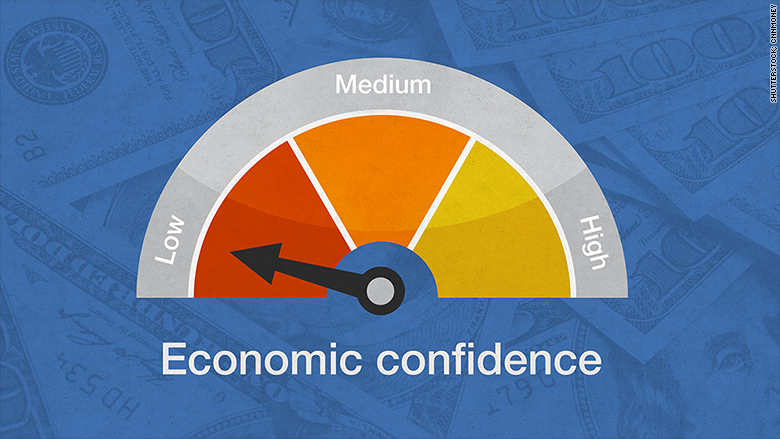 Americans' confidence in the economy is sinking.
It's at its lowest level so far in 2016, according to the weekly survey known as the Gallup U.S. Economic Confidence Index.
In fact, people's perceptions of the economy haven't been this poor since late August when stock markets around the world were crashing and there were fears China might be slipping into a deep downturn.
It was clear why people were anxious in August. It's not so clear now. The U.S. stock market has rebounded and is within striking distance of new records. Hiring remains strong and home prices are rising.
Yet Americans don't see brighter days ahead: 60% say the economy is "getting worse," according to Gallup.
"My biggest concern is that we continue to bleed momentum," says Lindsey Piegza, chief economist at Stifel. The U.S. economy only grew 0.5% in the first three months of the year -- far below the 2% average in recent years.
Related: U.S. economy only grows 0.5% in Q1
Blame Election 2016?
Some blame the U.S. presidential candidates for their negative rhetoric and making people feel worse about the economy -- and their futures -- than the reality. Voters of both parties overwhelmingly cite the economy as their No. 1 concern in exit polls.
Donald Trump doesn't just bash the economy, he portrays it as a "loser."
Even the Democratic presidential candidates have been talking down the economy. Hillary Clinton says right on her campaign website, "Our country is standing again, but we're not yet running." Bernie Sanders goes further, proclaiming the economy is rigged and the middle class is "collapsing."
But there is likely something deeper going on than politics. After all, Gallup's economic confidence measure started to really dip in mid-March. By then, the candidates had been slamming the economy for months.
Related: Americans give the economy a "C" grade
Economic reality check is hitting
Here's an economic reality check: Incomes for the lower middle class and middle class still aren't showing much sign of a pickup. In 2014 and, especially, 2015, people were told not too worry: more people were getting jobs and the economy was gaining momentum. Raises would soon follow.
But that isn't happening at a healthy pace. As a result, Americans appear to be more cautious on how they spend their dollars.
Retail spending fell 0.3% in March. And gas prices, while still incredibly cheap, have crept up 13 cents a gallon in the past month, another red flag for consumers.
"Optimism is waning now. People aren't pessimistic, but more realistic," says Piegza.
Related: How I went from middle class to homeless
America needs a spring and summer bounce
How Americans feel about the economy actually matters a lot -- for Election 2016 and for what happens to growth the rest of the year. That's why the consumer confidence gauges are getting more attention than usual.
It's not just Gallup showing a dip. The Conference Board asks people what they think will happen to U.S. business in the next six months and the results show that they are less optimistic. The University of Michigan's Index of Consumer Expectations is also down 10% from last April.
These aren't massive dips. Confidence isn't as low as it was in the worst of the Great Recession, but the downward trend is concerning.
The United States often goes through a winter slump that is followed by a spring and summer bump. Getting that boost will depend largely on whether Americans feel good enough about their finances to go out and spend at restaurants, shops and tourist sites.