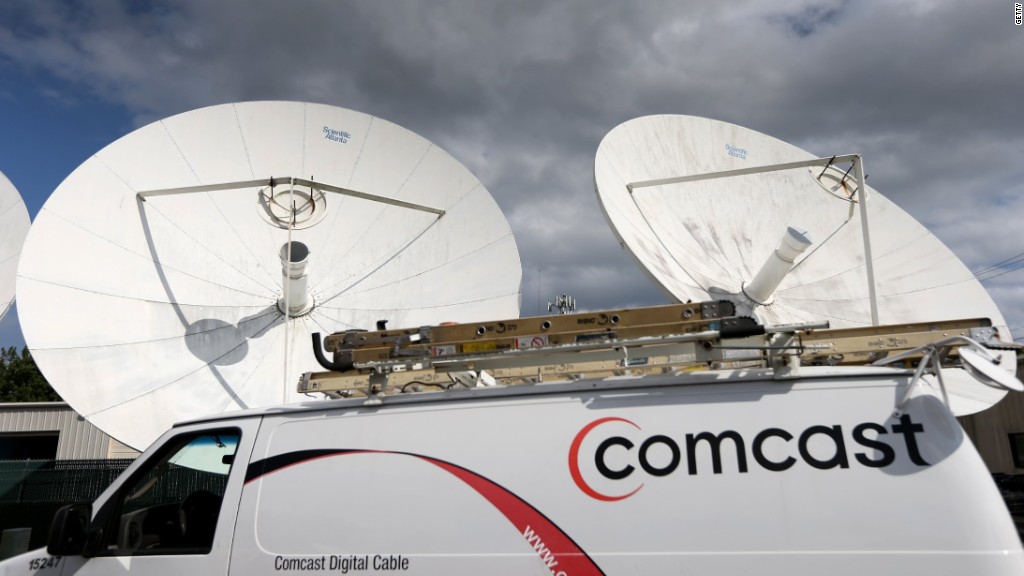 Good news video streaming fans! Comcast has decided to increase its data cap more than three-fold.
Comcast had been testing a 300 gigabyte monthly data cap. That's equivalent to about 100 hours of HD movies on Netflix.
But the company found some extra capacity in its couch cushions. It's now opting to give its customers 1 terabyte (1,000 gigabytes) instead.
According to Comcast, that 1 terabyte would let customers stream about 700 hours of video and download 60,000 high-resolution photos each month. Meanwhile, 16 people could simultaneously play online video games every hour the entire month long.
Customers who still need more data will have to pay through the nose to get it, though. Comcast increased the price of its unlimited data plan. Customers paying an extra $30 or $35 for unlimited data will now have to pay $50 on top of their regular bill.
The new data cap and unlimited data price will take effect on June 1.
More than 99% of Comcast's customers "do not come close" to using a terabyte of data, according to Marcien Jenckes, head of Comcast's consumer cable services. About 8% of Comcast customers used more than the old 300 GB data cap each month.
Comcast (CMCSA) says a typical customer uses only about 60 gigabytes of data in a month -- just 6% of the new cap.
The change was a result of listening to customer feedback, Comcast said.
"We have learned that our customers want the peace of mind to stream, surf, game, download, or do whatever they want online," Jenckes said. "So, we have created a new data plan that is so high that most of our customers will never have to think about how much data they use."
Comcast says it is still trialing its data caps, and it has not yet rolled them out across the country. Only about 12% of Comcast customers are subject to the data caps, according to Craig Moffett, an analyst at MoffettNathanson.
Comcast says it has no current plans to add more cities to its data cap trials.
Most of Comcast's largest competitors don't have caps.
Time Warner Cable (TWC) has experimented with optional data caps, but they have not gained significant traction with customers. Charter (CHFN) said it would not impose any limits on customers' broadband usage for three years if its proposed deal for Time Warner Cable is approved by regulators.
Cablevision (CVC), Bright House and Verizon (VZ) FiOS also don't have data caps, and they have pledged not to impose them in the future.
But Cox and AT&T (T) U-Verse do have caps that are similar to Comcast. Both of those companies have caps that begin at 150 GB. Smaller providers, like MediaCom and Suddenlink, also have caps.