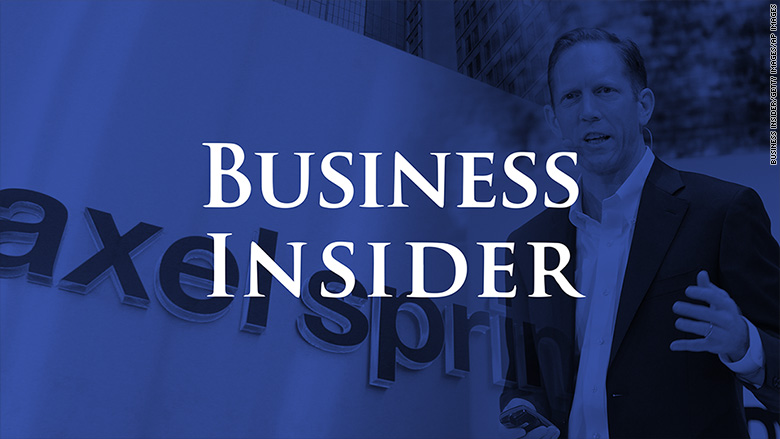 As 2015 drew to a close, it felt as though the year -- and the future -- belonged to Business Insider.
Emboldened by a $343 million sale to the German publishing giant Axel Springer, the company's co-founder, Henry Blodget, set his sights on global domination.
Business Insider, Blodget declared in November, was poised to become the "financial publication of record for the digital generation." He has shared with staffers another ambitious goal -- attracting a billion readers to Business Insider's constellation of sites.
But while Blodget was discussing his lofty vision, morale inside Business Insider's Manhattan newsroom had arguably never been lower.
The announcement of the sale to Axel Springer in September was followed by an exodus among Business Insider's editorial staff, which former employees have attributed to mismanagement on the part of a former top editor and exhausting pressure to grow the company's audience.
Four more staffers announced that they are leaving this month -- including a top editor on Wednesday -- bringing the total number of post-sale departures to 24, by CNNMoney's count.
Related: Atlantic Media eyes Quartz sale
The exodus has included some of Business Insider's most high-profile reporters and editors: Hunter Walker, Sam Ro, Caroline Moss and Julia La Roche.
Blodget, a former stock analyst who agreed to a lifetime ban from the securities industry to settle allegations that he gave out fraudulent advice, tried to ease concerns over recent departures during a staff meeting held last Wednesday at the company's headquarters.
He told those gathered in the newsroom that turnover is actually an encouraging sign because it means that employees are succeeding.
In a statement to CNNMoney, Blodget noted that Business Insider's newsroom has grown 70% in the last year, a time when other outlets have cut back.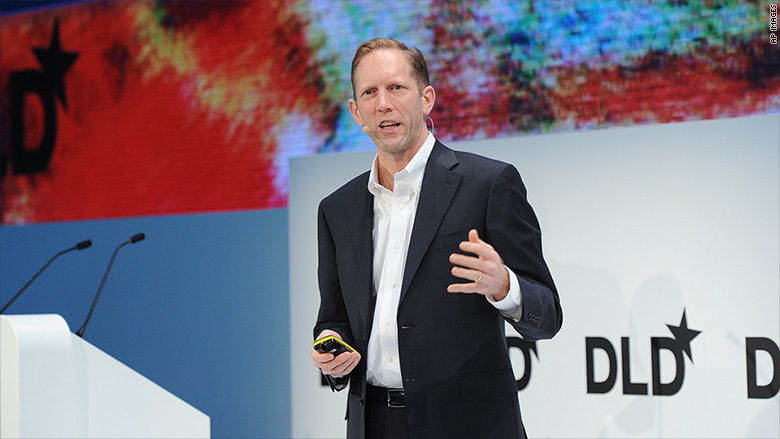 "It's always sad to say goodbye, but we have incredible journalists who are in great demand, and they are frequently presented with wonderful opportunities elsewhere," he said. "Happily, we have a very deep bench and amazing new colleagues joining us all the time, so our team just gets stronger."
A spokesperson said that Business Insider has hired 24 new editorial employees since November, when Axel Springer officially acquired the company.
There are other indicators that Business Insider is thriving. Blodget said last summer that revenue had increased by 60% from the year before. The spokesperson declined to provide specifics on financials, but said, "The company is ahead of plan and is seeing very solid growth this year."
Its paid research service, BI Intelligence, has been a boon to the company's bottom line. The service has 5,000 subscribers, among them large banks and top consulting firms, and has enjoyed a 200% increase in revenue year over year, according to the spokesperson.
And traffic continues to be strong. Business Insider was the third most visited financial news site last month, according to comScore. The company says that its entire media rollup, which includes Tech Insider and the seven international editions of Business Insider, has surpassed 100 million unique visitors.
Related: Arianna Huffington: Media is failing America in how it's covering Trump
Traffic demands loom over virtually every digital newsroom, but Blodget is particularly zealous about expanding the company's audience.
At a meeting held late last year, he encouraged staff members to increase their output.
If they were writing five posts a day, one former employee recalled, Blodget urged them to write six.
In a memo sent to staff in January, Blodget envisioned a day when Business Insider's sites and distributed content generate one billion monthly unique visitors.
"Yes, one billion!" Blodget said in the memo, which was obtained by CNNMoney.
Blodget called it a "long-term opportunity, not a near-term one," but he rattled off several reasons why it was an attainable number.
He explained that another 2-3 billion people will come online in the next decade." After a period of inevitable consolidation, Blodget said that "the best digital companies will survive and then thrive, everyone else will get subsumed."
That relentless pressure to generate more traffic contributed to the recent exodus, according to multiple staff members who have left the company.
Some of the former staffers described a palpable mood shift that began when Axel Springer first took a stake in Business Insider last year. At that point, the demand to grow traffic ratcheted up.
Related: Is Verizon the only one that wants Yahoo?
"Management wanted immediate results," one former employee said.
Until recently, the person charged with delivering those results was Jay Yarow, who left Business Insider in February to take over CNBC's digital operations.
After starting there as an intern in 2007, he ascended to the role of executive editor last year.
His managerial style chafed some of his newsroom colleagues.
Yarow urged reporters and editors to deliver scoops to exist alongside BI's robust offering of clicky slideshows and shareable posts. But it became increasingly clear, according to multiple former staff members, that traffic took precedence over enterprise reporting.
"Unless you were writing stories about Chris Pratt's jeans... you were seen as someone not carrying your weight," said one employee who left recently.
Another ex-staff member said that "management wanted scoops, but only if they were easy and we could get them quickly."
"This combination of demands was challenging and often seemed insurmountable," the former staff member said.
Mandates vary across the staff, but many reporters are expected to bring about one million unique visitors to the site each month. Those quotas went up under Yarow, according to an employee who left last year. Another former employee said reporters would get an earful if their section did not meet its monthly traffic goal.
Yarow declined to comment. Business Insider has yet to name his replacement, but a spokesperson indicated that a hiring decision might be coming soon.
"Stay tuned," the spokesperson said.
Blodget said that Axel Springer "never mandated or suggested that we expand our traffic,"
In a statement, Axel Springer said, "Our philosophy is to let Business Insider be Business Insider, not to intervene in how they run their newsroom, which is the envy of many."
As for the traffic quotas, a company spokesperson said there is "no one-size-fits all goal for each journalist, and many journalists have no such targets."
Despite the recent frustrations, Business Insider still inspires a tribal-like loyalty among current and former staff members.
Many of the former employees who spoke to CNNMoney were effusive in their praise of both the company and Blodget.
But those employees also said that Blodget needs someone to act as a buffer against his capricious story assignments and incessant traffic-related demands.
"Henry is not the problem. Henry is what makes the company great," one former employee said. "But he just needs a right-hand person who can keep him in check."