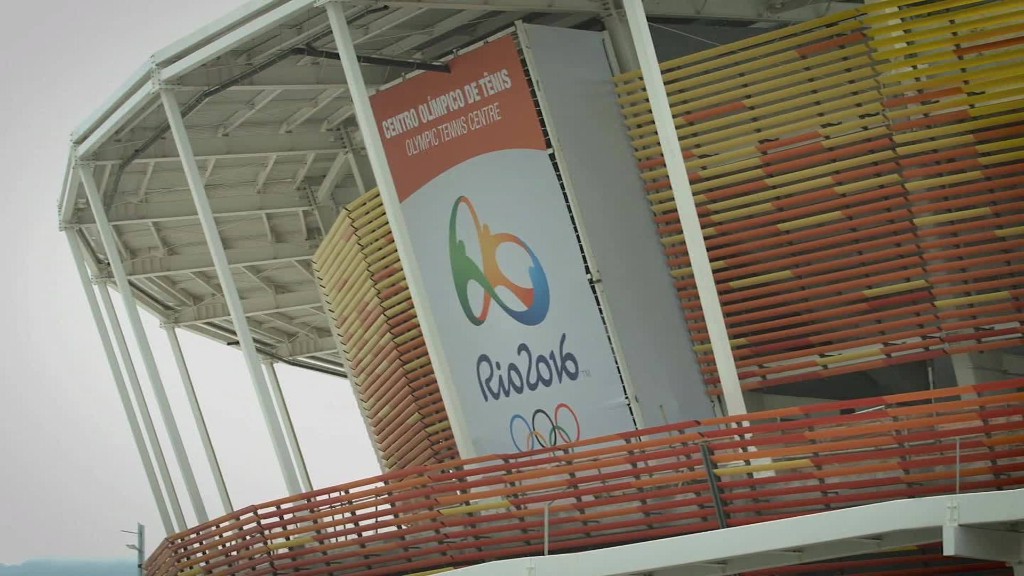 It's a tale of two economies for Latin America's two largest countries.
Brazil is in a political crisis and severe recession. Its president, Dilma Rousseff, could be impeached this year. Brazil's debt has also been downgraded to junk status.
Meanwhile, Mexico is growing, politics are relatively stable and its debt was upgraded in 2014.
"Right now Mexico and Brazil are as different as they come, this is day and night," says Alberto Ramos, head of Latin America economic research at Goldman Sachs.
Those diverging narratives bore out Friday. Officials in Brazil announced that unemployment hit nearly 11% in the three months ending in March, way up from about 8% a year ago. Mexico's unemployment rate is 3.7%.
Mexico's economy grew 2.7% between January and March compared to a year ago, according to government figures released Friday. That's even slightly better than what most economists expected.
That's not stellar growth but it's a lot better than Brazil's economy, which shrank 3.8% in the fourth quarter last year and its central bank estimates the economy will contract 3.5% this year.
Related: Venezuela announces 2-day work week
Experts say this divergence between Latin America's two top players results from two very different strategies: populist policies with lots of public spending versus economic reforms, spending cuts and a diverse economy.
Rousseff and her like-minded predecessor, Luiz Inacio Lula da Silva, have greatly increased public spending since 2002 to bring millions of Brazilians out of poverty. By 2010, their populist policies vaulted both leaders to victory and soaring popularity.
It was a feasible strategy in the 2000s because Latin America benefited from a boom in commodity prices and seemingly insatiable demand from China.
Brazil's dependence on China increased greatly during the Lula and Rousseff administrations. In 2003, Brazil's exports to China were worth about $4 billion. By 2013, that figured ballooned to $46 billion, according to IMF data.
China's slowdown now spells bad news for Brazil. The value of its exports there has declined in the last two years, along with Brazil's growth prospects. But even as the economy turns south, Rousseff has refused to tighten the belt and cut down public spending.
Related: Brazil's recession worse than feared
On top of rising unemployment, consumer confidence has plummeted and inflation rose nearly double digits last month. Much of Brazil's political crisis stems from the recession and massive bribery scandal at the state-run oil company, Petrobras, which has ensnared many of the country's top business and political personalities.
"When commodity prices were booming, Brazil did not diversify...Mexico has a more diversified economy," says Marc Chandler, global head of currency strategy at Brown Brothers Harriman.
In February, Mexican officials announced they would trim costs at the country's state-run oil company Pemex, and hope to offer more of its oil fields to foreign, private investors.
Mexico's economy also isn't as tied to commodities like oil as Brazil. Mexico has a robust manufacturing sector -- something that's come under scrutiny from presidential candidates like Bernie Sanders and Donald Trump. Mexico's economic fate is more tied to the U.S. than China because of stronger trade ties.
Related: Brazil recession: 'I've never seen anything like this'
This is not to say Mexico is free of problems. Like many developing countries, growth in Mexico has slowed in recent years amid the global economic downturn. In recent months its manufacturing sector and oil exports have both declined.
President Enrique Pena Nieto is also facing a wave of criticism over a report regarding 43 missing students in Mexico who are believed to have been murdered. The report, published Sunday by the Inter-American Commission of Human Rights, criticized the government for its lack of cooperation during the investigation. Pena Nieto's popularity has declined in recent months too.
A recent explosion at a Pemex chemical plant killed 28 people and it's raised questions about safety at the government-run facility.
Despite the tragedies, Mexico is a much more stable country than Brazil currently, experts say.
"There is a big difference between the two of them," says Chandler.