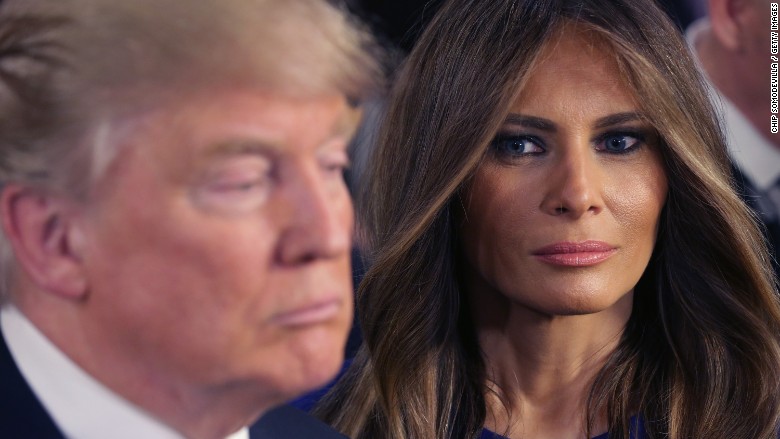 Trump trolls aren't happy with a new GQ feature on Melania Trump.
The journalist behind the story, Julia Ioffe, is being targeted with antisemitic vitriol for writing the piece that Melania has called "disingenuous."
Ioffe, who is Jewish, has been tweeting some of the harassment she's received, like a cartoon of a man on his knees being shot execution-style.
Much of the online harassment has referenced the Holocaust. Doctored photos of Ioffe with a Jewish star emblazoned on her breast; a twisted "Back to the Future" movie poster, changed to read "Back to the Oven."
The GQ story, which went live on Wednesday, paints a picture of the elusive Melania Trump, who's originally from Slovenia.
Ioffe details Melania's first encounter with Donald Trump in 1998 at a New York Fashion Week party. She was 28, and Trump had a date but hit on Melania when the woman he came with was in the restroom, Ioffe wrote.
The piece also draws comparisons between Donald Trump and Melania's father. Their similarities, according to Ioffe, include not only their physical appearance -- both tall, "portly" with blond hair -- but also in their work ethic and combative nature.
Ioffe interviewed Melania herself, people who've known her throughout the years, and relatives, including a half-brother she's never met.
In the article, Melania says she's against Botox and injections. But Ioffe cites a former roommate of Melania's who claims Melania once returned home from a two-week vacation with bigger "buxom."
In a Facebook post on Wednesday, Melania called the GQ piece "yet another example of the dishonest media and their disingenuous reporting."
She said that Ioffe "had an agenda" and called it "unfair scrutiny." She accused the story of having "numerous inaccuracies," something that Ioffe refuted on Twitter.
Related: Donald Trump was a nightmare landlord in the 1980s
The trolls aren't directly linked to Donald Trump -- but are taking up Melania's defense.
Trump has been called out for his xenophobia and antagonistic approach in the past. Former Republican presidential candidate Mitt Romney said, "Trumpism has become associated with racism, misogyny, bigotry, xenophobia, vulgarity and, most recently, threats and violence."
Ioffe, who is originally from Russia, tweeted that she's received phone calls from blocked numbers. When she picks up, she hears Hitler speeches.
She also received a call from someone claiming to be from a company called "Overnight Caskets." "We got an email with your phone number saying you'd need our services," Ioffe detailed in a post on her Facebook page.
Ioffe, who writes for publications like the New York Times and the New Yorker and previously worked at The New Republic, tweeted: "For those among you who appreciate irony: my family arrived in the U.S. (legally) 26 years ago today. We were fleeing anti-Semitism."
On Facebook, Ioffe called the backlash "an endless torrent of vile, timeless hate."
Ioffe will speak with Brian Stelter on CNN's Reliable Sources this Sunday at 11am ET.
The online attacks against Ioffe, though religiously charged, aren't so different from those targeted at many women. Game developer Brianna Wu has received everything from death threats to bomb scares. Alison Rapp, who worked in marketing at Nintendo, has also been the subject of relentless online harassment, which she posits is why she lost her job.