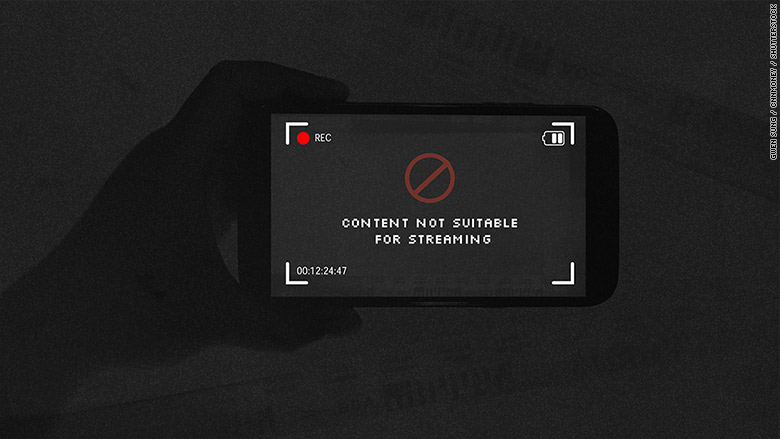 The misuse of technology continues to get more disturbing, from revenge porn to cyberbullying to livestreaming rape.
It's no Lifetime movie: An 18-year-old Ohio woman, Marina Alexeevna Lonina, is accused of using Periscope to livestream the rape of her 17-year-old friend.
Lonina's defense said she was filming to document evidence of the crime, but Franklin County prosecutor Ron O'Brien has a different explanation: "She got caught up in the likes," he told CNNMoney.
While the case is extreme, experts say it's just a modern take on a familiar issue.
"Invading someone's privacy through the misuse of technology isn't new," said Ari Ezra Waldman, an associate professor of law at New York Law School.
Waldman founded the Tyler Clementi Institute for CyberSafety at New York Law School, named after the 18-year-old Rutgers student who committed suicide in 2010 after his roommate covertly livestreamed him having sex with another man. Its goal is to provide education, research and legal outreach for victims of Internet harassment.
Waldman said the Lonina case "strikes us as revolting that someone can watch a rape and do nothing about it. It shows how minimally someone can value another person's life."
The nefarious use of technology has played out in other recent headlines as well.
When a man murdered two Virginia journalists last August, he filmed himself carrying out the crime and then uploaded the video to Facebook and Twitter. Earlier this year, two brothers videotaped their brother opening fire on police officers.
Related: One hashtag can ruin your life
It's not hard to imagine these instances being livestreamed by the perpetrators.
YouTube introduced its 360-degree livestreaming this month. Facebook (FB) rolled out its "Live" platform earlier this year and is reportedly working on a standalone video app. Last year, Twitter bought livestreaming startup Periscope before it had even publicly launched. And Amazon (AMZN) snatched paid $970 million for Twitch, a popular videogame-streaming service.
Does more access to livestreaming mean more real-time crimes could show up in our newsfeeds?
Companies rely heavily on a mix of user reports and internal moderation to flag inappropriate or illegal content -- but it's imperfect.
In Lonina's case, she streamed 8 to 10 minutes of video via Periscope, according to prosecutor O'Brien.
Related: One tweet ruined her life
O'Brien didn't know how many people viewed Lonina's livestream but said that he watched the video, which had "likes" throughout. (Periscope videos are viewable for up to 24 hours after they're broadcast.)
Periscope said it does not comment on individual accounts or investigations, but its community guidelines state that "explicit graphic content is not allowed."
Authorities were alerted to Lonina's Periscope by a friend of hers who saw the livestream -- but content like this could fly under the radar if someone didn't have many followers who were watching and/or flagging it for review. (It was unclear whether Lonina's account was private or public.)
A Twitch spokesman told CNNMoney that all livestreaming platforms face similar challenges in moderating content.
"You have to be constantly vigilant," he said. Twitch -- like the others -- has reporting tools that allow users to flag content. It also has a 24/7 moderation team that reviews flagged reports.
Related: Online harassment summit tackles tough issues -- but has few attendees
Facebook said the nature of its platform is to connect with friends and family, which is why it's hopeful that people will use livestreaming to share family-friendly moments. (It's idealistic, but its "real name" policy is an attempt to keep people authentic -- although it's hit some very public snags.)
Still, Facebook is realistic.
"If someone does violate our Community Standards while using Live, we want to interrupt these streams as quickly as possible when they're reported to us," it said in a statement. "We do understand and recognize that there are unique challenges when it comes to content and safety for Live videos. It's a serious responsibility."
The immediacy and unpredictable nature of livestreaming makes it especially difficult to monitor.
"Livestreaming tech provides a platform for harassment that's contemporaneous as opposed to after the fact," said Waldman, who added that it's not merely on the platform to moderate. "The nature of the Internet sometimes brings out some of the worst in people, [and] we need to do a better job at teaching people how to use technology appropriately."