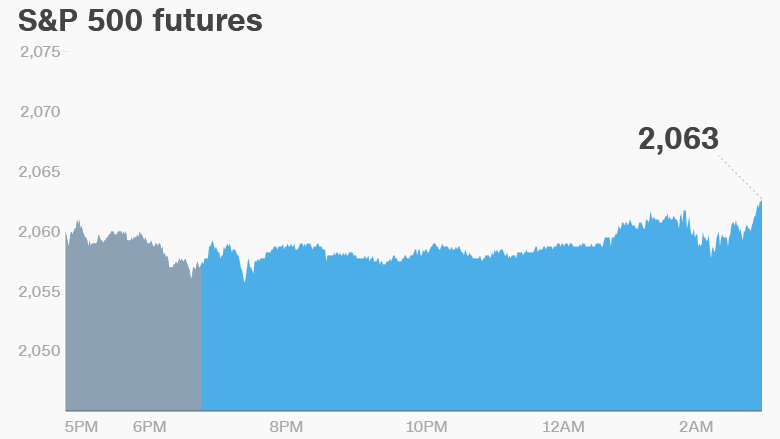 Goodbye April, hello May.
Markets are starting the new month looking more positive. That's not hard -- last week, they suffered their worst five-day period since February.
Overall, the majority of investors managed to eek out gains in April, but barely. The average gain for the month was 0.3%, according to Openfolio, an app where investors can compare their performance and asset allocation with others. People who owned popular tech darlings Apple (AAPL), Netflix (NFLX), Microsoft (MSFT) and Twitter (TWTR) got slammed.
U.S. stock futures are edging higher, and most European markets are also up.
Here are the four things you need to know before the opening bell rings in New York:
1. Stock market movers -- Baker Hughes, Halliburton: Baker Hughes (BHI) and Halliburton (HAL) announced Sunday they are ditching their $34.6 billion merger plan because of regulatory challenges and general oil industry conditions. Baker Hughes is down 2.8% premarket.
The second and third largest companies in the oil and gas industry first reached a deal in November 2014. Halliburton now has to pay Baker Hughes a $3.5 billion termination fee by Wednesday.
2. Earnings and economics: Sysco (SYY) is among the companies expected to post quarterly earnings ahead of the opening bell.
AIG (AIG) will report its latest quarter after the close.
At 10 a.m. ET, the Institute for Supply Management will post its monthly update to the ISM Index, which gauges expansions and contractions in the U.S. economy. A reading below 50 denotes a contraction, and March's 51.8 was the first since last September to be in the expansion zone.
Purchasing managers index readings are also coming out across the world on Monday. The data give a snapshot of factory activity in individual countries.
In China, the index edged down to just above 50, while India posted 50.5. Any number below 50 indicates a deceleration in the manufacturing sector. Eurozone countries posted a better than expected reading of 51.7 -- another positive sign from Europe after surprisingly good GDP data last week.
3. International markets overview: European markets are mostly up in early trading. But there's no trading in the U.K. because of a public holiday.
Asian markets ended the session mostly lower.
Japan's Nikkei was the biggest loser in Asia, shedding 3.1% at the close. The Japanese yen has strengthened further against the dollar since the Bank of Japan's decision last week to hold fire on more stimulus measures. A strong yen hurts Japanese exporters.
Markets in Hong Kong, China and Taiwan were also closed Monday.
4. Recap of last week: The Nasdaq slumped for the seventh consecutive day on Friday, while the Dow sank to its deepest weekly decline since early February.
Friday's closes: The Dow Jones Industrial Average was down 0.3%, the S&P 500 shed 0.5%, and the Nasdaq dipped 0.6%.