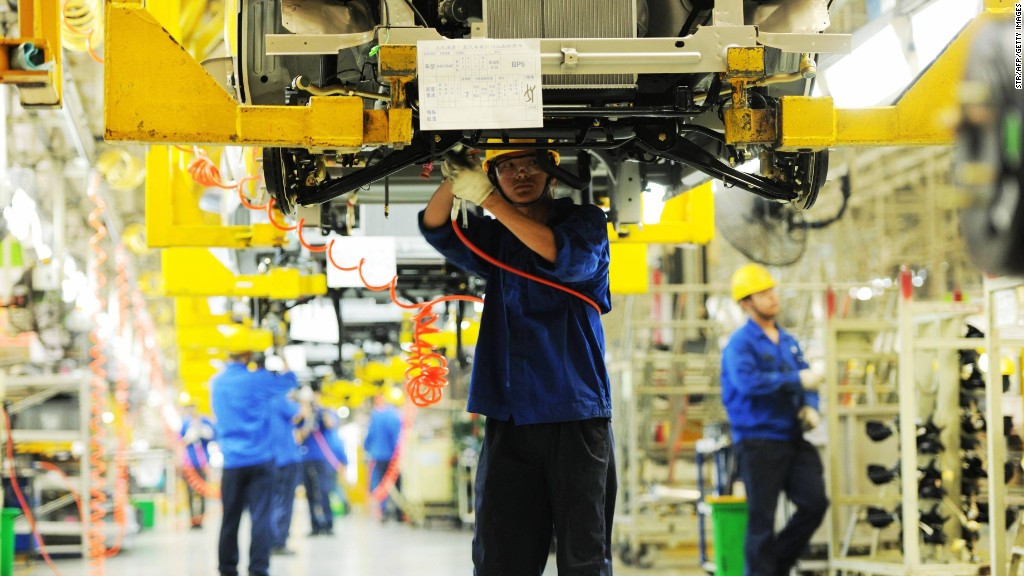 Remember the massive plunge in commodity prices last year? For some investors in China, it already appears to be a distant memory.
Steel and iron ore prices have buoyed in recent weeks. Other commodities -- including cotton and even eggs -- are also reported to have seen startling surges on Chinese futures exchanges. The moves have prompted some experts to worry that a new bubble is forming.
Higher iron ore prices, for example, have "triggered speculative trading in iron ore futures in China," said Rajiv Biswas, Asia-Pacific Chief Economist at IHS Insight. But the rally "may falter due to continued excess supply in world iron ore markets," he warned.
The situation is making Beijing a little worried. China's top securities regulator last week ordered commodities futures exchanges to bring speculative trading under control, although the statement posted on its website didn't provide details on how.
Related: China plans to cut 1.8 million coal and steel jobs
It's no surprise officials are concerned, given China's long history with asset bubbles. As China's property market was on the wane a few years ago, people started piling into stocks, fueling last year's meteoric rise and spectacular crash that sent shock waves around the globe. Lately, investors have gone back to real estate, and now, commodities.
Some of the recent boost for raw material prices has been backed by real demand, said Biswas, pointing to a flurry of demand as housing construction ramps up again in China and the government steps in to support infrastructure spending. But a glut of supply for both iron ore and steel continues to put a drag on the price increases.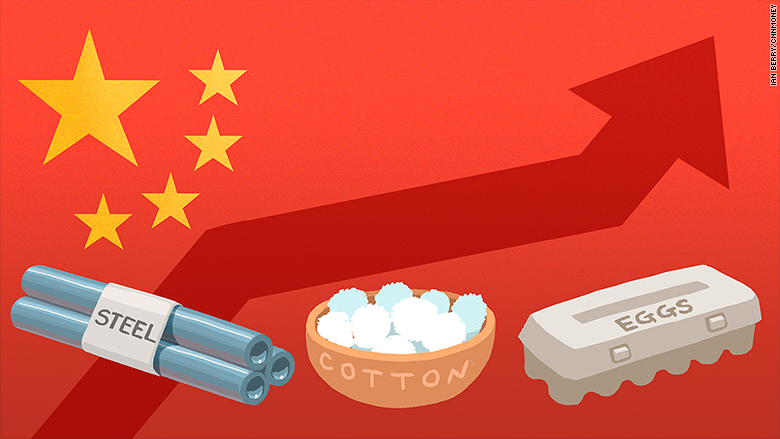 Beijing's recent efforts to prop up growth by pumping more money into the economy may be having unwanted side effects, some experts say.
"Growing regulatory concerns over speculation in commodities are another example of how throwing more credit at China's economy creates more problems than it solves," said Andrew Colquhoun of Fitch Ratings. "Risky and speculative activity intensifies when credit growth is strong, as it currently is."
China rose quickly in recent decades to become the world's second-largest economy, consuming lots of raw materials to build roads, bridges, factories and skyscrapers.
But as the country grew at its slowest pace in a quarter century last year, construction faltered and demand waned for copper, steel and other materials. Commodities markets, and the countries that depend on them, took a huge hit.
Related: Cheap Chinese steel claims another victim
Excess supply in industries like steel has hurt companies around the globe. Beijing has been accused of dumping its unwanted metal on other markets.
In March, Tata Steel said it was forced to explore a sale of its entire U.K. operations because of plummeting prices.
Earlier this year, things got so bad that the Chinese government announced that it would ax 1.8 million coal and steel jobs and cut production in efforts to tackle overcapacity. Economists applauded the effort then as a painful move in the right direction, since much of China's commodities sector is made up of notoriously inefficient state-owned enterprises.
But the recent rise in steel prices and the Chinese government's stimulus efforts may mean priorities are more likely to shift away from cutting overcapacity, Macquarie's China economist Larry Hu wrote in a research note.