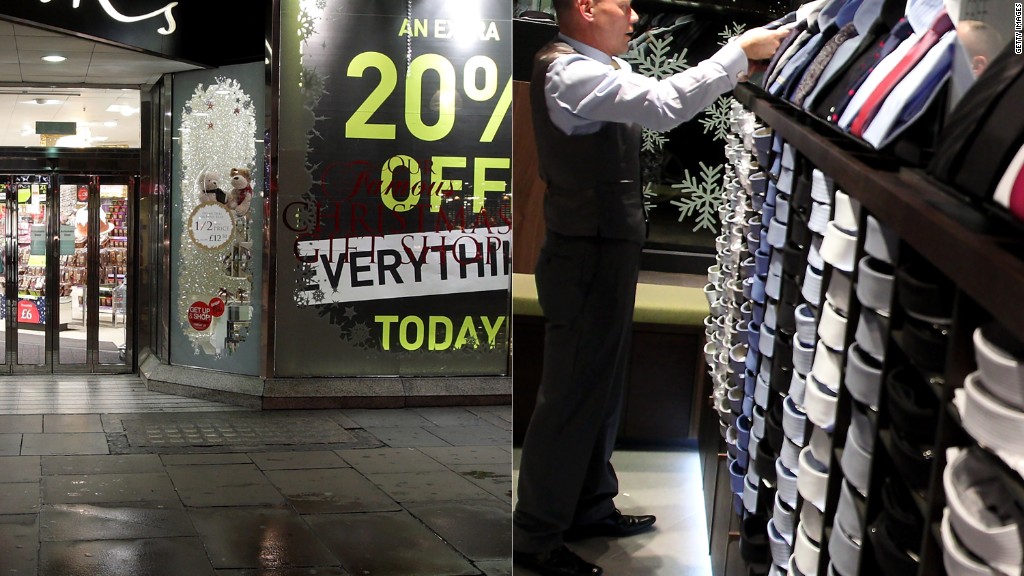 The clock has run out on embattled teen retailer Aeropostale, which filed for bankruptcy on Wednesday after losing money for 13 consecutive quarters.
The company said it would be closing 113 stores in the United States, in addition to its 41 stories in Canada, as it seeks to "achieve long-term financial stability."
Aeropostale listed assets of $354 million in the Chapter 11 filing, while its debts totaled $390 million. The company said it has secured $160 million in financing from Crystal Financial LLC.
The retailer said it intends to emerge from bankruptcy withing the next six months after getting rid of or renegotiating "burdensome" contracts and resolving a dispute with former investor Sycamore Partners.
At the same time, Aeropostale said it would continue shopping itself to potential buyers. Any sale would be announced within the next six months, the company said.
Related: The clock is ticking on Aeropostale
Aeropostale has been under pressure for some time. But sales declines had accelerated recently -- plummeting 16% in the most recent quarter. Even steep discounts could not stop the bleeding.
The company, like other moderately priced brands, was rocked by the fast fashion trend. Stars like H&M, Zara and Forever 21 are responding to the latest fashion trends at warp speed, leaving older brands like Banana Republic and American Eagle in the dust. They're also undercutting the older guys on price -- a critical factor for the target audience.
In April, the New York Stock Exchange sent word to Aeropostale that it would delist the company due to its low trading price.
-- Matt Egan contributed reporting.