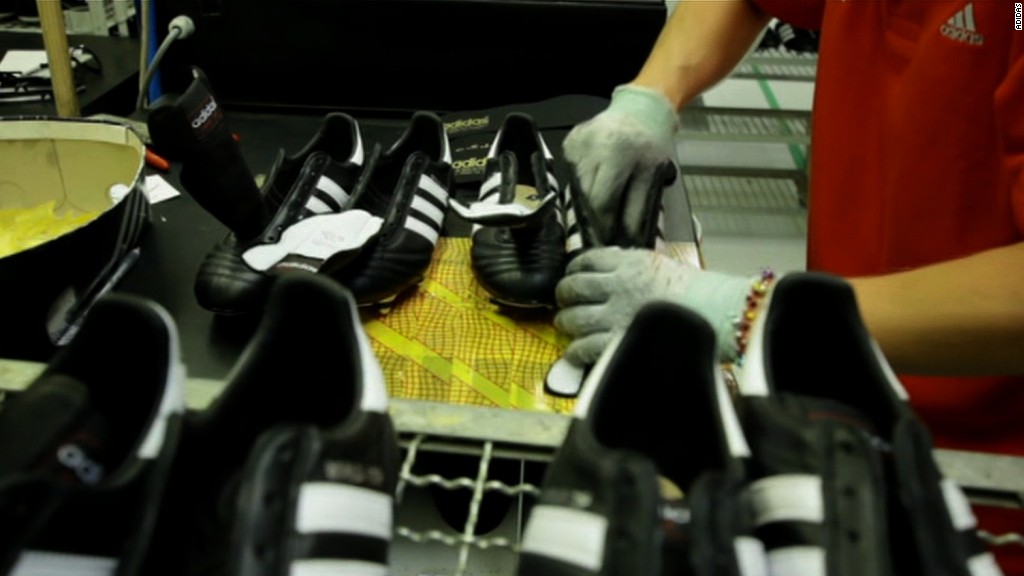 Cue the Run-DMC. Adidas is tearing it up on Wall Street this year -- and leaving rivals Nike and Under Armour in its dust.
Shares of the German athletic apparel giant are up more than 30% this year. Nike (NKE) and Under Armour (UA) are both down more than 5%.
It appears that Adidas (ADDDF) investors are no longer as concerned about the corruption scandal plaguing FIFA -- the governing body for soccer's World Cup.
Adidas is one of the main sponsors of FIFA and the World Cup. The men's Copa America tournament will take place in United States later this summer. Adidas will have a chance to show off its soccer apparel at the Summer Olympics in Rio as well.
And sales of cleats, balls and shin guards are still flying off the shelves.
Adidas reported strong first quarter results on Wednesday, led by solid growth in its football (as in soccer) and running categories in North America, China and Europe.
Several analysts boosted their earnings estimates and price targets for Adidas on Wednesday following the report.
But Adidas does have one notable weak spot -- golf.
Adidas said in its earnings report that it was looking to sell a big chunk of its golf business -- most notably its TaylorMade golf club division as well as Ashworth and Adams.
Related: Adidas to open 3,000 new stores in China
The company plans to hold onto the Adidas-branded golf shoe and apparel business though.
Nike and Under Armour have both bulked up their golf equipment and apparel divisions over the past few years. Callaway (ELY) is also a tough competitor.
Adidas CEO Herbert Hainer told CNNI Wednesday that several interested parties have already "knocked on our door" to ask about the golf business.
The TaylorMade brand clearly has value, but sales slumped in the most recent quarter. So it probably makes sense for Adidas to focus more on apparel for team sports, such as soccer, American football, baseball, basketball and hockey.
And Adidas has stepped up its game, so to speak, in the battle with Nike and Under Armour for superstar athlete endorsements.
In the past few months, Adidas has signed Green Bay Packers quarterback Aaron Rodgers, Houston Rockets star James Harden (and his beard) as well as Sidney Crosby of the NHL's Pittsburgh Penguins to sponsorship deals.
So it looks like Reverend Run isn't the only one doing the illest things in Adidas these days.