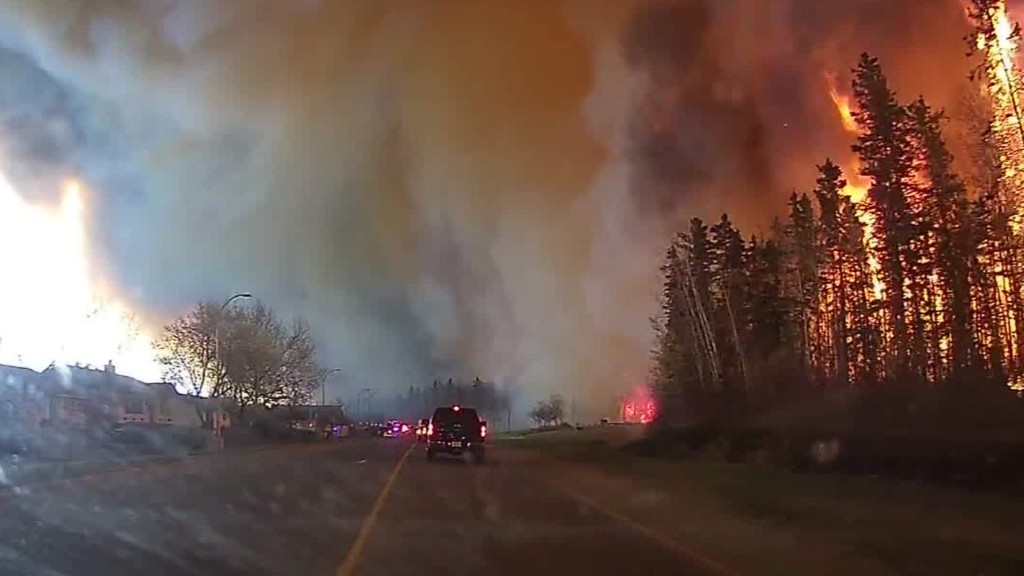 Canada's oil-rich province of Alberta is under siege from massive wildfires. And that's threatening key oil facilities.
Huge forest fires have already torched at least 1,600 homes and forced the evacuation of about 88,000 people in the region, including the entire population of the oil sands town of Fort McMurray.
Forty-nine wildfires were still burning as of Friday morning, and wind gusts of up to 25 miles per hour were expected. Some 1,110 firefighters, 145 helicopters and 22 air tankers are currently battling the fires.
The disaster has caused Royal Dutch Shell (RDSA) to shut down its Albian Sands facility and other producers have had to reduce the amount of oil they are pumping as well.
"This fire is raging near where a lot of the oil activity takes place. This is a very real event and it's taking supply off the market," said Anthony Starkey, energy analysis manager at Bentek Energy.
The fire threatens up to 1 million barrels of daily oil production capability, according to Bentek Energy, which noted that some of that output was already offline for seasonal reasons.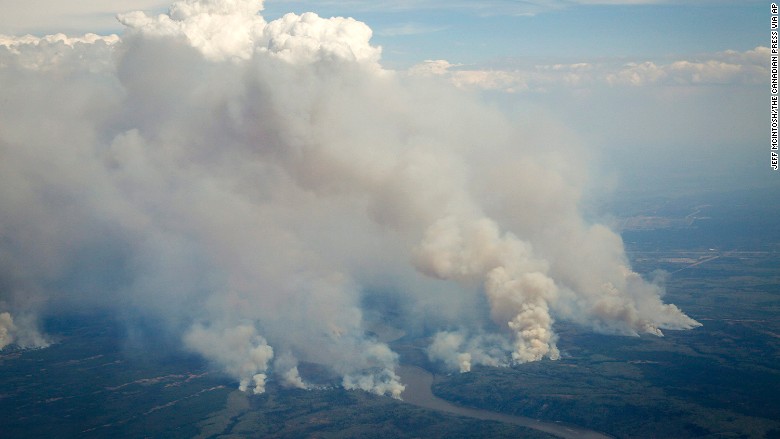 Related: Oil town Americans late on car loan payments
The supply outages from Canada -- one of the world's biggest oil producers and a major source of U.S. imports -- sent oil prices soaring on Thursday. On Friday, prices retreated to trade near $44.25 a barrel.
A number of major oil companies that operate in Canada have been impacted by the forest fire, including Shell and Suncor Energy, (SU) Canada's largest oil producer. Even though Shell's Albian Sands operation is far from the fires, the company said it shut down production to focus on "getting families out of the region." Shell also opened its work camp, the Albian Village, to Fort McMurray residents who were evacuated.
The fire has global ripple effects because it could force the U.S. to import more oil from elsewhere like Saudi Arabia.
After bottoming at $26 a barrel in mid-February, oil prices have raced back to nearly $50 a barrel. The rally has been fueled by hopes of dramatic cuts to production in the U.S.
However, the focus on Canada has shifted attention away from the latest evidence that a huge glut of oil continues to exist. U.S. oil inventories soared by nearly 3 million barrels last week, according to a U.S. Energy Information Administration published on Wednesday.
Starkey said that while domestic stockpiles of oil are not growing as quickly as last year, they are still rising at an "extreme" pace on a historical basis.
"Things are improving, but it's still relative. We are still quite oversupplied," said Starkey.
-- Faith Karimi and Chuck Johnston contributed to this report.