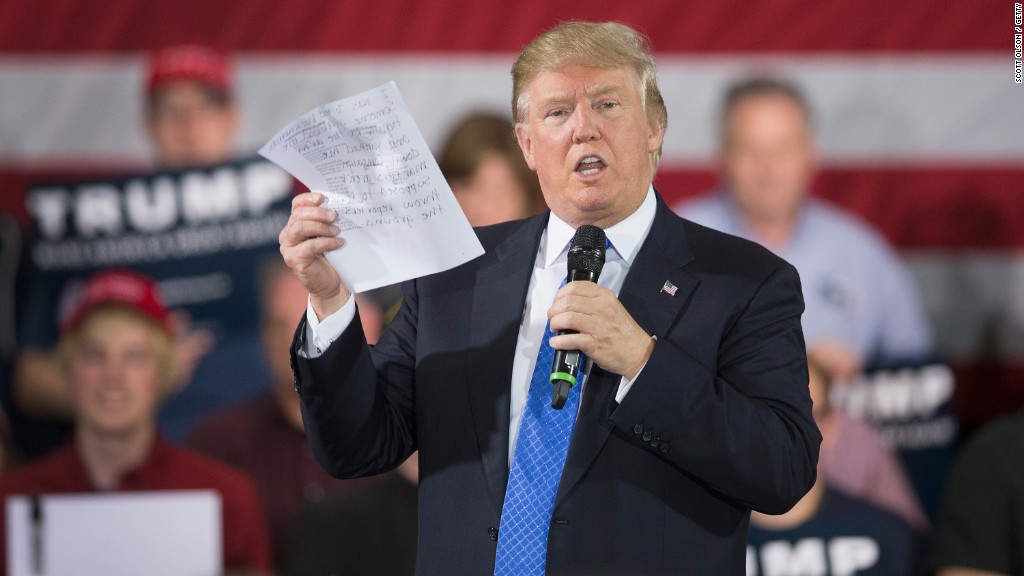 Donald Trump isn't afraid of debt.
"I'm the king of debt. I love debt," Trump told CNN's Wolf Blitzer on Wednesday, seemingly trying to explain the comfort level he has with debt after a long business career that included four bankruptcy filings by his companies.
Trump made the comment in response to a question about whether it's time to bail out Puerto Rico, which is in the midst of an economic crisis. However, Trump said he opposes the bailout because Puerto Rico has too much debt and needs to cut it down, without help from the federal government.
Despite his "love" for debt, Trump is worried about another debt-related issue: how much the U.S. has to pay in interest on its $19 trillion of debt.
"If interest rates go up one percent, that's devastating," the presumptive GOP nominee for president told CNBC on Thursday. "What happens if that interest rate goes up 2, 3, 4 points? We don't have a country."
But Trump raised eyebrows by suggesting an unorthodox approach towards cutting the national debt.
Asked if the U.S. needs to pay its debt in full or if it could negotiate a partial repayment, Trump said: "I would borrow, knowing that if the economy crashed, you could make a deal."
Such a renegotiation risks creating financial turmoil because U.S. Treasuries are considered the safest assets on the planet and a major benchmark for valuing other securities. Calling into question their safety could cause borrowing rates to rise and create confusion in the markets.
At first glance, Trump's endorsement of low rates would seem to make him a fan of Federal Reserve chair Janet Yellen, under whose leadership rates have continued at near-zero. She is also known as a "dove" because of her cautious stance against raising rates.
But Trump told CNBC that if he became president he would "most likely replace" Yellen when her term expires in January 2018. He pointed out that she's "not a Republican."
Trump did call Yellen a "very capable person" and said "people I know have a high regard for her."
Related: Famed investor sounds the crisis alarm
Last year Trump criticized Yellen, who was appointed by President Obama in 2014, for keeping rates low for "political reasons."
But Trump's seemingly-contradictory call for low rates and also replacing Yellen has observers on Wall Street scratching their heads. After all, Republican-leaning Fed chiefs tend to be hawks, not doves. They prefer to raise interest rates more quickly to ward off inflation.
"Are we looking at a dovish, deficit building GOP nominee here?" Michael Block, chief strategist at Rhino Trading, wrote in a note. "So maybe he wants someone more dovish. Like... an actual bird. Or someone in a large bird costume."
Related: Should investors fear President Trump or Clinton?
Trump also threw his weight behind the idea of spending heavily to revamp America's roads and bridges. It's an idea that many Democrats, including Obama, have embraced as a way to breathe life into the economy while simultaneously investing in the future.
"The beautiful thing about infrastructure is it puts people to work, immediately puts people to work," Trump said.
However, some worry that Trump hasn't spelled out a credible way to pay for all that new spending. In fact, on Thursday he reiterated plans to dramatically lower taxes.
"Deficits would explode in his administration," Greg Valliere, chief global strategist at Horizon Investments, said in a report on Thursday.
Related: Everything you want to know about Trump's bankruptcies
This week influential investor Jeff Gundlach predicted Trump will win the White House -- and boost the national debt in the process.
"Let's face it, Donald Trump is extremely comfortable with debt," Gundlach said at the 21st Annual Sohn Investor Conference in Manhattan.
Of course, dramatically higher government spending with no new revenue to pay for it would likely rile financial markets.
In other words, the bond market may sell off and rates will go up -- exactly the outcome Trump warned against.