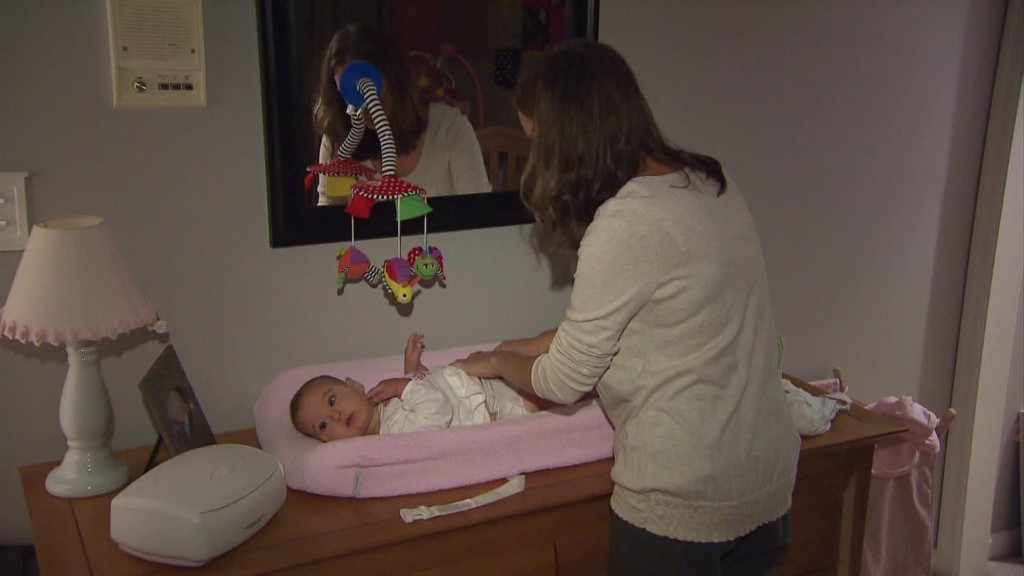 Most people can't afford to take real time off from their jobs without pay.
Yet that's the only choice a majority of U.S. workers have when they have a baby or care for an ailing parent or spouse.
Nearly 25% of women go back to work within two weeks of having a baby, mostly because they can't afford to be out any longer, said Ellen Bravo, executive director of the advocacy group Family Values @Work. "That's a scandal."
The situation may soon change, however, thanks to a slow but steady trend among states to provide guaranteed paid family leave insurance programs.
Today, four states have passed such laws -- California, New Jersey, Rhode Island and, just last month, New York.
A fifth state -- Washington -- passed a paid parental leave law 10 years ago, but it has yet to go into effect for lack of funding. There is currently a push to rectify that and expand the program to cover workers who care for seriously ill family members or themselves if they become ill.
Meanwhile, there are ongoing efforts in at least 15 other states, as well as Washington, D.C., to get paid family leave laws on the books, Bravo said.
Her hope and expectation is that within five years there could be at least a dozen states that have them.
And that, she said, may serve as a wake-up call to Congress to finally pass a federal paid family leave law to establish a national floor.
Related: It's good to be a working parent in Europe
The United States is the only industrialized nation in the world that does not have paid family leave.
What it does have is the Family and Medical Leave Act. But that only guarantees a worker can't be fired for taking up to 12 unpaid weeks off.
A bill called the Family and Medical Leave Insurance Act would offer workers about two-thirds of their normal pay when they take up to 12 weeks off to care for newborns, elderly parents, a sick spouse or themselves if they're having a medical issue.
The FMLI Act would be funded both by workers and employers through a payroll tax. Each would pay 0.2% of the worker's wages -- which means the typical employee would pay about $2 a week.
Polls have shown bipartisan support for the idea in general, but it's still early for the bill, which has yet to pass out of any House or Senate committee.
Related: Should the U.S. give more paid leave to parents?
Meanwhile among the four states with active paid leave policies in place, New York's is the most generous. It goes into effect in 2018, and once it's fully phased in by 2021, it will offer at least twice the number of paid weeks as California, New Jersey or Rhode Island.
Most workers in New York will be able to take 12 weeks in a 52-week period to care for a new child or ailing family member. The time can also be used to address military family needs, such as caring for children when a spouse gets deployed. In all cases, they will receive 67% of their average weekly wage up to a maximum equal to 67% of the state's average weekly wage.
Like the programs in California, Rhode Island and New Jersey, New York's will be funded by a payroll deduction from workers' wages.
Just how much New York workers will pay hasn't been set yet. But the expectation is that it won't be much, perhaps $1 a week, said Sherry Leiwant, co-president of A Better Balance, an advocacy group trying to raise awareness among policymakers of caregiving and work-family dilemmas.
Related: San Francisco is first city to require fully paid parental leave
Some cities have their own laws as well. In San Francisco, for instance, new parents can take six weeks at 100% of pay. That is more generous than the California state plan, which offers only partial pay for those six weeks. And unlike with the other paid family leave laws, the city requires employers to top off what the state plan provides to get the worker to 100% of pay.