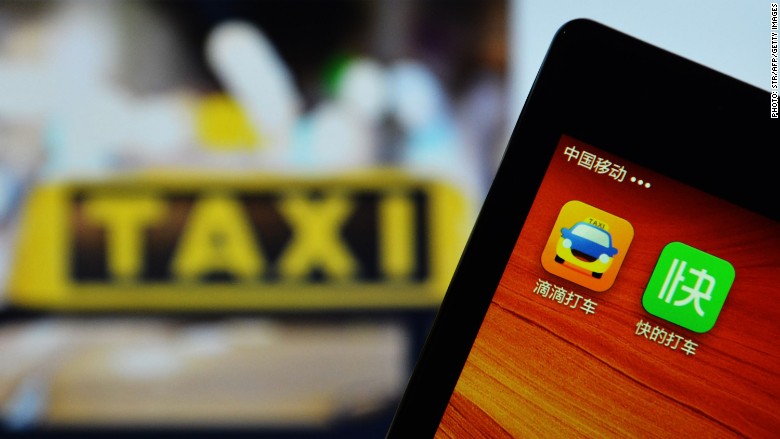 Uber's big Chinese rival, Didi Chuxing, has suffered a setback after a driver for the company was arrested on suspicion of robbing and killing a female passenger.
Local police in the southern Chinese city of Shenzhen said they began investigating after receiving a missing persons report Tuesday morning from a man who couldn't reach his wife after she ordered a taxi from a ride-hailing app on Monday.
Authorities were able to track down a person suspected of being the driver later Tuesday. The suspect said he forced the woman to hand over valuables before killing her, according to a police statement.
Police didn't specify which ride-hailing app was used. But Didi later posted a statement offering its condolences, saying it will fully cooperate to make sure justice is brought to the victim and family.
The incident comes as Didi, the market leader in China, is locked in a fierce fight with Uber for customers in the world's most populous nation. The Chinese company is sometimes still referred to by its former name, Didi Kuaidi.
Related: China's Uber rival is raising $1 billion
Didi says it vets drivers by conducting background checks and looking into criminal records. It requires applicants to register and provide identification, a driver's license and vehicle registration information before they can be approved as drivers.
In this particular instance, a spokeswoman for Didi said the company hadn't received any customer complaints about the suspect in the past. But when police arrested him, they discovered he was driving a car with a fake license plate, she said.
Police say the case remains under investigation.
Passenger safety remains a high-profile challenge for ride-hailing apps, which are growing quickly around the world.
Didi and other services recently expelled some drivers in Shenzhen after local law enforcement found they had a history of drug use, mental illness or serious criminal records.
In the past six months, two Didi drivers have been sentenced to prison -- one for raping a female passenger, and the other for rape and robbery, according to Chinese state media.
Uber has faced its own problems with violent behavior from some of its drivers. One went on a deadly shooting spree in Kalamazoo, Michigan, in February, although none of the victims were an Uber fare.
In November, an Indian court sentenced to life in prison a man who raped a woman who had requested a ride through Uber.
--Serena Dong contributed to this report.