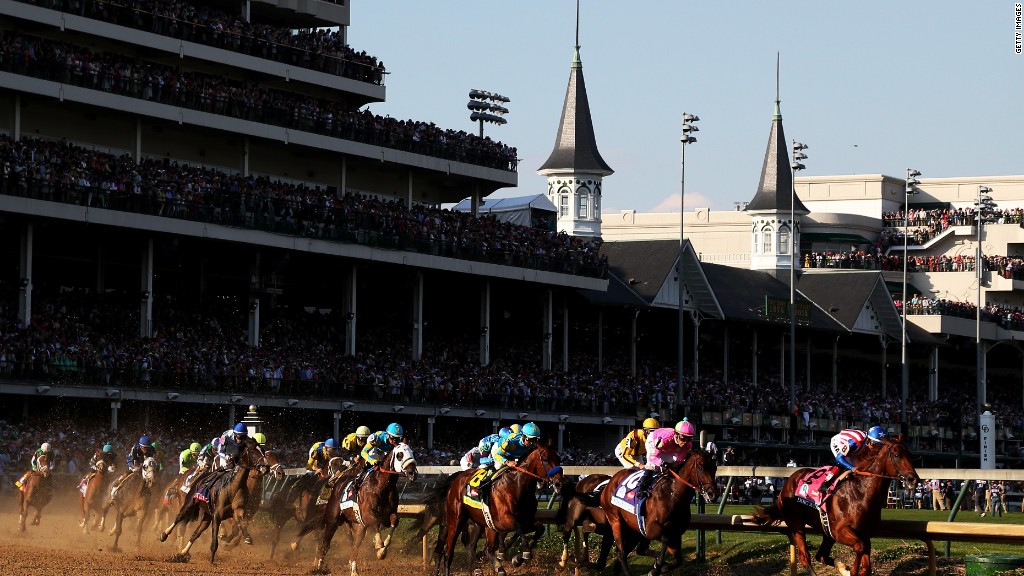 What's a better bet? Kentucky Derby favorite Nyquist at odds of 3-1? Or Churchill Downs, home of the Run for the Roses?
You're probably better off investing in the track as opposed to throwing your money away at the track.
Shares of Churchill Downs (CHDN) have been a proven winner. They've outperformed the S&P 500 for the past few years.
The stock has had a bumpy ride this year though, down about 10%. So it's going to need to come from the back of the pack -- unlike last year's Triple Crown winner (and frequent front runner) American Pharoah -- if it's going to top the market again.
But Wall Street is predicting strong earnings growth for this year and next. Analysts expect profits to increase more than 50% in 2016 and another 27% in 2017. Despite that, the stock trades for only 22.5 times 2016 earnings estimates.
Much of the anticipated growth has little to do with what goes on at its famous racetrack in Louisville though. Churchill Downs also owns several casinos and online gambling sites.
Related: Kentucky Derby by the numbers
Only 20% of the company's overall revenue last year came from its racing division. The biggest moneymaker for Churchill Downs was Big Fish Games, a developer of PC and mobile games that it acquired in 2014. Big Fish accounted for nearly 35% of sales.
The casino business of Churchill Downs also generated more revenue than horse racing as well.
Churchill Downs also owns TwinSpires, an online betting site for horse racing enthusiasts. The name is a reference to the iconic tower-like structures atop the grandstand at the track in Louisville.
Another factor in the company's favor? It has several big name investors behind it.
Vanguard and BlackRock are large holders of the stock. So are the funds run by legendary stock pickers George Soros and Mario Gabelli.
PAR Capital, one of the activist hedge funds that helped lead to an overhaul at the board of United Airlines this year, is also a big investor.
That's a good sign. Just like professional handicappers scour through the bloodlines of horses to try and pick winners, investors should always look to see if a stock is being backed by investors with a proven track record of success.
So if you're planning to sit back, enjoy a mint julep (or two) and sing along as the band plays My Old Kentucky Home at Churchill Downs on Saturday, just remember that Churchill Downs stock may be a better wager than any of the 20 horses racing for history.