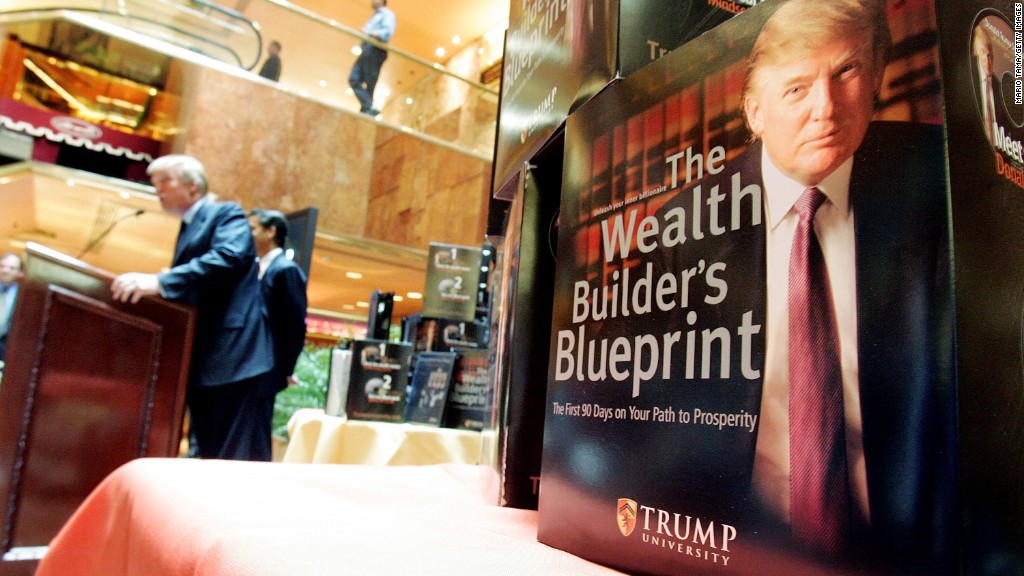 Add November 28 to the key dates in Donald Trump's calendar.
On Friday, a federal judge set a November 28 trial date for a longstanding class action suit against Trump University, the now-defunct get-rich-on-real-estate seminar program started by Trump.
Of course, Trump, the presumptive Republican presidential nominee, already has a busy schedule ahead. There's the GOP convention in Cleveland in July. And Election Day on November 8.
Judge Gonzalo Curiel in San Diego agreed to wait till after the presidential election but did not grant Trump's lawyers' wishes to wait till February 2017.
His lawyer, Daniel Petrocelli, said Trump plans to testify and argued the trial should be held after the next presidential inauguration. He said if Trump wins the election, he'll need time to make key decisions such as picking his cabinet.
The lawsuit, the first of two in California, alleges that Trump University students were defrauded. Instead of receiving an education in real estate investing, they were treated to "'infomercials' pushing additional seminars and workshops."
Related: Trump University controversy ... in 2 minutes
The plaintiffs' attorney, Jason Forge, argued Friday that "justice delayed is justice denied." He added that the age of some of the plaintiffs should be considered.
"These are real people who spent significant money they set aside for retirement," Forge said. "It is impacting them, and has impacted their life every day."
Judge Curiel agreed that it was in the best interest of the case to wait until after the November election, saying the media frenzy during campaign season could taint the jury.
"I'm thinking of my jury," Curiel said. "Would they be able to stay clear of the media fenzy?"
Petrocelli said Trump intended to be present for most, if not all, of the trial. "He certainly intends to testify," Petrocelli said.
Related: Trump Mortgage...in 2 minutes
The San Diego case isn't the only one against Trump University set to go to trial.
Possibly as early as this fall, a New York court will hear a case brought by New York Attorney General Eric Schneiderman.
The case alleges that the seminar program's advertisements made false claims.
-- CNNMoney's Jeanne Sahadi contributed to this report.