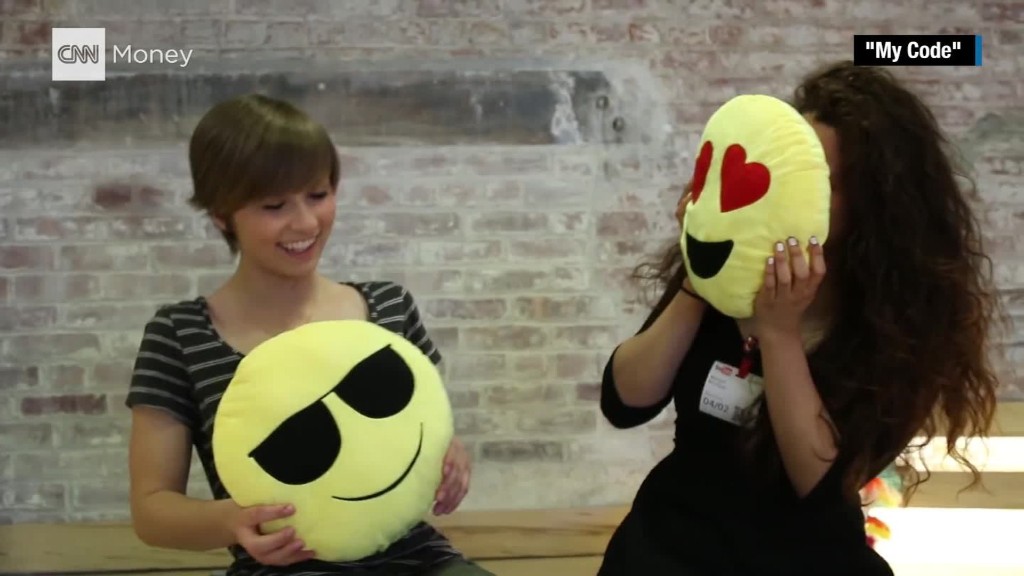 When it comes to shattering the myth that tech is just for nerdy boys, there's still a lot of work to be done.
Girls Who Code is doing its part to create more modern role models of young female coders.
The nonprofit launched its first original YouTube series last week, "My Code," which features four teen girls who've gone through the Girls Who Code program.
There are 10 three-minute episodes, each centered around themes such as "what is code," "things that are created with code," "careers with code" and "coding mentors." The girls talk candidly about their own experiences in these areas.
The girls were selected out of 50 applicants through a "pretty robust" casting process that included video auditions and phone calls.
The mission is twofold: Redefine what a coder looks like and educate girls on all the things that coding can be used for.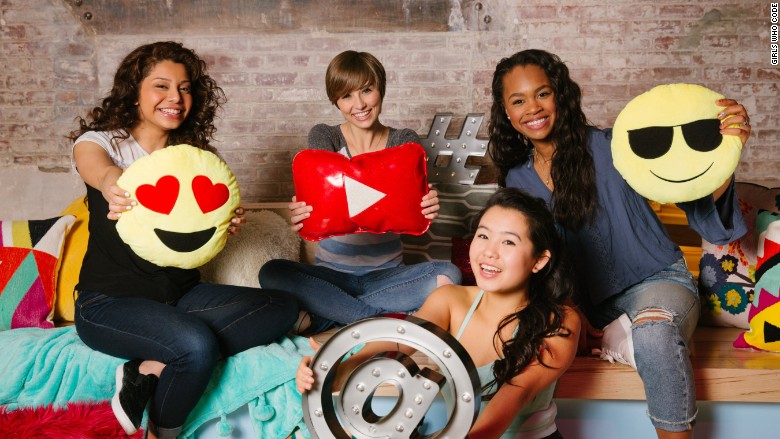 Related: Girls Who Code to give $1 million to underprivileged girls
The four girls, who all intend to pursue computer science degrees, spoke to CNNMoney about what's keeping other teenage girls from computer science.
"They assume, 'That's not for me,'" said Audrey Thompson 17, who lives in Nevada. "A lot of people view computers and technology as being a nerdy thing."
And it's not just teenagers who feel that way: Women made up just 18% of computer science college grads in 2012. That's a huge gap to bridge -- and a talent pool that is essential to tap, given projections that there could be as many as 2.4 million STEM jobs that need to be filled by 2018.
Part of the series' goal was to change how coders are perceived -- and show the community that it offers.
"Coders, in my mind, are groups of girls usually sitting next to each other with laptops, fixing bugs together," said Thompson.
Related: Women coders do better than men in gender-blind study
Media portrayals of STEM professionals, or those in science, tech, engineering and math, overwhelmingly perpetuate the stereotype that these roles are more suited to men.
The four girls also spoke about the significance of mentors -- and that there are too few of them.
Margot Richaud, 17, from New York, credits her freshman Spanish teacher for introducing her to coding. The teacher took it upon herself to give students instruction in coding as well as Spanish.
"We were perfecting our Spanish -- and learning another language," she said, noting that it was her teacher who discovered Girls Who Code and encouraged her to apply to its summer immersion program, which runs for seven weeks and is open to high school juniors and seniors in 11 cities.
Richaud knows her experience was unusual. "Many don't have mentors in their schools or communities to help them through the process."
The girls are interested in everything from the economy to film but recognize that coding is essential across all industries.
"It's technological literacy," added Thompson. "It's really important for us to understand how it works."