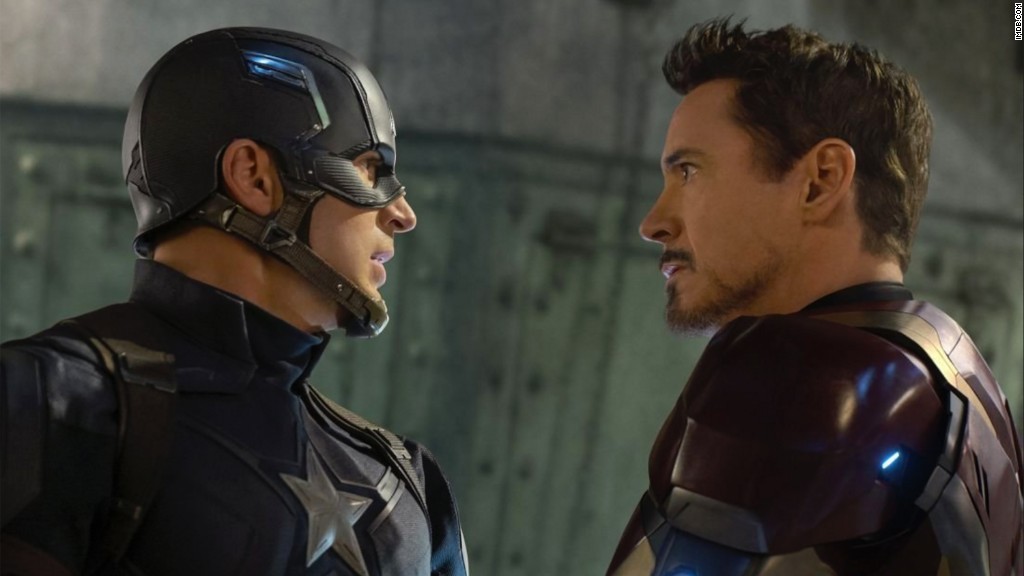 The Avengers haven't been able to save Disney's stock this year. Neither have Mowgli and Baloo or a bunch of animated animals living in the big city.
Shares of Disney (DIS) are flat so far in 2016 -- despite the fact that it has ruled the box office thanks to "Captain America: Civil War," "The Jungle Book" and "Zootopia."
The company will report its latest financial results after the closing bell on Tuesday. The earnings should be pretty good. Analysts are expecting a profit increase of 13% from the same period last year.
But investors remain concerned about the health of ESPN.
The sports giant has been losing subscribers over the past few years. The problems at ESPN are hurting Disney's lucrative cable network business. Operating profits fell 5% at the unit in Disney's most recent quarter.
This is a problem because the company's media networks division -- which includes other cable networks like Disney Channel as well as broadcast network ABC -- account for the biggest percentage of revenue and profits for Disney.
The success of Disney's movie business and theme parks is helping to soften the blow of weakness in TV. But Disney needs to reassure Wall Street that ESPN has a plan to grow again. There are concerns that the network's popularity has peaked.
It doesn't help that ESPN continues to lose talent. Bill Simmons bolted (or was pushed out) last year. He has a new show launching next month on HBO which, like CNNMoney, is owned by Time Warner (TWX).
And in just the past few weeks, "Monday Night Football" play-by-play announcer Mike Tirico announced he was leaving for NBC while Skip Bayless is rumored to be headed to Fox Sports (FOXA) after his contract expires later this summer.
ESPN isn't the only sore spot for Disney shareholders. Wall Street also isn't thrilled about the company's sudden lack of a succession plan.
Former Disney COO Thomas Staggs, who was set to take over as CEO in 2018 after Bob Iger retires, announced in April that he would be stepping down from that role.
Staggs is now a "special adviser" to Iger but will leave the company at the end of Disney's fiscal year in August.
So analysts will likely grill Iger during the company's conference call about how the CEO search is going. It's possible that Iger could stick around past his planned retirement date.
But many investors are predicting that Disney will look beyond the House of Mouse for Iger's replacement.
Related: Who will be the next CEO of Disney?
Former Disney executive Steve Burke, currently the CEO of Comcast's NBCUniversal, has been mentioned as a possible Iger successor.
That would make for some delicious irony since Comcast (CMCSA) launched a hostile (but ultimately failed) takeover bid for Disney in 2004. If that deal had gone through, Burke probably would have been put in charge of Disney.
Facebook COO Sheryl Sandberg (currently a Disney board member) has been mentioned as a possible Iger successor. So have former News Corp. (NWSA) president and COO Peter Chernin and former Yahoo (YHOO) interim CEO Ross Levinsohn.
BTIG analyst Richard Greenfield even boldly suggested that Disney buy Netflix (NFLX) so Netflix CEO Reed Hastings could then take over for Iger.
Regardless of what happens at ESPN and in the House of Mouse's corner offices, there's still a lot to like at Disney.
Related: Scalpers charging obscene prices for Shanghai Disney
Disney's theme park business continues to do extremely well. And the company's new Shanghai resort is set to open in June.
The movie studio's hot 2016 is likely to last all year too.
Pixar's "Finding Dory" -- the sequel to 2003's "Finding Nemo" -- is due out next month. There's another Marvel movie -- "Doctor Strange" -- hitting theaters in November.
And then there's Star Wars prequel "Rogue One" coming out in December.
It is highly unlikely (dare I say impossible) for "Rogue One" to top the box office success of last year's "Star Wars: Episode VII: The Force Awakens."
But the fact that Disney is now finding a way to release a new Star Wars movie every year should be music to the mouse ears of Disney bulls.