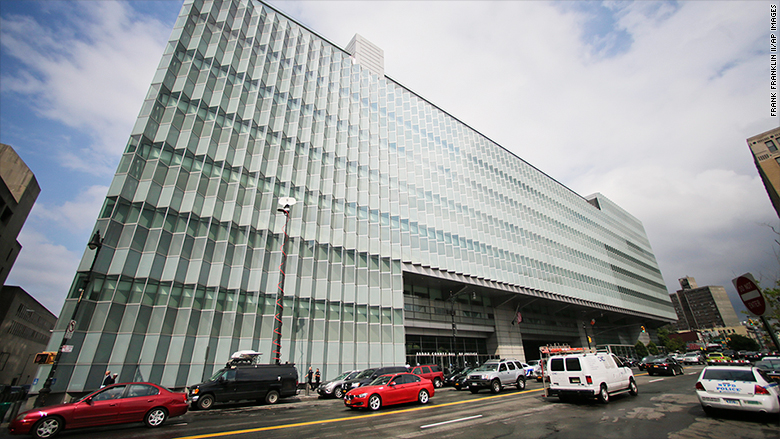 Residents of the New York City borough of the Bronx who have been arrested for a misdemeanor charge are waiting months or even years for their cases to be resolved.
Attorneys in the Bronx say that the amount of time their clients have to wait between a misdemeanor arrest and a hearing can be so long that it violates their constitutional right to a speedy trial.
On Tuesday, several of these attorneys filed a class action lawsuit alleging court delays at the New York City Criminal Court in the Bronx "have fatally undermined the right to trial" for people charged with low-level offenses like marijuana possession or jumping a subway turnstile.
According to the suit, at the beginning of this year 2,378 misdemeanor cases had been pending for more than a year and 538 had been pending for more than two years. On average, defendants can wait 642 days for a non-jury trial and 827 days for a jury trial in the Bronx, the complaint alleges. Each week, an average of 800 new misdemeanor cases come into the court, yet less than two get to trial.
Defendants listed in the lawsuit include Andrew Cuomo, the governor of New York who is responsible for enforcing the constitution and two court administrators who are in charge of allocating resources, including personnel, to the courts.
Rich Azzopardi, a representative for the governor's office, said they were reviewing the complaint.
Lucian Chalfen, a spokesman for the state court system, declined to comment on the lawsuit. But he said in a statement to CNNMoney, "The issue of case backlogs and delays in the state's courts -- particularly the Bronx -- are an absolute top priority" for Janet DiFiore, the chief judge of the State of New York and one of the defendants named in the complaint. "She and senior court administrators are actively engaged in working on resolving the problem to the expectations and standards that we expect from our state court system."
Attorneys say the delays also have a disproportionate racial and economic impact on the borough's residents, many of whom are poor or working class and black or Latino. "Your right to a speedy trial should not depend on your zip code and right now it does," said Ilann Maazel and attorney with Emery Celli Brinckerhoff & Abady, a law firm representing plaintiffs in the class.
Related: Costly prison fees are putting inmates deep in debt
Attorneys say the delays in the Bronx -- the poorest county in the state -- are worse than anywhere else in New York City.
Part of the problem, said Scott Levy, an attorney with the Bronx Defenders, a non-profit public defender and one of the organizations representing plaintiffs in the case, is a lack of resources in the borough's courts. Often, he said, there aren't enough judges to hear the many cases coming through. "Lots of times the doors are locked, other times the judge is sitting there without a court reporter," Levy said.
Defendants often show up for court only to have their case adjourned and must return to court another day, Levy said. "You have hundreds and hundreds and hundreds of people who are essentially trapped in these courts."
According to the lawsuit: "The months often turn into years. People's lives are put on hold as their fate hangs in the balance. The process can feel interminable."
That's what happened to 43 year-old Michael Torres, a construction worker who was arrested and charged with possession of less than one gram of marijuana in 2011 while he was on his way to a job interview. From 2011 to 2014, Torres had 14 scheduled court dates. According to the lawsuit many were adjourned at the request of the prosecution who said they were unprepared. More than two years after Torres was arraigned, his case was dismissed because the police officer that arrested him said he could not recall what led to Torres' arrest.
The consequences for having an open misdemeanor case go beyond the inconvenience of having to spend days waiting in court. It can also affect a person's immigration status, including a denial of residency.
Related: The steep cost of incarceration on women of color
Many people also risk losing their jobs, particularly if those jobs require a license like driving a taxi, working as a home health aide or for a city or state government agency, said Levy.
Torres said he was fired from a construction job after missing several days of work for his court appearances. It took him a year and a half to find another job since employers were reluctant to hire him while he had a misdemeanor case pending. "It was unfair, unjustified, very depressing," Torres said in an interview with CNNMoney. "I had issues with my family because of it. It put a lot of pressure on my kids, on my wife."
For Torres, who is back to working in construction full-time, psychological scars have remained. "It's hard for me to believe in and trust the system anymore," he said. "Sometimes I'm afraid to go out anywhere due to getting stopped."
This is not the first time the Bronx court system has been criticized for long delays. In 2013, The New York Times reported that thousands of defendants were awaiting felony trials while in jail, hundreds of them for years.