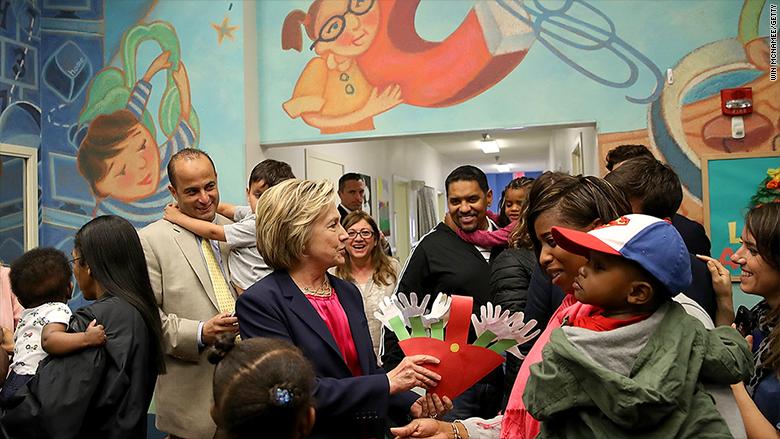 Working parents of young kids are typically low on sleep and, thanks to the high cost of child care, money.
Hillary Clinton aims to address that with a proposal Tuesday to cap child care costs at 10% of a family's income.
"[Raising children] is the most important job that any of us can do, and we are making it really expensive and very difficult," Clinton said at a campaign stop in Lexington, Ky. "If we don't support families, we don't support making our country or any community as strong as it can and should be."
A 2014 study found that on average, childcare costs eat up at least a quarter of the median income of single parents, 15% of two-parent families and as much as 85% of families living at the poverty line. And the annual cost of child care can be higher than tuition at four-year state colleges in at least 30 states.
Clinton will propose a combination of direct federal investments and tax relief for low- and middle-class families, the details of which won't be announced until "the coming months," according to the campaign.
Related: How paid family leave could become a reality in the U.S.
"Secretary Clinton is acutely aware that the middle class is extremely stretched when it comes to affording quality child care. While middle class wages have stagnated in the last decade, costs of child care have gone up by nearly 25 percent," said Clinton senior policy adviser Ann O'Leary.
O'Leary also noted that low- and lower-middle class families will be eligible for direct investments under the plan.
That may be because many families in those groups have very little, if any federal tax liability, thanks to the many tax breaks for parents already embedded in the tax code.
In addition, at a campaign stop in Lexington, Kentucky, Clinton is expected to propose efforts to help raise the pay for child care workers and expand access to nurse and social worker home visiting services during and directly after a pregnancy.
-- CNN's Dan Merica contributed to this report