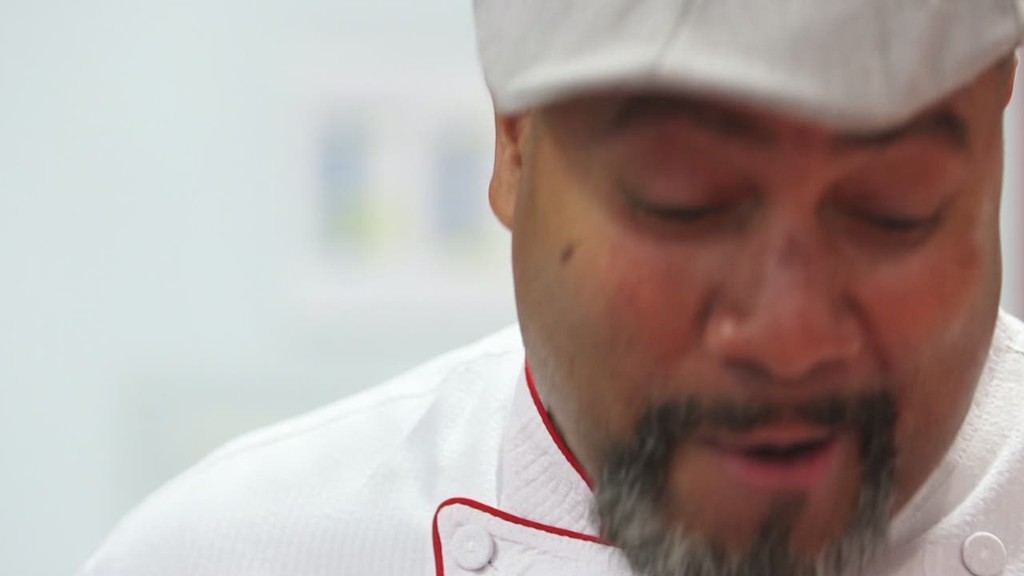 Pizza Hut just delivered a pie to the top of Mount Kilimanjaro, setting a new record with the high-altitude PR stunt.
Executives for Pizza Hut told CNNMoney they used an airplane, a motor vehicle, a relay of professional hikers and a specially designed pizza backpack to deliver a pepperoni pie with extra cheese to the summit of Africa's highest mountain.
A spokeswomen for Guinness World Records confirmed that Pizza Hut Africa, owned by Yum! Brands (YUM), set a record for highest elevation pizza delivery at the 19,347-foot peak of Kilimanjaro during the trek. The delivery began on May 5 and was finally brought to its destination on May 8.
Randall Blackford, general manager of Pizza Hut Africa, and fellow Pizza Hut executive Laurie Schalow, said the delivery celebrates Pizza Hut's expansion to its 100th country, Tanzania.
They said the process began when employees made the pizza at the company's new restaurant in Dar es Salaam and then flew the pie from the airport there to Kilimanjaro International Airport. The pie was then driven to the trailhead in Mount Kilimanjaro National Park.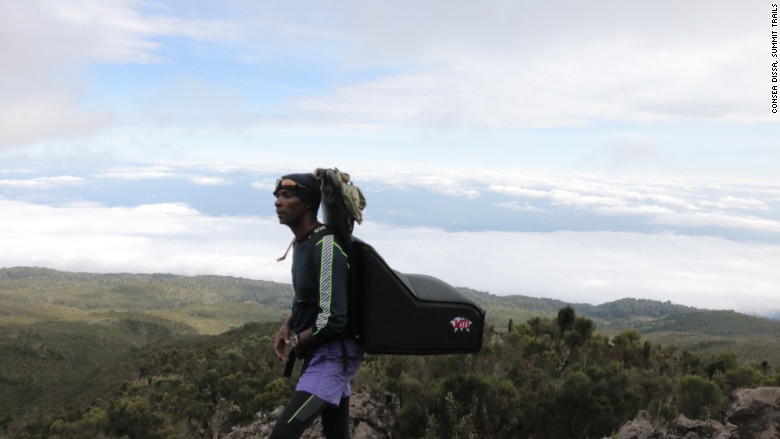 From the mile-high jungle trailhead, five professional guides led by Summit Trails owner Consea Dissa carried the pizza to the base camp, at about 16,000 feet elevation. They carried it in an insulated, battery-heated backpack specially designed to keep the pie horizontal. The bag was designed by Vesture, which makes pizza delivery bags for Pizza Hut.
There they met Blackford and two Pizza Hut colleagues, who had taken five days to get there to join in the final push to the top.
From there, starting at midnight, the Pizza Hut employees made their way to the ice-capped summit with Dissa and the other guides, video-documenting their trek to provide proof to Guinness.
"Those guys got the pizza and were racing to the top," said Blackford, an Eagle Scout based in Johannesburg, South Africa. "Nothing tasted as good as a pizza after hiking through the night."
Related: Domino's pizza delivery robot is coming to your door
But Blackford said he didn't plan initially to have the pizza hiked all the way to the top.
"We started with this idea of helicoptering it to base camp and carrying it the rest of the way," he said.
But that was ruled out because the thin air wouldn't support helicopters and the base camp was too small for a landing zone. So why not use a drone?
"Then we got super excited about the drone idea," he said. "But that fell apart partly because of the high elevation, and there are also very high winds on the summit. Then we realized that we would have to do the heavy lifting and carry it up the mountain."
Pizza Hut aimed even higher back in 2001, when it hired cosmonauts to deliver a pie to the international space station.