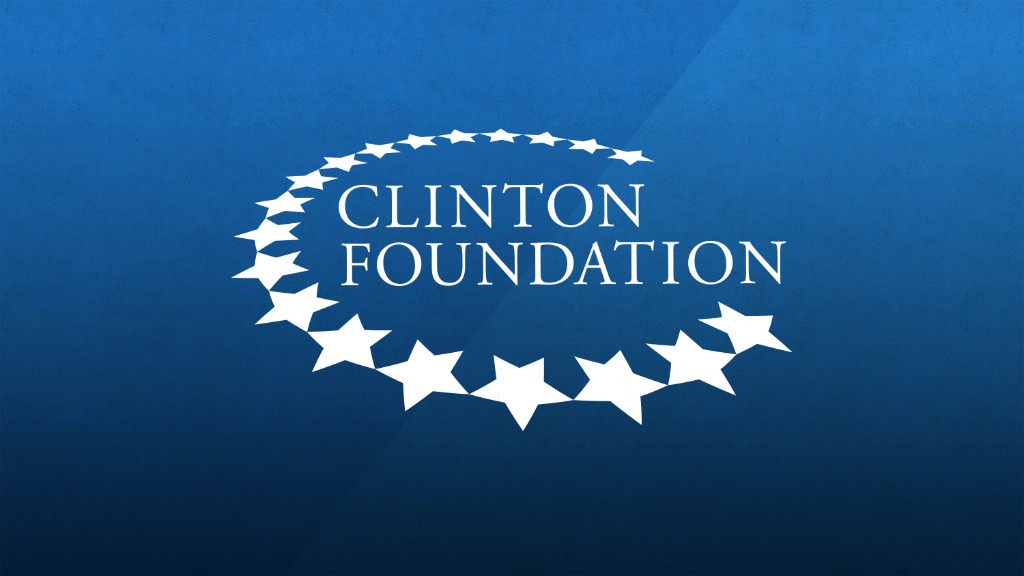 The Clinton Foundation's critics may soon have less ammunition to suggest the organization lacks transparency.
The charity has taken initial steps toward regaining a rating by Charity Navigator, a major charity watchdog that assesses over 8,000 organizations on a scale of zero to four stars.
The Clinton Foundation, headed by former President Bill Clinton, indicated on May 10 that it is interested in receiving a rating and is looking into whether it can provide the needed financial information, CNNMoney has learned.
"If Charity Navigator determines it's possible to rate us, we'd welcome it because we're extremely proud that our programs have improved the lives of millions of people around the world," The Clinton Foundation confirmed to CNNMoney in a statement. "We are working with them to understand and provide the information they need."
Charity Navigator says it evaluates a charity's financial health, transparency and reporting results. "It's the equivalent of having a Moody's rating in the financial world," said Charity Navigator's CEO Michael Thatcher. A high rating "is a recognition of a well-run organization."
It last rated the Clinton Foundation in 2014 and stopped because the Foundation changed its reporting structure. At the time, Charity Navigator said the foundation was operating with an "atypical business model."
The Clinton Foundation is a charitable organization that focuses on a number of areas including global health, climate change, economic development, health and wellness, and improving opportunity for girls and women. The Clinton Global Initiative, or CGI, is one of the Foundation's 11 initiatives. Shortly after declaring her candidacy for president, Hillary Clinton resigned from the Foundation's board of directors.
Unlike many other aid groups, the Clinton Foundation files multiple IRS 990 tax forms for its various initiatives. In some years, the foundation has filed three 990 forms. In others, it has filed only two.
"The Clinton Foundation has multiple legal entities, and then also multiple disparate programs, which makes it impossible for us to rate in the actual format that we do ratings today," said Thatcher.
In order to rate it, Charity Navigator needs the Clinton Foundation to complete a form that includes all its operations, which is different than the combined financial materials it currently provides on its website.
Charity Navigator says its form enables it to accurately analyze the Foundation's finances over time.
CNNMoney contacted Charity Navigator last week to ask why it doesn't rate the Clinton Foundation. Thatcher, who took over in August of 2015, says the question prompted him to reach out to the Clinton Foundation's CEO Donna E. Shalala.
"The question came up, why is the Clinton Foundation not rated. I began asking the question myself, and I said so why not ask them directly?"
After asking his analysts, Thatcher learned Charity Navigator does have a special consolidated form that it can use to rate complex organizations like the Clinton Foundation. More than 50 organizations already use it.
Shalala and Thatcher then discussed how the Foundation could get a Charity Navigator rating. "There was an eagerness," said Thatcher.
Thatcher has provided the Clinton Foundation with Charity Navigator's special consolidated form. Thatcher says if the Clinton Foundation provides him with 4 years worth of information in that format, his analysts will be able to evaluate the information and potentially assign a rating.
The conservative press has pointed to Charity Navigator's lack of a Clinton Foundation rating as a red flag in the past.
Charity Navigator says on its website that not rating the Clinton Foundation is neither a "condemnation nor an endorsement." It's hardly the only charity not rated by the watchdog. For example, Charity Navigator says it does not rate the Rockefeller or Gates Foundations, because those organizations get their primary funding from the families that started them.
The Clinton Foundation does receive ratings from other charity evaluators. For example, Charity Watch rates the Clinton Foundation an "A" while Guidestar gives it a gold-level rating for transparency.
Charity Navigator put the Clinton Foundation on its "watchlist" in March 2015, after press reports raised questions about foreign donations to the Foundation while Hillary Clinton was Secretary of State. It removed the Clinton Foundation from the watchlist 9 months later, after the Foundation refiled four years of tax information and pledged other transparency measures.
Whether a Charity Navigator rating is significant is an open question. Professor Brian Mittendorf, Professor of Accounting at Ohio State University and an expert in philanthropy, puts it this way:
"A Charity Navigator rating would be something that supporters and/or critics would fixate on to support their pre-existing views of the organization or its founders, but wouldn't really provide new information."