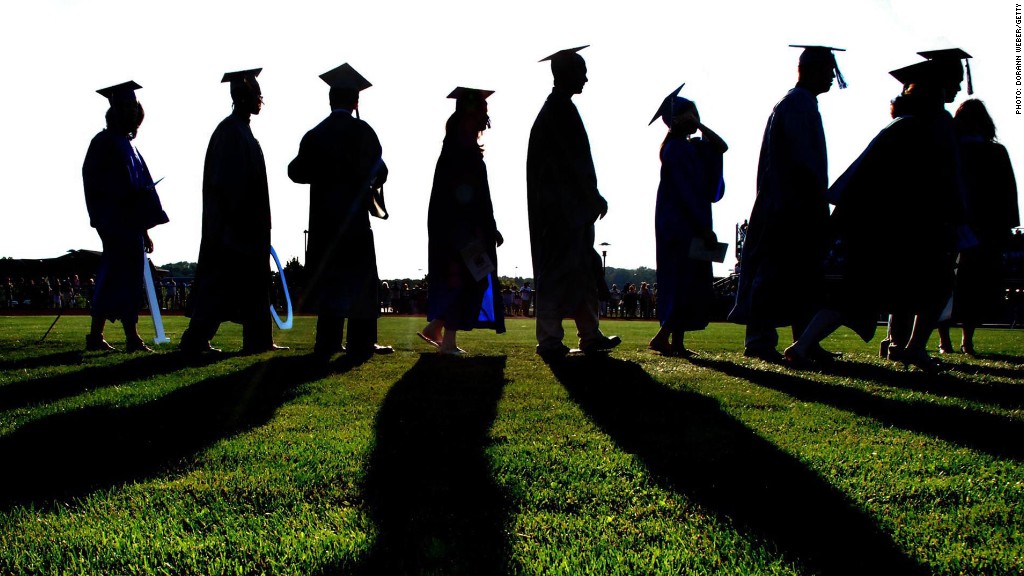 Community colleges charge lower tuition than just about anywhere else. They're open to everyone. They offer the kind of technical training employers want. And they can serve as an affordable steppingstone to a four-year degree.
As President Barack Obama said in the fall: "They're at the heart of the American Dream."
But while plenty of community college students graduate with a degree that leads to a better job or to a four-year college, many community college students drop out. And a growing number of students are taking on debt they cannot repay.
States have focused more on reducing the debt students accumulate at four-year colleges than at community colleges. But some of the steps they're taking could help community college students, as well.
Related: I'd be the first in my family to graduate college
In 2000, 15% of all first-time college students seeking degrees at a public two-year college borrowed. Twelve years later, 27% did.
At Michigan's Macomb Community College, where Obama spoke, just 6% of students take out federal loans. But of those students, who typically owe $5,170 at graduation, 18% default on their loans.
Some 38% of two-year college students who started to repay their loans in 2009 defaulted within five years, compared to just 10% of students who went to selective four-year colleges, said a September study led by Adam Looney, an economist at the Treasury Department. The vast majority of two-year colleges are community colleges, the study noted.
Not just a four-year problem
Many community college students start out with the odds against them. They tend to be older, live in poorer communities and have little family wealth to support them — 36% have family incomes of under $20,000, according to the Community College Research Center at Columbia University.
Still, community college students historically haven't had to borrow to finance their education. Tuition usually runs a few thousand dollars a year, often less than the maximum federal Pell Grant awarded to low-income students.
Yet community college students are borrowing.
In Virginia, one of the few states to publish detailed student debt information, the share of community college students graduating with debt has more than doubled over the past decade.
Related: 6 things to know about tuition-free college
In 2014-15, when community college tuition was $4,080, 37% of Virginia graduates who earned a two-year degree that prepared them to transfer to a four-year college had debt, up from 15% a decade ago. Among graduates who earned a two-year occupational degree, 41% had debt.
(Virginia's community college system says the state debt figures are too high, but that may be because the state is calculating debt differently. The state looks at debt owed at the point of graduation, which may include debt from other institutions.)
"They're borrowing for things just beyond the cost of tuition and fees. They're borrowing to live," said Tod Massa, who oversees the state's postsecondary education data.
Many community college students borrow to pay for textbooks, transportation, food and rent. More Virginia community colleges include federal student loans in financial aid packages now than in past years, which also could be pushing up student debt.
Small loans, high default rates
Students who owe much less are more likely to default.
"The typical loan in default is around $5,000. That's total, that's not per year, that's all that someone borrowed," said Susan Dynarski, a University of Michigan professor of public policy, education and economics.
A lot of factors determine someone's ability to repay their loans, including what kind of job they get after graduation and whether they graduate at all. The small size of loans in default suggests that many borrowers dropped out, Dynarski said. Students who drop out don't get to enjoy the financial payoff of a higher credential.
At colleges that serve more lower-income, minority and first-generation students, such as community colleges, graduation rates are typically lower.
Completion, affordability and managing debt
States are taking a few steps to hold down college costs and put pressure on colleges to make sure students graduate.
Many states, including Virginia, increased funding for all higher education institutions this year and asked colleges to hold down tuition. Tennessee, Oregon and Minnesota have created scholarship programs that make two-year colleges tuition-free for certain students.
Some researchers and advocates say tuition-free programs don't go far enough because paying for living expenses — not tuition — is the biggest financial problem most community college students have.
States also have started to take some steps to help borrowers who are struggling with existing student loan debt. Refinancing likely wouldn't be an option for borrowers who are behind on their loans, or have damaged credit. But all borrowers could benefit from more information and assistance. Some borrowers don't know the difference between a grant and a loan, let alone that some federal programs will reduce their monthly payments to nothing while their incomes are low.
Related: How New York City would make community college tuition-free
Colleges are also trying to help. To keep students on the path to graduation, Northern Virginia Community College (NOVA), the largest two-year college in Virginia, has hired more advisors and redesigned remedial math classes. The school contracts with a company that sends delinquent borrowers automated phone calls and another that counsels them over the phone.
Sometimes, NOVA will deny loans.
"We see a significant number of students who are coming to us with existing loan debt," said Joan Zanders, head of financial aid and support services. If a borrower owes $70,000 from prior education, say at a for-profit college, "it makes no sense whatsoever for them to dig a deeper hole for themselves to get a certificate."
When students can budget their financial aid money and pay their bills, they're more likely to stay in school, NOVA officials say. So the college's required orientation course now includes a unit on how to stick to a budget, manage credit cards and understand student loans.
Stateline provides reporting and analysis on trends in state policy. It is an initiative of The Pew Charitable Trusts.