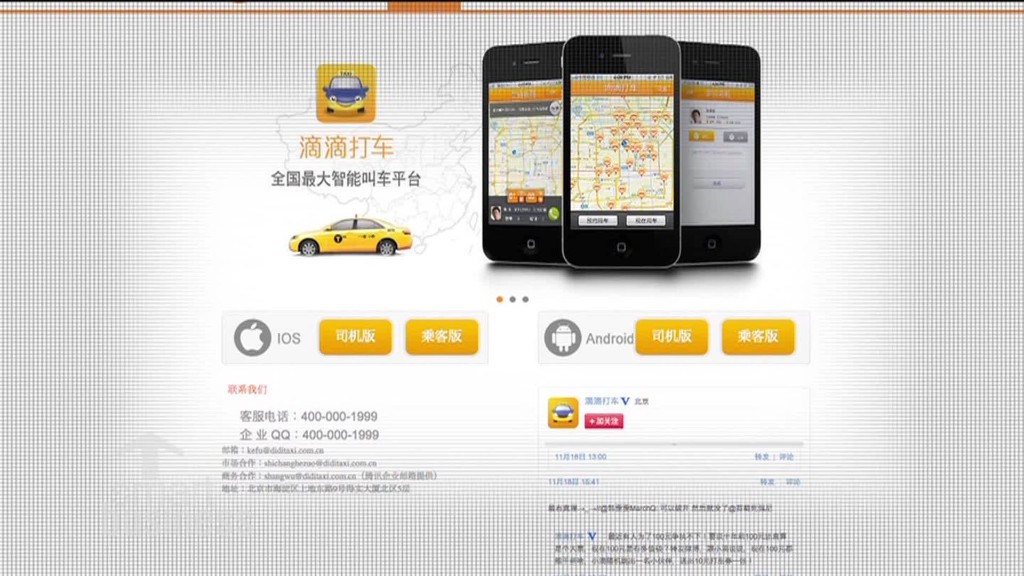 Apple is plowing a whopping $1 billion into Uber's big Chinese rival, Didi Chuxing, in a move that ups the stakes in a fierce battle for customers in the world's most populous country.
The huge sum makes Apple (AAPL) a strategic investor in Didi alongside Chinese tech giants Tencent (TCEHY) and Alibaba (BABA), which have already thrown their weight behind the company.
Didi has been engaged in an all-out war against Uber in China. The Chinese company has long claimed the upper hand, as it was operating well before Uber got into China.
"The endorsement from Apple is an enormous encouragement and inspiration for our four-year-old company," said founder and CEO Cheng Wei.
Didi offers numerous services: booking buses or private cars, taxi-hailing, ride-sharing, and even a test drive options, where customers can take high-end cars out for a quick spin.
Related: Uber hires top Ford exec in self-driving car quest
The company now completes more than 11 million rides a day, and boasts 300 million users in more than 400 Chinese cities. It also says it holds 87% of the private car market and 99% of the taxi-hailing sector.
"We are extremely impressed by the business they've built and their excellent leadership team, and we look forward to supporting them as they grow," said Apple CEO Tim Cook.
Didi President Jean Liu said the deal happened with "lightning speed" after meetings between the two sides in California late last month.
Apple's investment is part of a new round of fundraising that Liu described as "oversubscribed." Earlier this year, the company was reportedly valued at $20 billion.
For Apple, some observers speculated the investment could be a way for the U.S. company to test new products in China, including a rumored car-related project. Others suggested the Didi partnership may help smooth Apple's relationship with the Chinese government.
Liu said there are "many exciting areas" the two companies could work on together but declined to talk about specific ones.
The tie-up deepens the challenges Uber faces in China, where it operates in about 50 cities.
Despite its dominant position in China, Didi has faced some challenges. Just last week, one of its drivers was arrested on suspicion of robbing and killing a female passenger. In the past six months, two Didi drivers were also sentenced to prison for crimes including rape and robbery.
Related: Driver for Uber's Chinese rival arrested
Uber has faced its own problems with violent behavior from some of its drivers around the world. One went on a deadly shooting spree in Kalamazoo, Michigan, in February, although none of the victims were an Uber fare. And in November, an Indian court sentenced to life in prison a man who raped a woman who had requested a ride through Uber.
--With reporting by Hope King