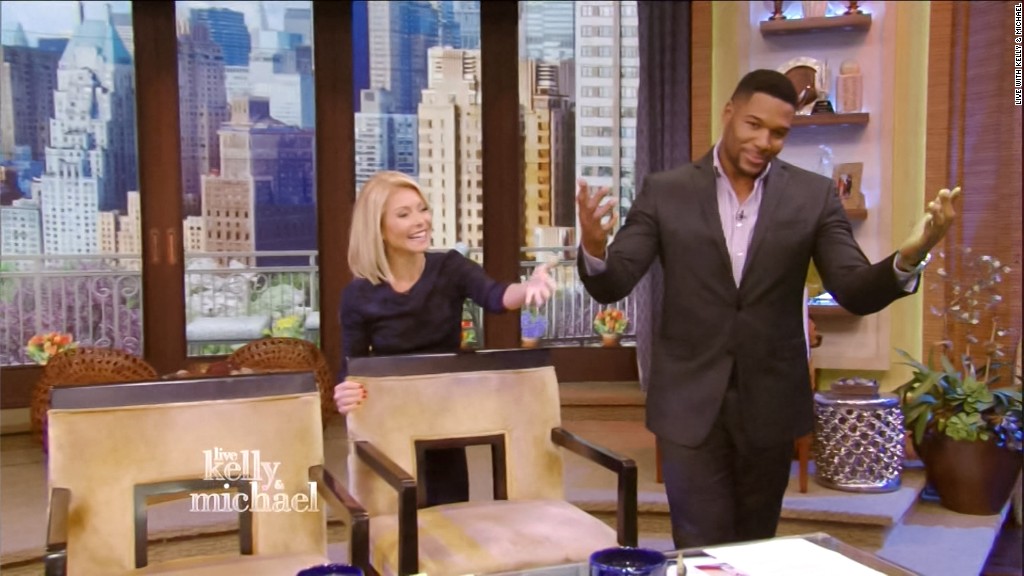 In the end, even Michael Strahan's final sign-off was hurried.
Making his last appearance as co-host of "Live with Kelly and Michael" on Friday, the pro football Hall of Famer tried to close the show with a tribute to the fans and the behind-the-scenes personnel.
"It's not about myself, it's not about you," Strahan said to his co-host Kelly Ripa. "It's about everybody here. We have incredible staff here. We have, from producers to the staff to the crew, they make sure we're always prepared that we come out and put on a great show for you guys."
Just as Strahan mentioned the crew, music began to play and the credits rolled -- as if he were an Oscar winner who went a bit long.
Strahan took the cue. He gave his love to the live studio audience, and paid homage to his on-air partner.
"Kelly, you are the best," he said. "I love you, baby."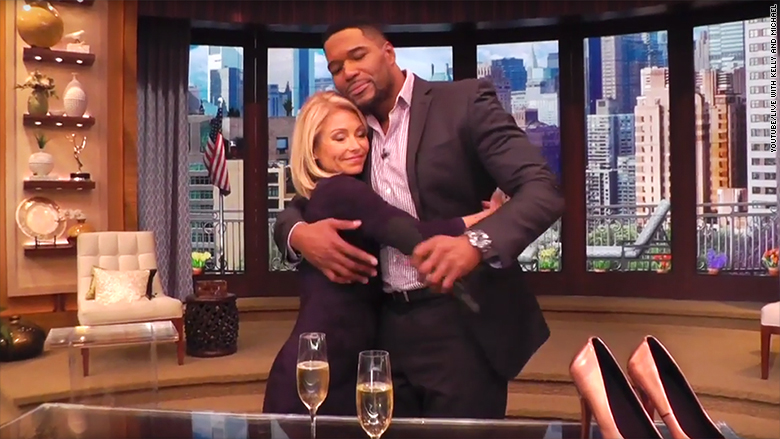 Related: Will Michael Strahan's move strengthen 'GMA' in morning war?
Strahan then pecked Ripa on the cheek, bringing to an end his four-year run on the show. It also marked the end of an awkward past three weeks that began with ABC's mismanaged announcement on April 19 that Strahan is heading to "Good Morning America."
Ripa was only told about the shakeup a half an hour before it went public, leaving her infuriated. She skipped work for the duration of the week, forcing her producers to quickly arrange hosts to fill-in.
Related: Kelly Ripa and Michael Strahan ready for final episode
Ripa addressed her absence when she returned to "Live" on April 26. She said the controversy was about "respect in the workplace," and that she was "thrilled" for Strahan's new opportunity.
ABC originally planned for Strahan to stay on board with Ripa through the summer, before shifting over to "GMA" full time. Longtime fans noted what they perceived as tension between the two hosts in the weeks following the announced changes, and Ripa didn't want Strahan lingering for another three months.
So after consulting with both Ripa and Strahan, ABC opted to make Friday his final day on "Live."
The final show was heavy on tributes.
Related: Who is Kelly Ripa's next partner on 'Live'?
There were clips and highlight packages from Strahan's past four years shown throughout the hour, but otherwise it unfolded like any other episode. Actor Michael Bomer and New York Knicks star Carmelo Anthony appeared as guests. Earlier in the show, Ripa and Strahan played "travel trivia," a recurring segment on the program, with a fan.
Ripa was magnanimous throughout the show.
"We really are so, so proud of you," she told Strahan. "We've achieved so much together, and I look forward to watching you every morning and seeing what else you achieve over at 'Good Morning America.'"
Ripa and Strahan wrapped each other in a bear hug after the show, and she lavished him with more praise.
"I've really enjoyed every second of it," she said in a video posted on YouTube. "I've loved watching you evolve. I really think you're so terrific, and there's nothing you can't do."
Strahan reciprocated the affection with his own post-show remarks.
"You've changed my life," he told Ripa. "You really have."
"I have," she joked.
Related: ABC's Kelly Ripa diss shows how audiences rally around their stars
Now the focus will shift to finding Ripa's co-host. ABC will begin holding on-air tryouts of sorts, bringing additional intrigue to who saddles up next to Ripa each morning. CNN's Anderson Cooper has been pegged as a potential contender, and neither he nor Ripa have exactly denied the possibility.
Cooper said on David Axelrod's podcast this week that he doesn't envision himself leaving CNN, and that anything else he does "would be an add-on." When asked if Cooper is the favorite to succeed Strahan, Ripa told People magazine, "Stay tuned."
Strahan said Friday that he will remain in the show's "family," and that he will always be available to co-host "Live" if he's ever asked.
"You could fill in for me," Ripa said. "I start vacation in a couple of weeks, so I'll let you know."
"I don't know about that," Strahan said. "What do they say, 'too soon'?"