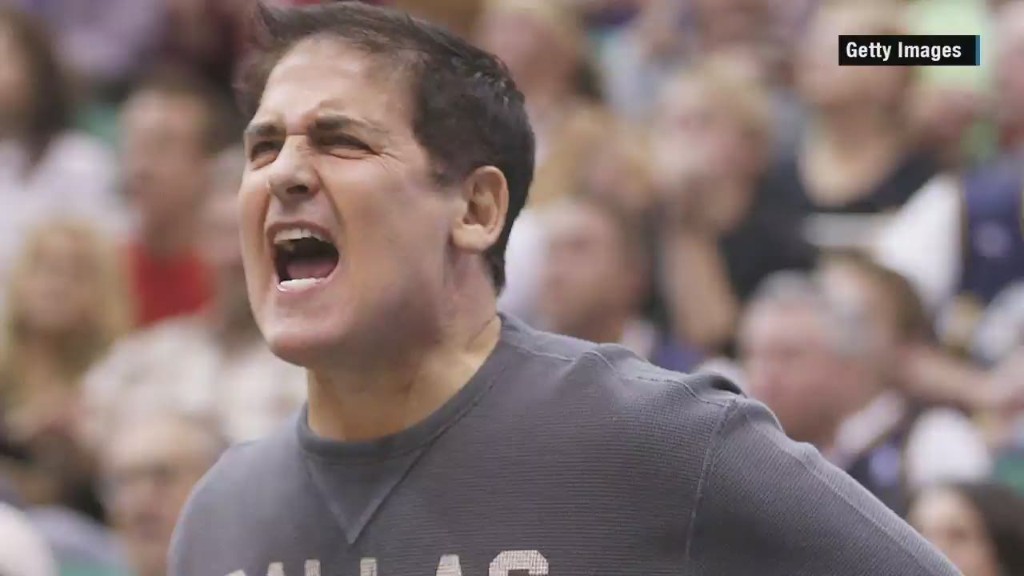 Mark Cuban says he was recruited to run for president against Donald Trump, but he believes "it's too late" to enter the race.
"It would have been fun to run against Donald," Cuban said -- in the past tense -- in an email to CNNMoney.
The billionaire owner of the NBA's Dallas Mavericks and co-star of ABC's "Shark Tank" confirmed a Washington Post report about the recent outreach.
Cuban declined to name the people who were involved. "My conversations with them were minimal," he said. "They reached out to my right-hand man who is my D.C. guy."
A number of prominent conservative commentators and Republican strategists have been courting a third party candidate to try to block Trump's road to the White House. Among them: blogger Erick Erickson, "Weekly Standard" editor Bill Kristol and politico Mike Murphy.
Cuban shares some qualities with Trump -- both are brash billionaires with reality TV experience and social media expertise. Cuban-for-president murmurs pop up from time to time, partly spurred by Cuban's own comments.
Last fall he said he would "crush" both Trump and Hillary Clinton if he ran, but said "I have no interest in running."
The "Never Trump" forces might have been interested in Cuban because he could "out-trump Trump," the Post said Saturday.
Cuban has a Trump-like hold on the media megaphone.
But he seems to recognize that a third-party bid for president is fantastical, especially with less than six months to go until Election Day.
Sign up now for the Reliable Sources newsletter
Fellow billionaire and former New York City mayor Michael Bloomberg contemplated a third party bid earlier this year but concluded he could not win.
Cuban told CNNMoney that the discussions with the anti-Trump leaders were short-lived.
And "as a third party it's too late," he said.
But he also identified a few reasons why the idea intrigued him -- no matter how far-fetched it might be.
"I think the time is right for a technology literate entrepreneur to run for president," he said. "Someone who has had to grind to achieve success and can relate as well to those that follow Bernie as those that think the system is broken and follow Trump. The issue for any such candidate is that the process is broken. It's a circus rather than a learning process for all involved."