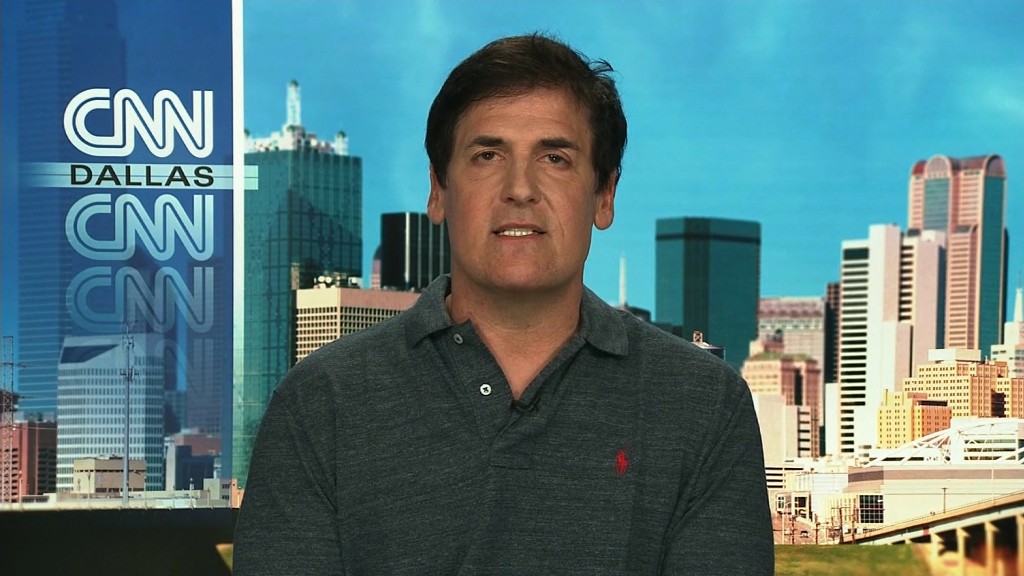 Mark Cuban believes a Donald Trump victory would be a big loss for everyone with money in the stock market.
"I can say with 100% certainty that there is a really good chance we could see a huge, huge correction," Cuban told CNN's Erin Burnett on Monday evening.
The billionaire owner of the NBA's Dallas Mavericks blamed Trump's "flip-flopping" on major issues and unpredictability in general.
"That uncertainty potentially as the president of the United States, that's the last thing Wall Street wants to hear," Cuban said of Trump, the presumptive GOP nominee for president.
Given the market volatility created by high-speed trading, Cuban said the losses could exceed 20%. Such a selloff would end the bull market in stocks that has spanned the last seven years.
Cuban, the co-star of ABC's "Shark Tank," recently told CNNMoney he was recruited to run against Trump, but he believes it's too late to enter the race.
Related: Cuban: I'd be Clinton's VP if I can 'throw bombs' at Trump
Now that he's not running, Cuban said he'd "probably" vote for Hillary Clinton in a likely match-up against Trump.
"The devil you know is better than the devil you don't know," Cuban said. "I can go to Hillary's websites and there's spreadsheets, there's depth, there's analysis, there's details."
By comparison, Trump's website "lists top line things he would like to do," Cuban said, "but he doesn't say how he's going to get there."
Cuban also criticized Trump's isolationist tilt, saying "you can't act as a standalone entity" in today's "global financial environment."
Asked how smart he thinks Trump is, Cuban said: "Probably not as smart as he thinks he is."
Cuban also sounded skeptical about the actual net worth of Trump, who has so far refused to release his tax returns due to an ongoing audit from the IRS. "At least I'm a billionaire," Cuban said.
But Cuban later backtracked a bit, saying: "Whatever he's worth, he's worth."
To be fair, many investors don't sound thrilled about any of the remaining major candidates in the 2016 race. Bernie Sanders has aggressively campaigned against Wall Street and big business. At one point Sanders said General Electric (GE) is "destroying the moral fabric of America."
Few would call Clinton an ideal candidate for Corporate America either. The former First Lady has proposed imposing a fee on big banks as well as raising taxes on investment gains. Clinton has also called out businesses that move overseas to cut their tax bills.
Related: Should investors fear President Trump or Clinton?
But Cuban and others seem to like that at least Clinton is more of a known commodity.
Cuban even recently offered advice to Clinton: Tap him as her running mate. Speaking at the SALT hedge fund conference last week, Cuban said Clinton needs a vice presidential candidate "like me who would just throw bombs at Donald."
"The best way to describe Donald right now -- and again, I like the guy -- is he's like the guy who will walk into the bar and say anything" to go home with someone, Cuban said.
Correction: This story has been updated to clarify Mark Cuban's remarks regarding which candidate he may vote for. Cuban said he'd "probably" vote for Hillary Clinton in a likely match-up against Trump.