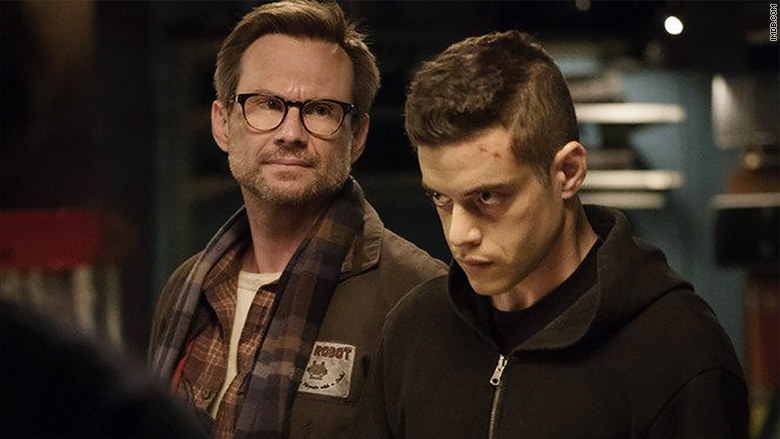 President Obama has a "starring" role in the "Mr. Robot" trailer that was released Monday.
The trailer for the second season of the USA Network's hit drama dealt with the aftermath of the massive cyber-attack that took place at the end of award-winning first season.
"There hasn't been anything like this in the past," the president says in the trailer. "This is going to be affecting our economy in ways that are extraordinarily significant."
"The FBI announced today that Tyrell Wellick and Fsociety engaged in this attack," Obama is heard saying in his faux cameo.
The first part of the quote are taken from Obama's end the year press conference in 2014. Obama did not dub the line about Tyrell Wellick and Fsociety.
The trailer premiered at NBCUniversal's upfront presentation to advertisers. The USA Network is owned by Comcast (CMCSA)'s NBCUniversal.
The latest footage of the second season appears to be in line with the dark and twisted first season.
Today Show host Matt Lauer, who followed the trailer at the event, made a joke about the show's heavy themes.
"We have nothing quite that sinister to share," Lauer said to laughs while taking the stage with co-host Savannah Guthrie.
The show, which follows hackers who are trying to destroy an evil corporation, won the award for the best drama series at last year's Golden Globes.
Related: 'Mr. Robot' creator says freedom of cable TV helped show succeed
The series' two stars, Rami Malek and Christian Slater, were in attendance to debut the trailer to advertisers, the press, and others in the audience at New York's Radio City Music Hall on Monday.
"I don't think any of us could have predicted that a series about an anti-social hacker fighting against income equality, corruption, and the abuse of power would become an audience favorite," Malek said.
The second season of "Mr. Robot," or "season_2.0" as the show has called it, debuts on July 13.