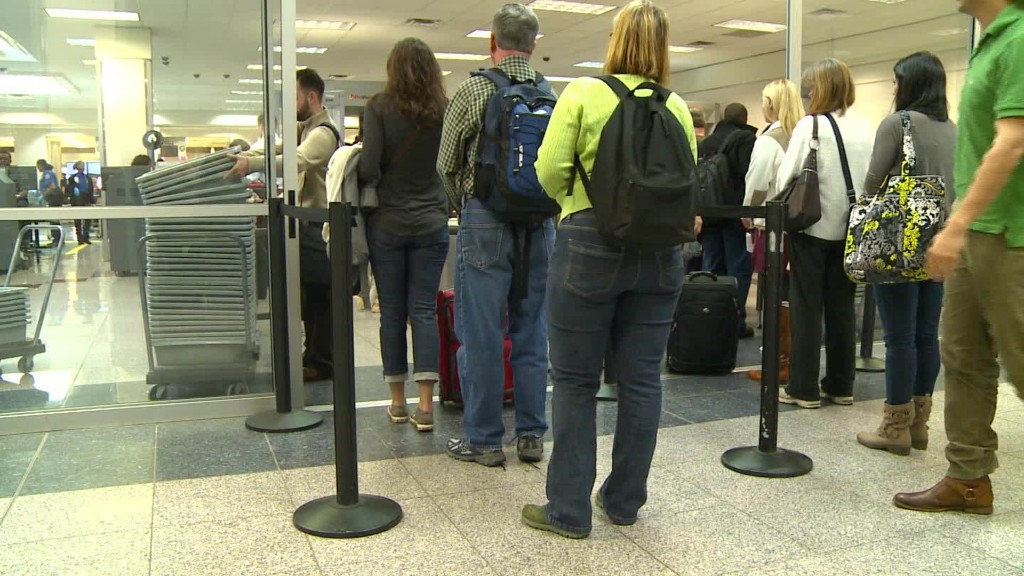 If you're flying out of Chicago's airports this summer, plan to arrive really early.
Chicago's two major airports -- O'Hare and Midway -- tweeted Tuesday morning that security line wait times are longer than average, and customers should arrive at least three hours before their domestic and international flights.
The TSA had previously been suggesting passengers arrive two hours early to avoid missing a flight.
Airport security lines have been growing across the country recently thanks to an influx of passengers, and the TSA has struggled to keep up with the demand.
Related: Help is coming for long airport security lines
Low airfare prices and a recovering economy have pushed more people toward air travel. While that's good news for the economy, it puts a strain on TSA resources.
In 2013, the TSA had more than 47,000 full-time workers serving 643 million travelers. This year, the agency reported having around 42,500 workers handling an estimated 740 million fliers.
Last week, the TSA announced a plan to help reduce checkpoint wait times, which includes the hiring of 768 officers and more overtime and part-time hours.
Illinois Senator Dick Durbin's office announced Tuesday that O'Hare will receive 58 of the additional TSA officers and four bomb-sniffing dogs. No firm date has been set for when the additional screeners will start, but the canines will be on patrol this week.
But local lawmakers want more action.
On Wednesday, four alderman called for the city to apply for the TSA's screening partnership program that allows airports to use private officers.
Airports in Atlanta, New York and New Jersey have made similar threats. Even when private contractors are used at airports, they are still overseen by the government.
O'Hare's arrival time recommendation to travelers comes on the heels of a messy travel weekend at the airport.
On Sunday, the wait time at one security check point exceeded two hours, according to American Airlines (AAL) spokesperson Leslie Scott.
The congestion caused 450 of the airline's passengers to miss their flights on Sunday. Some fliers who were booked on the last flight of the day had to spend the night in the airport.
Related: Will dropping checked bag fees solve airport security gridlock?
The airline also decided to delay 30 flights because of the long waits.
"That is a tough decision for us," said Scott. "It has a lot of repercussions." She explained that a plane can fly nine flights in a day, so a 20 minute postponement in the morning can grow to become a two-hour delay by the end of the day.
Since February, 4,500 American Airlines passengers have missed their flights at O'Hare because they were stuck in security lines.
"We've been dealing with this problem for a couple months now, and it's reached a bit of a point of urgency," said Scott.