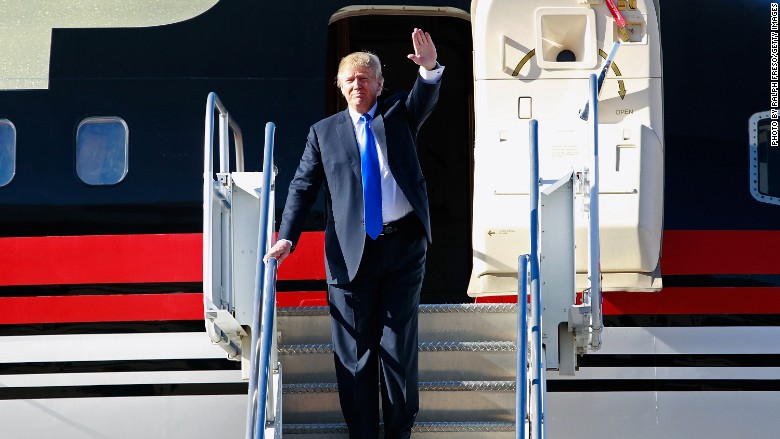 Donald Trump calls himself the "king of debt," but he likes stocks too.
His top picks? Apple, Microsoft (MSFT), Pepsi (PEP) and GE (GE), according to the 104-page financial disclosure released on Wednesday.
Trump has bashed Apple repeatedly for not manufacturing its products in the United States, yet the iPhone maker is his top individual stock holding. He owns at least $600,000 worth of Apple (AAPL) stock and about the same amount in Apple bonds.
Ford has been another favorite punching bag of Trump's. He holds up the car maker as an example of a company shipping American jobs to Mexico. Yet Trump embraces the company in his own investment portfolio: He holds over $500,000 of Ford (F) bonds.
Related: What we know about Donald Trump's finances
How Trump invests
Overall, Trump follows the classic investment advice to diversify, diversify, diversify.
He's loves real estate. The bulk of his wealth comes from his hotels, golf courses and other real estate properties. But that's not all he owns. Trump has as much as $172 million invested in stocks, bonds and funds, according to a CNNMoney analysis of his disclosures.
He owns about 100 individual stock names (CNNMoney only counted positions valued at over $1,000) and trades through four different brokerages (he trades the biggest amount with Deutsche Asset & Wealth Management).
But Trump has cautioned that now doesn't seem like a great time to invest in the market, and he seems to be living by that advice. He has less than $10 million invested in individual companies like Apple (AAPL). Instead, he prefers hedge funds, bonds and cash.
Here's an approximate breakdown of his asset allocation for the $172 million:
Hedge funds: 49%
Bonds: 21.5%
Cash: 21.5%
Stocks: 8%
Related: Should investors fear President Trump or Clinton
Is Trump a 'conservative' investor?
Trump appears to invest conservatively given his large holdings in bonds and cash. He holds a lot of money in checking and savings accounts at banks as well as money market funds. This money is easy to access, but it's been a lousy investment in recent years with interest rates stuck near 0%.
The biggest holding for Trump though hedge funds. These funds are supposed to be run by the smartest minds on Wall Street who charge high fees by promising that they will limit losses when the market sours. However, a lot of hedge funds have had terrible performance lately, including some that Trump owns.
Trump has several million invested with hedge fund king John Paulson. Paulson became a billionaire by foreseeing America's housing crisis early, but his picks since haven't been nearly as stellar.
The other large bet in Trump's hedge fund portfolio is on the BlackRock Obsidian Fund. Trump has over $25 million there. The BlackRock fund made headlines in January for suffering its worst start to a year in nearly two decades. Performance has reportedly rebounded somewhat since.
Related: Who owns America's debt?
Trump's investments vs. his campaign statements
Trump is fond of criticizing the politicians in Washington for running up the national debt, yet he owns between $1 million and $5 million of U.S. Treasury bonds.
Recently, Trump came under fire for suggesting it might be possible to renegotiate the debt with U.S. creditors. Economists and traders called the idea "reckless." Americans are still the largest holders of U.S. debt.
Trump also owns a small stake Amazon (AMZN) (less than $100,000), and an even smaller amount in Carrier air conditioner's parent company United Technologies (UTX).
He has slammed Amazon CEO Jeff Bezos because Trump doesn't like how the Washington Post has covered his presidential campaign. Bezos now owns the Post. Trump has also threatened never to buy Carrier air conditioners again after the company announced it would close a plant in Indiana and shift production to Mexico.