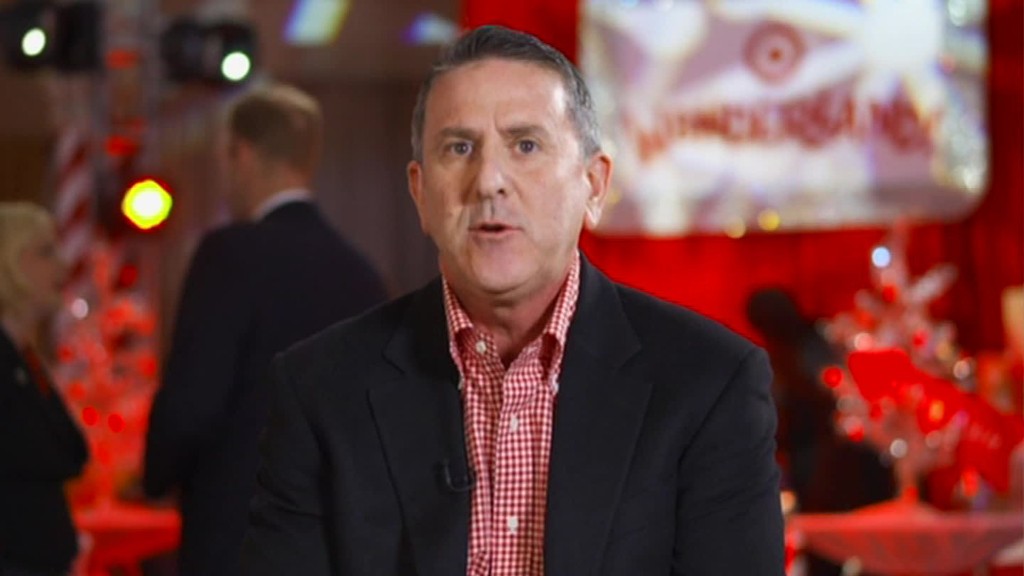 Target's latest results and outlook for the second quarter did not meet Wall Street's bull's eye. And that's leading to more worries about whether consumers are tapped out.
Target (TGT) stock fell nearly 10% in early trading Wednesday after the retailer reported sales that missed forecasts. Target also warned that its sales and earnings for the second quarter would be lower than what analysts were expecting.
Overall sales were down 5% in the quarter, but that was largely due to Target's sale of its in-store pharmacies to CVS (CVS).
Related: Macy's is in serious trouble
There was some good news. Target's earnings rose 16.5% from a year ago and topped Wall Street's estimates. Digital sales surged 23% as well.
But the weak guidance is the story.
Target CEO Brian Cornell said in a statement that it is "in an increasingly volatile consumer environment" for retailers and added that it is "a challenging short-term consumer landscape."
Cornell, who left Pepsi (PEP) to take over Target in 2014, is widely credited with righting the ship after a massive hack in late 2013 caused more than 40 million consumers to have their credit card information compromised.
But Target is now the latest prominent retailer to disappoint investors. Macy's (M), Kohl's (KSS), J.C. Penney (JCP) and Nordstrom (JWN) also reported underwhelming results recently.
Target has also been, uhh, targeted, by some consumers who are not happy with the retailer's new transgender bathroom policy.
Nearly 1.25 million people have signed an online pledge to boycott the stores called out by the American Family Association. Target did not cite the boycott for any sales weakness in its earnings release though.
Related: T.J. Maxx is in expansion mode
Still, there are pockets of strength in the sector. Amazon (AMZN) is booming and its stock is near an all-time high. Specialty retailers like Home Depot (HD), TJX (TJX) and Children's Place (PLCE) all reported solid results this week as well.
Ivan Feinseth, an analyst with Tigress Financial Partners, said that he was shocked by how poor Target's outlook was ... but added that the expectations may now be so low that Target should have no problem beating them.
Feinseth added that Target might have an easier time rebounding than other struggling retailers.
"Target is unique. They offer low-end values but high-end consumers like shopping there. The benefit they have is that they also sell food. It's like going to two stores with one trip," Feinseth said.
Investors won't have to wait long for yet another reading on the health of consumers. Walmart (WMT) will report its first quarter results on Thursday morning. The numbers may not be pretty. Analysts are expecting a drop in revenue and profits from a year ago.