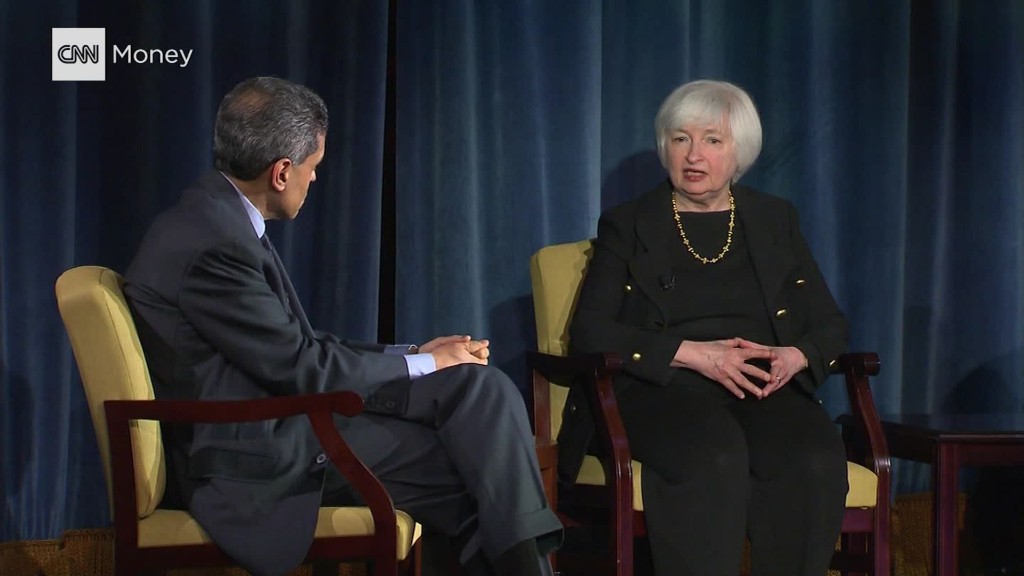 The Federal Reserve may be eying its next rate hike as soon as this summer.
Evidence of a possible June rate hike came Wednesday when minutes from the Fed's April meeting gave a more upbeat assessment of the U.S. economy.
"Most participants judged that if incoming data were consistent with economic growth picking up in the second quarter...then it likely would be appropriate for the Committee to increase the target range for the federal funds rate in June," according to the minutes.
Translation: If the economy stays on course, a rate hike is probably coming in June.
The minutes were released a day after comments from three Fed officials who said there's a solid chance for a rate increase next month.
Wall Street is perking up its ears. Immediately after the minutes published Wednesday, investors bet that there's a 26% chance of a June rate hike, up from single digits as recently as Monday, according to CME Group.
The Dow too turned negative after being up about 100 points only moments before they published. Higher rates makes borrowing more expensive so it's not a boon for stocks.
"The minutes certainly confirmed that the Fed is looking at June as a live meeting, it's not off the table," says Jeff MacDonald, director of fixed income at Fiduciary Trust Company International. "The market is playing down the rate hike cycle maybe more than it should."
Regional Fed Presidents John Williams, Dennis Lockhart and Robert Kaplan suggested on Tuesday in separate events that rate hikes could be coming soon, which put added attention on the Fed's minutes.
Williams told the Wall Street Journal that recent economic data "make a good case for rate increases in the next few meetings." Last Friday, monthly retail sales -- a sign of how American consumers feel about the economy -- increased the most in a year.
Related: Why Janet Yellen is 'clearly the boss'
Lockhart said "two, possibly three" rate increases are on the table and Kaplan argued that he thinks it would be appropriate to raise rates in the "not-too-distant future."
Their comments drove up rate hike expectations, but some experts say the comments that matter most are from Fed Chair Janet Yellen, who speaks next week. After all, none of those Fed Presidents even have a vote this year.
Two of Yellen's closest allies, New York Fed President William Dudley and Fed Governor Stanley Fischer, also speak later this week. The three together carry the most weight on the big decision, some investors say.
"It's all up to the troika, not what Fed Presidents want," says Peter Boockvar, chief market analyst at the Lindsey Group, a consulting firm.
Related: No rate hike: U.S. worries keep the Fed on hold
Currently, the Fed's committee projects there will be two rate hikes in 2016. Before this week, some investors were betting there would be zero.
Yellen cooled rate hike expectations in March when she spoke about global "risks" to the U.S. economy. However, a key driver for many countries -- prices of commodities like oil -- have picked up since February after crashing for several months. And fears about China's economic slowdown have eased.
With global worries subsiding, the U.S. economy appears to be picking up some steam in the spring. Wage growth picked up a little bit in April and Americans are working slightly longer hours -- both good signs that spenders have more cash.
"Economic data is moving in the right direction," says Collin Martin, director of fixed income at Charles Schwab, which forecasts 1-2 rate hikes this year. "It looks like the second quarter is set to rebound a bit."
The Fed's key interest rate impacts millions of Americans. It influences mortgage rates, interest on bank savings, credit card debt and a myriad of other costs. The central bank put rates at zero in 2008 and just began lifting rates up last December. Rate increases are a sign that the U.S. economy is getting closer to full health.