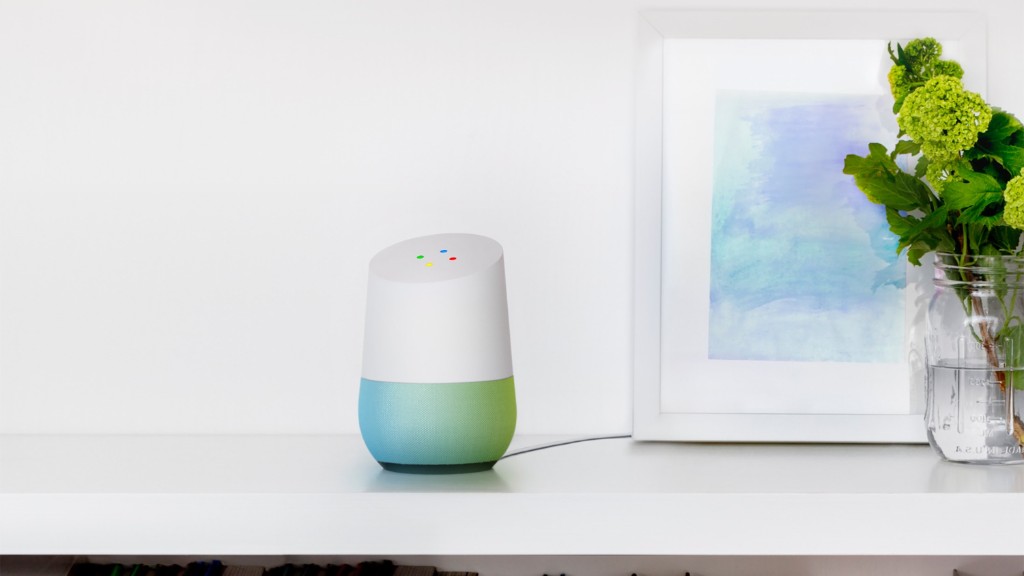 Google is taking on Amazon with its own Echo competitor, the Google Home.
The company announced the new product Wednesday morning at its annual I/O developer conference. The event kicked off with a keynote by CEO Sundar Pichai, held outdoors at the Shoreline Amphitheatre in Mountain View, giving it a festive Coachella vibe.
The two hour presentation covered the latest Android N offerings, Google's new voice assistant (which will take on Siri), a virtual reality ecosystem and, of course, bots.
Google Home
Small and squat, looking more like an air freshener than a speaker, Google Home is a portable (but wired) speaker that takes voice commands. Google's Mario Quieroz described it as "a voice-activated remote for the home."
It has full Google Voice search, which can tell you how the traffic is or how many calories in an avocado. It plays music and can control smart home devices, like lights or the Nest thermostat. If you use Google Calendar, it can check and change appointments.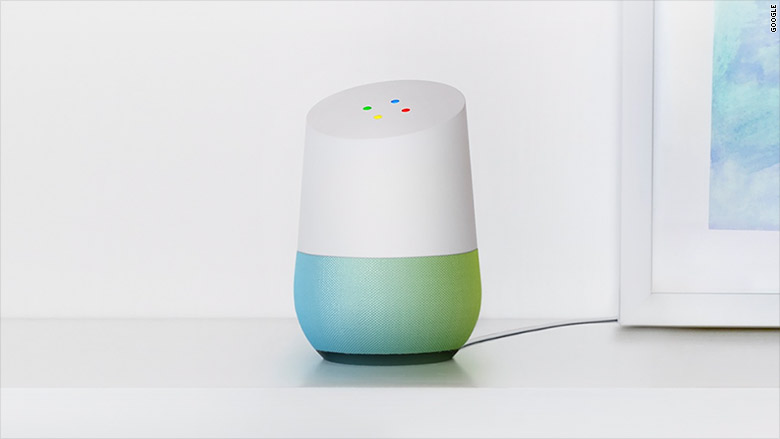 Google just gave a preview of the the product, which won't be available until later this year. But it's announcing now in part to give third-party developers a chance to make voice-activated integrations.
Pichai even gave Amazon (AMZN) a shoutout during the announcement, "for creating a lot of excitement in this space."
Google assistant
The Home will be powered by Google's own personal assistant. A competitor to Siri, Cortana and Alexa, the assistant is notably lacking a cute name or anything that indicates a gender or personality.
"We want users to have an ongoing two-way dialog with Google," said Pichai. "[We're] building each user their own individual Google."
Google already had many of the elements of an assistant in its other products, like voice search and Google Now. The company is not new to natural language processing, machine learning and artificial intelligence, the building blocks of a smart assistant.
Meet Allo, Google's new bot
Google didn't want to be left out of this season's hottest new craze: bots! It's releasing a new messaging app called Allo that includes a Google bot. It has all the usual trappings that kids love, like emojis, custom stickers and the ability to draw on photos.
But it also adds a somewhat cool, possibly sad, feature. Allo can use machine learning to automate parts of your conversations, so you can basically outsource chats to a computer. When someone sends you a message or image, Allo works to understand the context and offers suggestions for how to respond.
Related: Google is quietly building a crazy good gadget business
If you don't have any real friends, possibly because you had a robot text them back instead of calling, there's a feature for that. You can talk directly to the Google bot and ask it questions or play games with it, like guessing movie names based on emojis. It also offers an incognito mode and all conversations are encrypted.
Allo isn't Google's only new app. It's also introducing Google Duo for mobile video calls, similar to FaceTime. The super simple app has a feature called Knock Knock, which lets you see a live video of the person calling you before you pick up. It's a great chance to catch them still fixing their hair.
Both apps will be available for Android and iOS later this summer.
Android N
The next version of Google mobile operating system, Android N, will also launch later this summer.
An early developer version of N has been available for months, but now Google is releasing a more consumer-ready beta for eager testers. It has more than 250 new features, like a split-screen view, in-app text replies, and a power-saving mode called Doze. It will include speed and performance updates, according to Google. Most importantly, it will support 72 new emojis.
Google decided to deviate from its usual candy-themed Android names and let the Internet help name this version. Anyone can submit suggestions for what the N should stand for. It's either a brilliant publicity stunt or an idea thought up by someone who doesn't use the internet.
Daydream is Google's big VR bet
As expected, Google is expanding its virtual reality efforts far beyond the low-tech Cardboard viewer. It has made a new ecosystem for mobile virtual reality called Daydream. It's a big project that will eventually include both hardware and software. First up is the Daydream platform for VR that will be included in Android N (if your phone is fast enough). It will include things like a home screen for navigating your apps and VR content. New phones from Samsung, HTC and Huawei should be Daydream-ready by this fall.
Eventually Google will also eventually release a new headset and controller for VR. Instead of announcing any new hardware, it showed a generic line drawing of a headset and hand-held remote with motion sensors inside.
Bits and pieces
The company also announced a new version of its operating system for wearables: Android Wear 2.0. Coming this fall, 2.0 will let a smartwatch connect to wifi and run apps on its own, without having a phone nearby. It will also add a wee keyboard for wearable screens.
It previewed a new feature that lets apps run instantly without installing them. The feature will be available later this year on devices running Android 4.2 as part of a Google Play update.