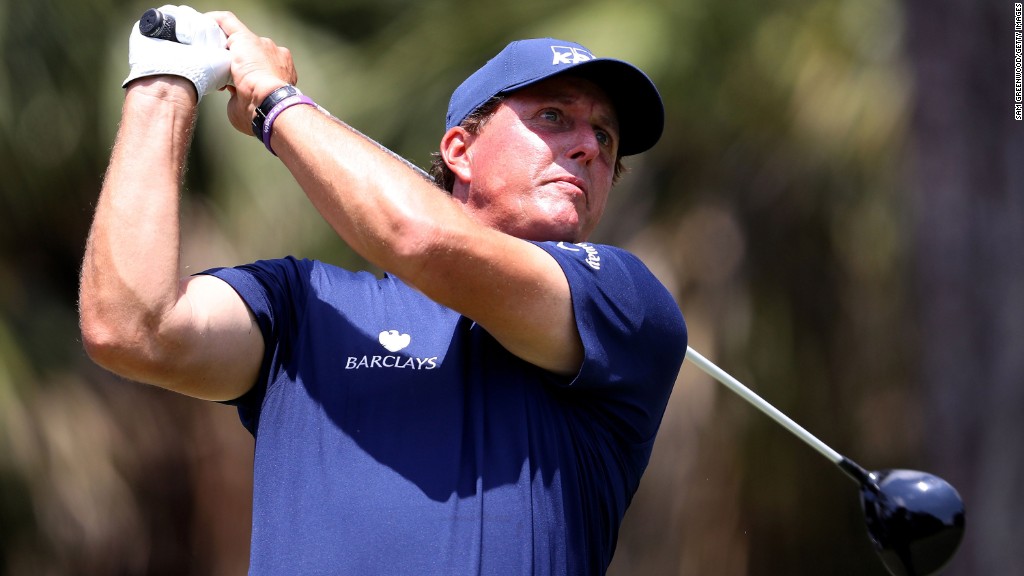 Golfer Phil Mickelson will pay the Securities and Exchange Commission more than $1 million for profit he made on an insider stock tip.
Two other individuals allegedly involved in the insider trading case with Mickelson are Las Vegas investor and gambler Billy Walters and Thomas Davis, the former chairman of Dean Foods. Walters and Davis were named in federal criminal indictments unsealed Thursday.
Mickelson was named as a "relief defendant" in the case, meaning he benefited from wrongdoing but is not accused of any illegal act.
"The complaint does not assert that Phil Mickelson violated the securities laws in any way. On that point, Phil feels vindicated," said the statement released by his attorney, former White House counsel Gregory Craig. "At the same time, however, Phil has no desire to benefit from any transaction that the SEC sees as questionable."
The SEC complaint cites a July 2012 conversation he had with Walters. According to the SEC, Mickelson and Walters were friends, and the golfer owed the gambler for bets.
Walters had insider information from Davis about an upcoming spin-off Dean Food (DF)was planning, and Walters advised Mickelson to buy its stock, according to the complaint.
Related: Five famous insider trading cases
Mickelson allegedly bought $2.4 million worth of the stock the next day, dwarfing his total stock holdings of $250,000. When the stock rose in price, Mickelson was able to sell it at a $931,000 profit and pay off his bets with the proceeds of the trade, according to the SEC. His payment to the SEC will reflect that profit, along with $105,000 in interest.
"Simply put, Mickelson made money that wasn't his to make," said Andrew Ceresney, director of the SEC's enforcement division at a New York press conference.
In his statement, Mickelson said his sponsors have decided to stand by him.
"Phil understands and deeply respects the high professional and ethical standards that the companies he represents expect of Phil. He regrets any appearance that, on this occasion, he fell short," said his statement. "He takes full responsibility for the decisions and associations that led him to becoming part of this investigation."
Federal courts have recently reigned in prosecutors on insider trading cases. The government must now prove that anyone who got a tip knew that they were receiving nonpublic information. U.S. Attorney Preet Bharara, who brought the cases against Walters and Davis, recently had to drop a number of insider trading cases because of this more stringent requirement.
"There is conduct that we think is nefarious and undermines fairness in the markets that will not be able to be prosecuted," said Bharara, who would not answer questions about Mickelson at the press conference.
But the SEC only brings civil cases, which require a lesser burden of proof than criminal cases.
Mickelson, 45 is one of the most successful and popular golfers. He's no longer in the prime of his career, but he still ranks as the world's 17th best golfer. Ten years ago he was ranked as high as No. 2 in the world. But he has not won a tournament since 2013, when he won the British Open, the most recent of his five wins in a major. He has missed the cut in four of the 12 events he's entered so far this year.
He has lifetime earnings of $79.5 million, second only to Tiger Woods' total. And his winnings have been dwarfed by his endorsement money. He earned $48 million in 2015, according to an estimate from Forbes. His sponsors include KPMG, Rolex, Barclays, Amgen (AMGN), Exxon Mobil (XOM) and Callaway.