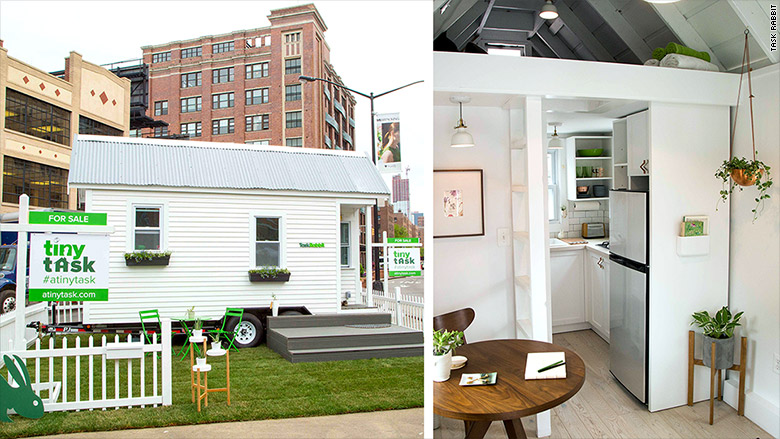 Tiny homes are popping up around the country, and now there's one right in the middle of New York City.
Sadly, no one is actually taking up residence in the miniature house, which is currently situated right next to an Apple Store in the Meatpacking District.
The home was built over 72 hours by 10 "Taskers," the contractors that work with on-demand startup TaskRabbit, which lets people outsource tasks and small jobs.
I stepped foot into the little oasis this morning, which is decked out with wall art, plants, a kitchen table, light fixtures, a lofted bed, as well as a full bathroom and kitchen (running water not included).
It's currently being auctioned off on eBay (EBAY), with all of the proceeds going to a charity called Community Solutions, which focuses on eliminating homelessness.
Related: Can tiny homes solve homelessness?
Tiny homes have been proposed as one way to alleviate homelessness. Austin-based Mobile Loaves & Fishes opened a 27-acre development of RVs and tiny homes earlier this year to help the chronically homeless.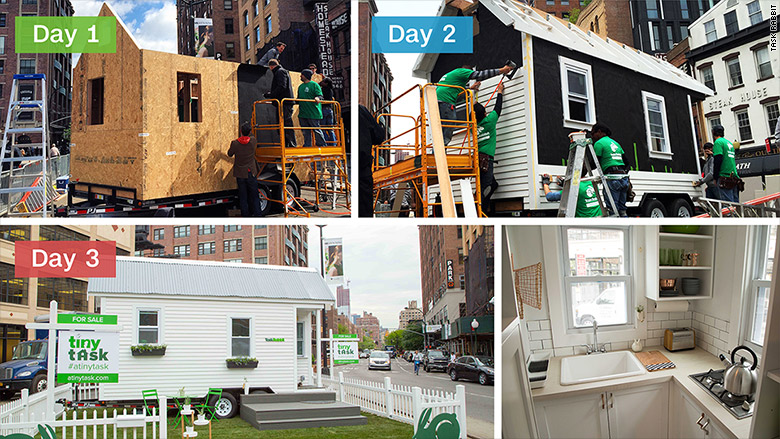 So far, 28 people have placed bids for the TaskRabbit home, which will stay up until Thursday evening and then will be placed in storage until it's sent to the highest bidder.
The highest bid so far is for $11,100.00 -- the auction closes on Sunday.
According to Rob Willey, vice president of marketing at TaskRabbit, the marketing stunt is also meant to showcase the four pillars of service that TaskRabbit can be used for: handy work, moving, shopping and delivery, and housecleaning. Taskers dictate their own rates and make an average of $35 per hour, the company said.
More than 100 Taskers in New York City applied to take part in the stunt; 10 were selected based on their availability.
The company has 50,000 Taskers in 19 cities across the U.S. and London. It's raised more than $50 million since being founded in 2008.
Earlier this year, founder Leah Busque stepped down as CEO, with former COO Stacy-Brown Philpot taking over the role.