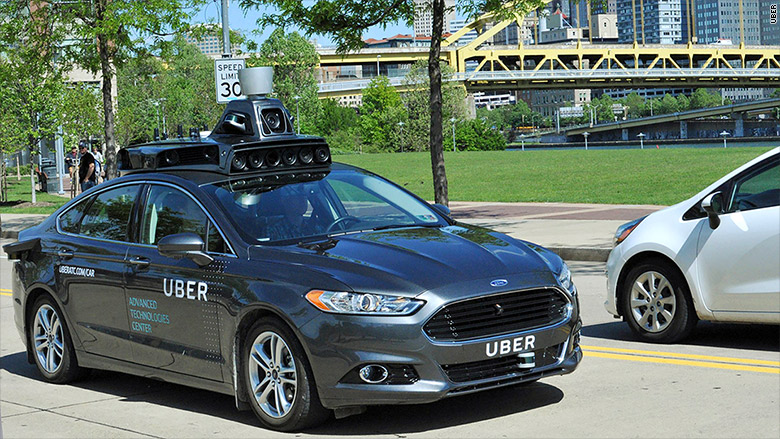 If you live in Pittsburgh, keep an eye out for a self-driving Uber.
The company confirmed that it's testing a self-driving car on Pittsburgh's streets. The car is a hybrid Ford Fusion and looks "like it should be driven by a superhero," Uber said in a blog post Thursday.
In actuality, if you spot the car on the road, you'll also see a trained driver who's monitoring the vehicle's autonomous capabilities.
The car has sensors, including radars, laser scanners and a hi-res camera, which are all collecting data for mapping purposes.
It's the first time that Uber has confirmed it is testing self-driving cars on the road. Uber declined to comment on how many of the vehicles are on Pittsburgh streets.
"Real-world testing is critical to our efforts to develop self-driving technology," the company said, touting the benefits of self-driving cars on preventing future car accidents.
Related: Uber's big China rival: 'The market will pick the best'
Uber said that it's still early days for the company's new technology, but it is aligned with its mission is to "make transportation as reliable as running water -- everywhere and for everyone."
The news comes 15 months after Uber opened up its Advanced Technologies Center in Pittsburgh, in partnership with Carnegie Mellon, to work on developing self-driving capabilities.
In April, the company announced that it had snagged top Ford executive Sherif Marakby to serve as vice president of global vehicle programs at its Advanced Technologies Center.
Uber -- which is valued at $62.5 billion -- is competing with the likes of Google (GOOG), Tesla (TSLA), Apple (AAPL) and GM (GM) in its plan to make autonomous driving a reality.