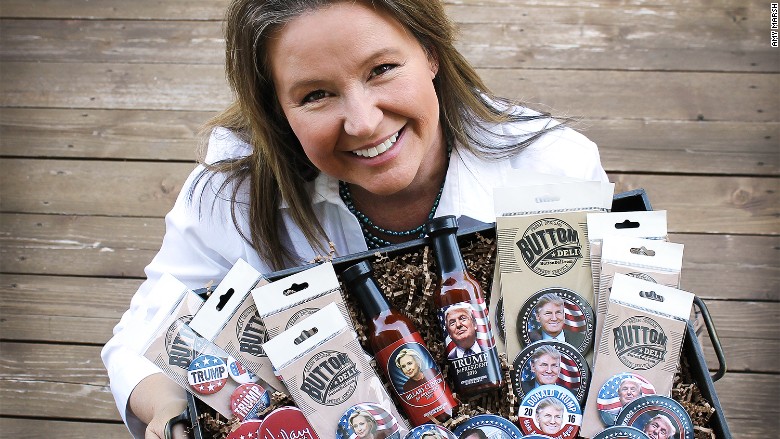 Amy Marsh made an early bet on Donald Trump. Now she's making thousands of dollars a month off the presumptive Republican presidential nominee.
Marsh, a graphic designer in Olathe, Kansas, runs a digital design business with her husband. They sell things like business cards, personalized phone cases, monogrammed blankets and mugs.
In 2008, Marsh dipped her toe into election paraphernalia.
"We wanted to expand the business into new areas," she said. "So we first made buttons for candidates in our local city elections and put them on Ebay (EBAY). "
Sarah Palin was her first foray into presidential elections.
"We made a few Palin buttons in 2008 when John McCain first announced her as his running mate. They just took off," said Marsh. "We decided then that we would pivot the business to take advantage of every election cycle."
Related: Donald Trump trademarks 'Make America Great Again'
Marsh knew that 2016 was going to be a busy year, with the 16 Republican candidates and six Democratic ones.
When Donald Trump announced his run last June, Marsh didn't pay much attention to it. "We thought he would only last a few months," she said.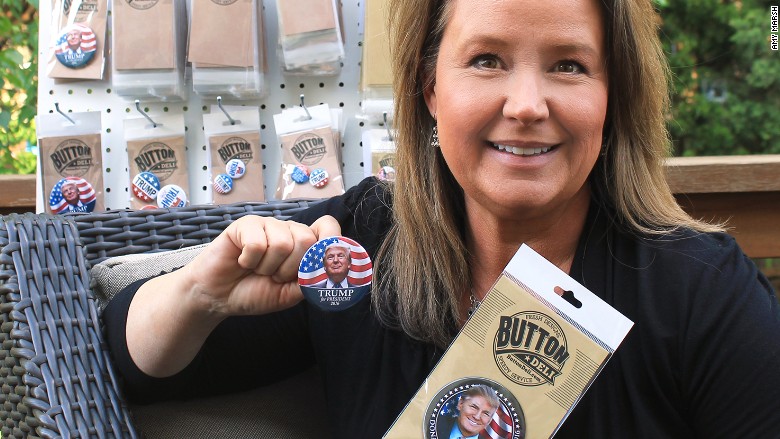 She waited until August to start selling her Trump-themed products like buttons, yard signs, bumper stickers and hats on sites like Zazzle, eBay and Amazon (AMZN).
"Pundits were talking about how other candidates were going to find a path to the nomination," said Marsh. "At the same time, we were seeing extraordinary sales for our Trump products."
Soon, they were selling out. "Around September, we realized that Trump would be around for a while, and [we] designed more Trump-themed items," she said.
Related: A peek at Donald Trump's finances
Marsh estimates that she's logged over $100,000 in sales so far from her 2016 election-themed merchandise. And Trump products account for 50% of that. They're also selling better than Hillary products, she said.
Marsh creates her own designs and doesn't license them from candidates' campaigns. She said she uses images that are in the public domain and available for fair use.
One of the most popular Trump products was a surprise: "It's our Trump hot sauce. It's definitely a conversation piece," she said
Where are the orders coming from?
"Many are from the battleground states," she said. "And many orders for Trump products specifically are from small businesses."
Related: Anything with Trump's name is selling fast
Marsh is waiting to capitalize on whoever Trump picks as his running mate.
"We'll quickly start designing new products for the running mates as soon as we find out who they will be," she said.