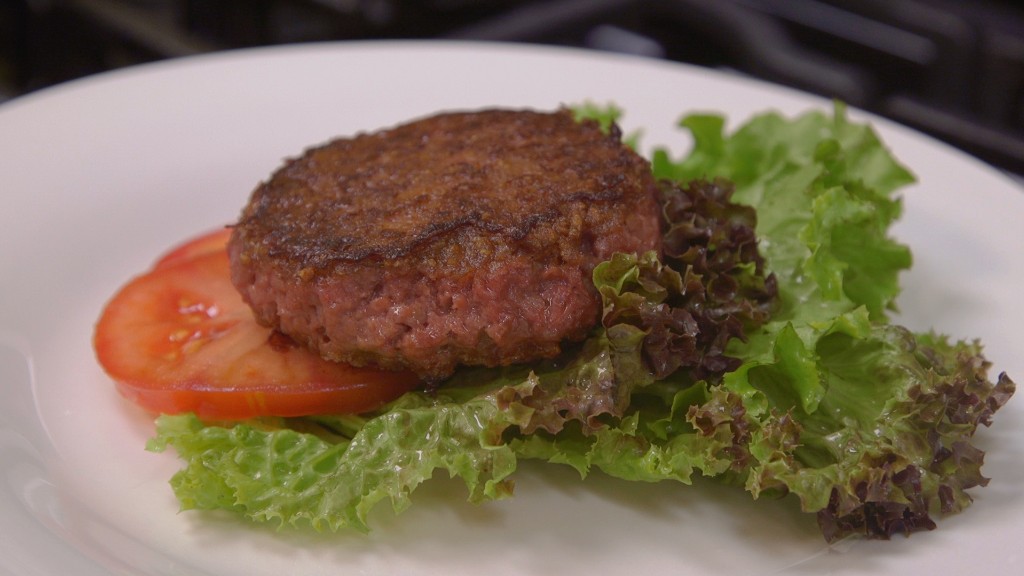 A new burger is about to hit the market. It looks and cooks like it's made of beef. But there's one key difference -- it's entirely plant based.
Beyond Meat, which makes meatless products, claims its latest burger is "the closest thing to meat" that it's ever created.
The Beyond Burger will be available at one Whole Foods in Boulder, Colorado on Monday and at other stores on the East Coast soon.
It's the result of over seven years of research that the company undertook to "understand meat" and then "rebuild" the burger in a plant-based form.
"A lot of people love to eat meat. What I'm doing is allowing them to eat more of what they love, more meat," said Beyond Meat CEO Ethan Brown. "It's just meat from plants. That's the only difference."
Related: McDonald's is trying something new: Fresh beef
The first ingredient on the new burger's list is pea protein.
But don't look for the new patty in the meat alternative section of the supermarket. These new burgers will be sold in refrigerated cases right next to beef patties -- a first for any plant-based burger.
The prime placement is key to Beyond Meat's vision for the burger.
"If you look today, there's soy milk, almond milk," said Brown. "Three or four years from now, when you go into the meat section of any major supermarket, you'll be able to buy a plant-based version of meat right next to an animal version."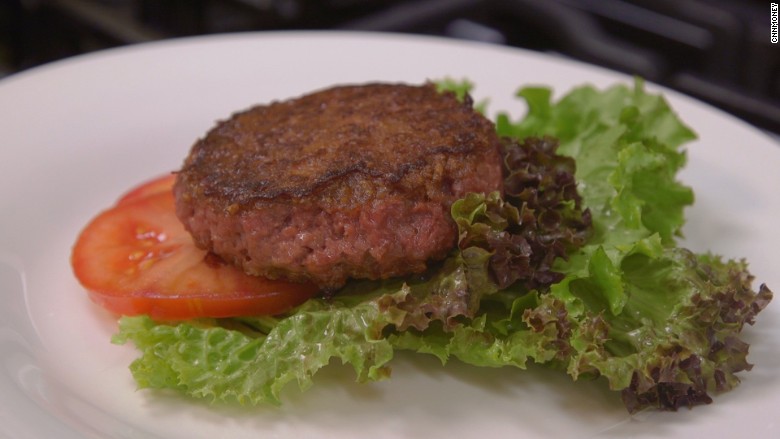 Related: Chipotle files to trademark Better Burger
Brown says sales of plant-based burgers could grow to $30 billion a year.
The industry certainly is expanding.
Impossible Foods, another company that creates meat alternative products, has a patty that cooks in a similar way, turning from pink to brown. Its patty is scheduled to hit markets sometime this year.
And research firm Mintel estimates that in 2014 sales of frozen meat alternatives hit $460 million -- up nearly 2% from 2012.
But being a pioneer in the meat aisle hasn't come cheap.
Beyond Meat, which was founded in 2009 and is backed by Bill Gates and Twitter co-founder Biz Stone, has spent millions of dollars developing the new burger.
CNNMoney got the chance to taste the Beyond Burger before it hits stores.
Related: Barilla's message to America: Pasta is health
As far as we could tell, there's no trace of peas and the texture comes surprisingly close to actual meat.
The burger is juicy. Instead of blood and animal fat oozing from the patty, it's dripping with a mix of canola, coconut and sunflower oil. That moist fattiness mimics the feeling of eating a burger made of beef.
Beyond Meat's patty has only slightly less total fat than a traditional 4-ounce beef burger with 20% fat. But most of the fat in the Beyond Burger is unsaturated fat -- the kind that doesn't raise bad cholesterol levels in the blood, according to the FDA.
The plant-based patty has higher sodium than a typical beef burger, but it doesn't have any cholesterol -- beef patties have about 80 grams. It also has slightly more protein.