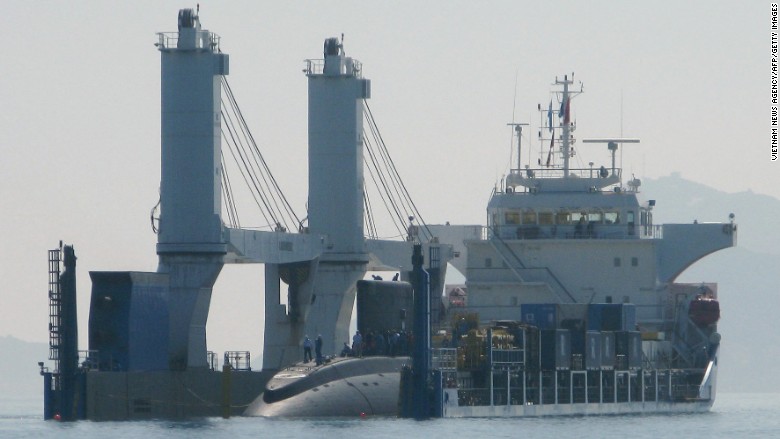 Vietnam has increased its military spending dramatically in recent years amid a series of territorial disputes with China.
And the southeast Asian nation may soon be splashing out more to upgrade its defense capabilities. President Obama on Monday announced an end to decades-old military sanctions banning U.S. arms exports to Vietnam.
How much does Vietnam spend?
Last year, Vietnam's military expenditures totaled $4.4 billion, or 8% of total government spending, according to the Stockholm International Peace Research Institute. That's a dramatic rise from 2005, when Vietnam spent roughly $1 billion -- though the numbers are a bit fuzzy because the government doesn't publicize its defense budget.
The country's defense spending will increase further to $5 billion this year, and $6.2 billion by 2020, estimates Jon Grevatt, Asia Pacific Defense Industry Analyst at IHS Jane's.
Those numbers may be rising fast but they're dwarfed by the world's big military spenders. The U.S. leads the pack, shelling out $596 billion in 2015, according to SIPRI. China is in second place with roughly $215 billion in spending last year.
Who are Vietnam's main suppliers?
In recent years, around 80% of Vietnam's military purchases have come from Russia.
Vietnam has used the purchases to modernize its capabilities -- especially its surface and submarine fleets. It has also boosted coastal defenses with the purchase of anti-ship batteries and missiles. The air force primarily operates Russian-made aircraft.
Moscow is expected to maintain its leading position, but European nations and Israel have started to move into the market.
"This gives an opportunity for the U.S. to do the same," Grevatt said.
The U.S. has sold some gear to Vietnam in the past. The arms embargo was eased twice in the past decade, and most recently in 2014. Washington is currently sending six fast patrol vessels to Vietnam to help bolster its coast guard and counter Chinese ambitions in the South China Sea.
Related: China's weapons sales to other countries are rising
How much business is up for grabs?
IHS estimates that Vietnam will earmark about $1.6 billion for defense purchases this year. That's estimated to rise to $2 billion by 2020 as the overall defense budget increases.
Some of the equipment Vietnam is believed to be reviewing for purchase include Lockheed Martin's (LOCKHE) P-3 Orion maritime patrol aircraft and Raytheon (RTN) coastal radar systems, IHS said.
Vietnam is also expected to boost its maritime security with patrol aircraft, coastal radars and naval craft. But the government is likely to need some financing aid to complete the purchases.
Much of the business is expected to include some collaboration. In recent years, Vietnam has pushed for joint production or R&D to help upgrade its domestic capabilities.