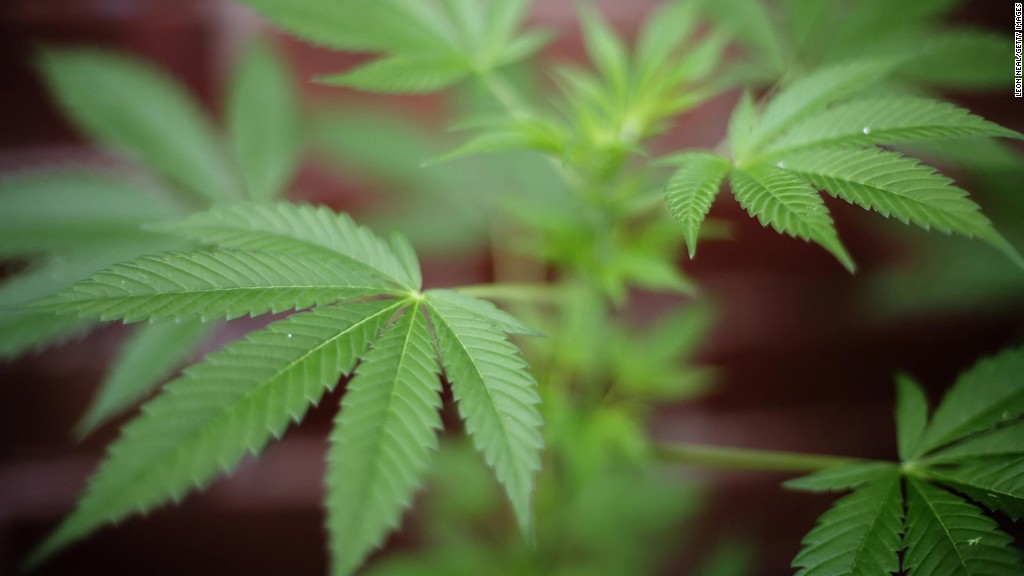 MassRoots, a social networking platform for cannabis users, said Tuesday that Nasdaq has rejected its request to trade shares on the exchange.
The Denver-based startup had hoped to become the first cannabis company to be listed on Nasdaq.
Medical or recreational marijuana is legal in 23 states (including Colorado) and the District of Columbia. But it is still illegal under federal law.
Nasdaq determined that listing the company could have been seen as aiding the distribution of an illegal substance, MassRoots said.
Isaac Dietrich, a co-founder of MassRoots, said the decision sets a "dangerous precedent" that will prevent other legal marijuana companies from getting listed on national stock exchanges.
"This [will make] it more difficult for cannabis entrepreneurs to raise capital and slow the progression of cannabis legalization in the United States," Dietrich.
Nasdaq said it does not comment on listing application decisions.
Related: Take a weed break at work. It's allowed!
MassRoots, which launched in 2013, models itself as a Facebook (FB) for pot users. It also allows weed at work.
"I thought up MassRoots when I was smoking weed in my college friend's apartment," said Dietrich, whose firm has 33 employees and has raised $6.5 million in funding.
"Our general philosophy is that we need to be as productive and creative as possible, everyday," he said. "If cannabis facilitates that, then we're allowing it."
Related: Women cash in on the marijuana boom
Dietrich said MassRoots met the criteria for applying to Nasdaq.
"We have a market cap of over $40 million and we have well over 300 shareholders," he said. He said those shares are listed on so-called over the counter markets under the ticker MSRT (MSRT).
He said the company was given the option to withdraw its application and keep the rejection private. "But we want this to be made public because it sets an important precedent."
MassRoots vowed to appeal the rejection to the Securities and Exchange Commission if necessary.
Dietrich is taking the development in stride.
"In the cannabis industry, we face setbacks everyday that other industries don't face," Dietrich said. "But we move forward."