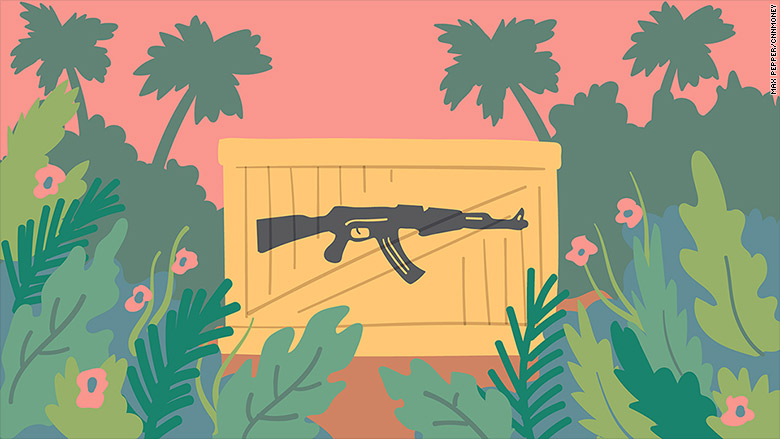 Jurors in New York City rejected the claim that a Romanian man was covertly working for the CIA when he tried to sell rocket launchers and AK-47s to Colombian terrorists.
Virgil Flaviu Georgescu, 43, was convicted Wednesday in federal court of conspiracy to murder American government employees and conspiracy to provide material support to terrorists.
He could face up to life in prison when he is sentenced in September.
Georgescu was caught in 2014 brokering a deal that involved selling $17 million worth of military-grade weapons to the Communist guerrilla fighters of FARC, the Fuerzas Armadas Revolucionarias de Colombia.
He was extradited from the eastern European country of Montenegro to the United States.
This international tale of drugs, terrorists and a wannabe spy stems from a U.S. Drug Enforcement Administration reverse sting operation. Federal agents had undercover informants pose as members of FARC seeking AK-47 rifles, M-4 carbines, sniper rifles and more.
Related: Man on trial claims he did $17 million arms deal with Colombian terrorists for CIA
The buyers claimed they wanted the weapons to kill American federal agents and shoot down the cocaine-crop-destroying helicopters flown by the DEA.
They approached Georgescu -- for some reason that isn't clear in court papers.
Then there's the twist: Georgescu called the CIA tip line twice in early 2012 to warn the U.S. government, according to transcripts of the calls obtained by CNNMoney from the court file.
Georgescu -- who previously helped the FBI as an informant more than a decade ago -- offered to become a CIA agent. Then, on his own, he admitted spending $7,000 over the next two years traveling across Europe to make the deal happen.
Two of the people he involved in the deal -- Romanian government employee Cristian Vintila and former Italian member of parliament Massimo Romagnoli -- cut deals with prosecutors and testified against Georgescu at trial.
In court this week, federal prosecutor Ilan Graff pointed out that Georgescu's story sounded implausible. He called it a "one-man investigation" and repeatedly pointed out that no U.S. agency ever gave Georgescu written permission to take part in a gun buying operation.
Graff also noted that Georgescu directed his accomplices to use the encrypted phone messaging service Telegram and put a self-destruct timer on his messages.
Georgescu remained defiant.
"Everything I did, I did for the United States government and the people in this country," he repeated on the witness stand Monday. "I would do it again."
Georgescu was born in Romania, but he obtained American citizenship through marriage. His lawyer, Albert Dayan, intends to appeal the verdict.