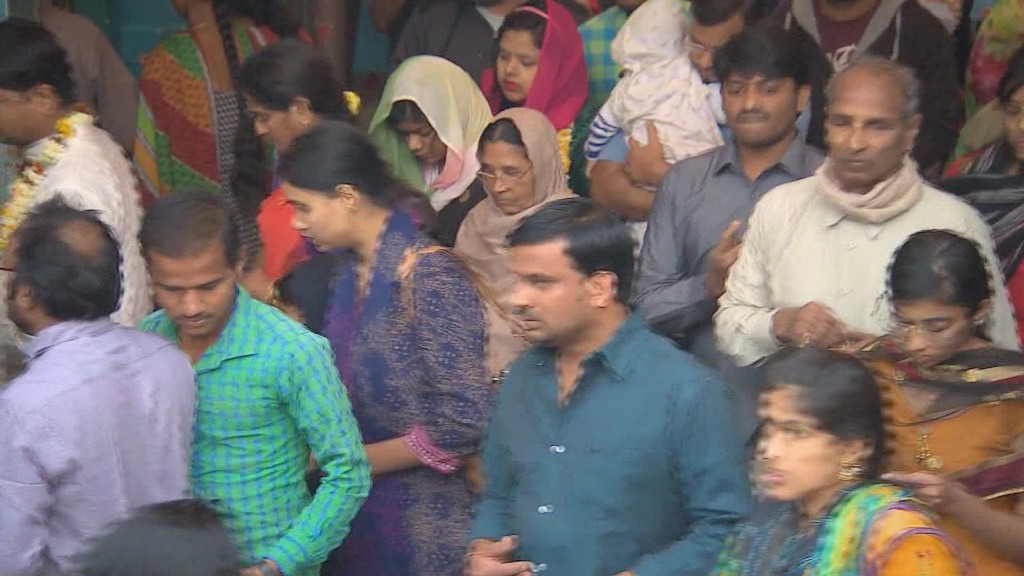 Finding an ATM in India is a struggle at the best of times. Finding one that works is even harder.
For a country that runs on cash, that's a big problem.
Now India's central bank has taken a stab at estimating just how big: Nearly one third of the country's ATMs are broken, according to S.S. Mundra, deputy governor of the Reserve Bank of India.
"Our teams have recently undertaken a survey of almost 4,000 ATMs across the country with sample size fairly representing geographies and bank categories," Mundra said this week. "[The] survey results are not comforting in any way," he added, saying the bank would act to fix the problem.
On social media, the news was met with resignation: "The closest ATM to me is always one of [the broken]," chirped one Indian Twitter user.
Related: India's population explosion will make or break its economy
The lack of a functioning ATM network is inconvenient. But it creates other problems too. In 2012, cash accounted for 87% of all transactions in India , according to researchers at Tufts University.
The most recent central bank statistics reveal that 1.3 billion Indians are forced to share fewer than 200,000 ATMs. That means Indians have less access to ATMs than people in Kenya, Nigeria and Egypt, according to Tufts.
Related: Is a banking revolution coming to India?
In rural villages, reaching the nearest cash point can require a lengthy journey. If 66,000 ATMs are out of order at any given time, that means time is wasted trying alternative ways to get cash.
In areas with no local bank branches, a broken ATM can leave customers with no way to access funds.
Prime Minister Narendra Modi has made financial inclusion one of his top priorities, and has promoted the use of mobile payment systems. The data suggest that with only one cash point for every 6,500 Indians, ATMs might also need another look.
Correction: An earlier version of this story overstated India's population.