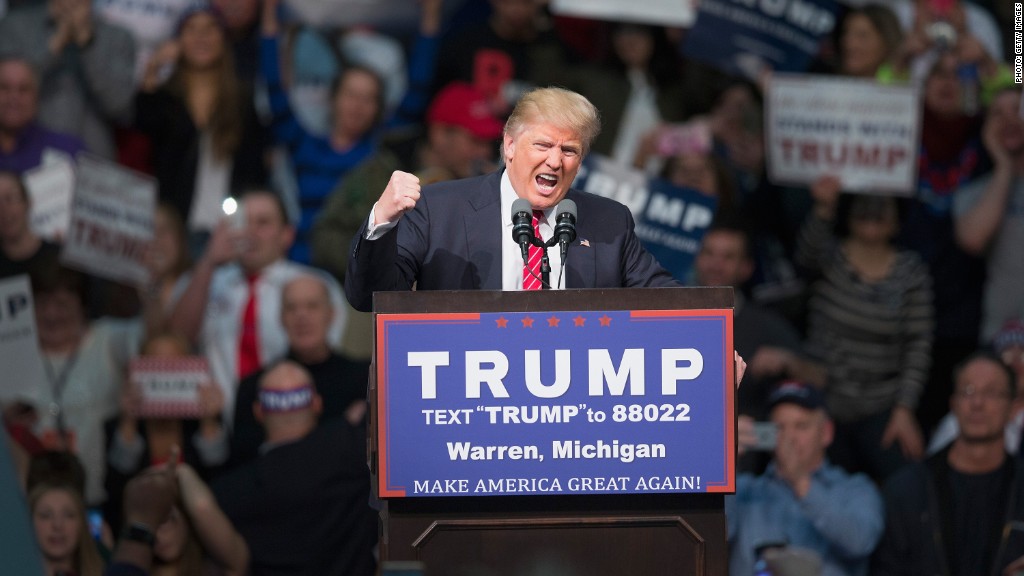 Donald Trump has refused to release his tax returns until, he says, the IRS completes its audit.
There is, of course, no indication of when that will be. And the IRS is required by law to say nothing publicly about anyone's tax return ... ever.
But on Wednesday one of the Senate's top tax writers -- Democrat Ron Wyden of Oregon -- introduced a bill that would compel all presidential nominees to publicly disclose their three most recent tax returns. And if they don't, Wyden's bill would authorize the Treasury to do so for them -- audit or no.
Related: A peek at Donald Trump's finances
"Since the days of Watergate, the American people have had an expectation that nominees to be the leader of the free world not hide their finances and personal tax returns," Wyden said.
Currently, presidential candidates are only legally required to disclose broad information on their income, assets, liabilities and outside employment, among other things, to get a beat on whether the person would have any potential conflicts of interest in office.
Tax returns offer a different take on a candidate's financial behaviors.
"Tax returns deliver honest answers to key questions from the American public," Wyden said. "Do you even pay taxes? Do you give to charity? Are you abusing tax loopholes at the expense of middle class families? Are you keeping your money offshore? People have a right to know."
Related: Nixon released his tax returns under audit. Why can't Trump?
The prospects for Wyden's bill aren't clear yet. He is collecting cosponsors for the bill this week, his spokeswoman told CNNMoney. And while it is proposed as a standalone measure, she said, it may also be offered as an amendment to the National Defense Authorization Act.
Regardless of the bill's fate, it's another example of political efforts to pressure Trump to release his tax returns.
Meanwhile, Trump's most likely Democratic opponent in the general election -- Hillary Clinton -- has already released eight years of tax returns for this election cycle, and more than 30 years' worth over the course of her public life.