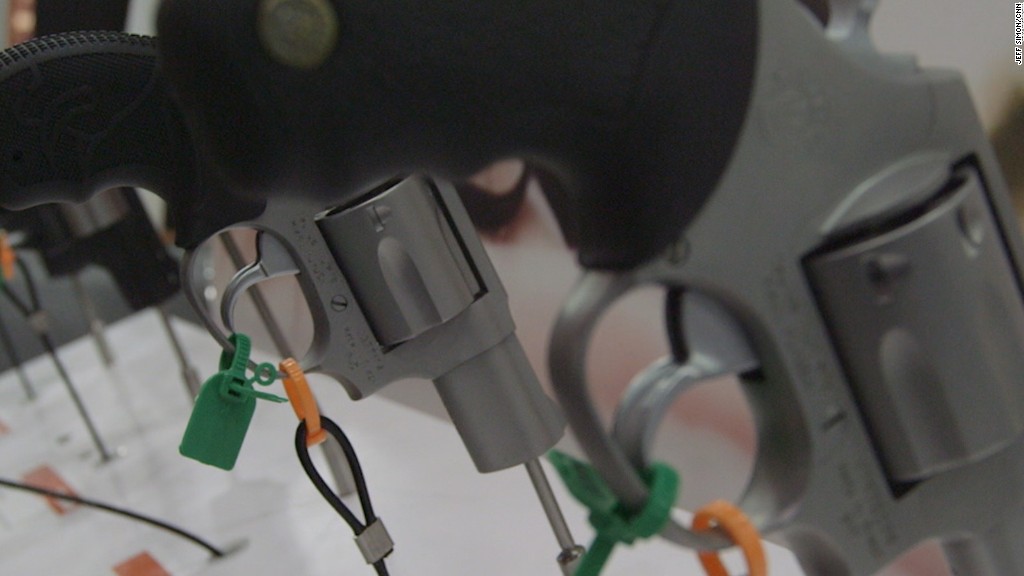 It's no secret that the National Rifle Association, and the gun industry it represents, hates Hillary Clinton with a passion.
Yet Clinton, if elected president, could be the best thing that's happened to the gun industry since President Obama, who has a reputation as the best gun salesman in America.
Like Obama, Clinton has an aggressive gun control agenda, in contrast to Trump, who was endorsed by the NRA.
"Unlike Donald Trump, I will not pander to the gun lobby, and will not be silenced and we will not be intimidated," she said on May 21 at a meeting with Sabrina Fulton, whose son Trayvon Martin was shot to death in 2012.
Clinton wants to reinstate the assault weapons ban, which expired in 2004, expand background checks and hold gun manufacturers and dealers legally accountable for gun violence.
"They're going to go after anything they deem to be evil," said Mike O'Dell, spokesman for AR-15 manufacturer CMMG at the annual NRA meeting in Louisville, Kentucky.
Related: Obama is the best gun salesman in America
But O'Dell admitted that there are advantages to selling guns in a gun-control atmosphere.
"Our sales are definitely going to skyrocket [if Clinton is elected] along with any AR-15," he said. "That's the kind of the mentality in America: 'You're telling me I can't have that? Well, I want one more, now.'"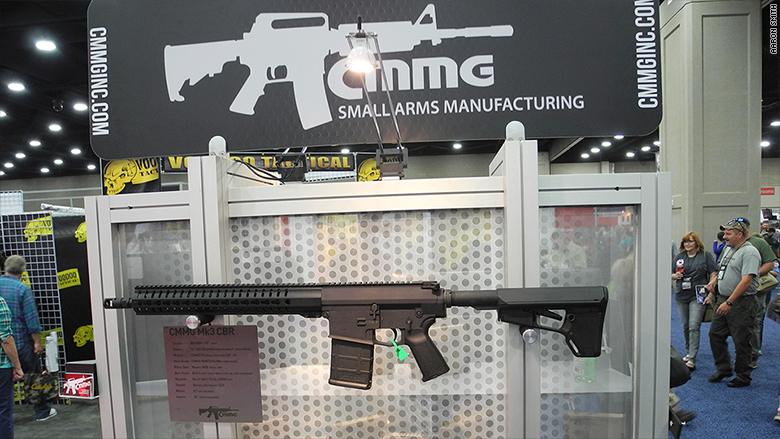 Gun sales during Obama's tenure have skyrocketed. Federal background checks, a loose proxy of gun sales, hit a record in 2015 and have made double digit gains this year, putting 2016 on track to set another record.
O'Dell said that Clinton would be "good for the industry short term." But that's nothing to celebrate, he said, "because if she actually gets her way, the gun industry might not exist later."
Clinton's gun control platform has made her the subject of scathing attacks from NRA leaders Wayne LaPierre and Chris Cox.
She has expressed an affinity for Australia's gun buyback program, which the country implemented in 1996 after a mass shooting to get Australians to turn in their assault weapons and other guns.
"I think it would be worth considering doing it on the national level if that could be arranged," she said in 2015.
That's the kind of idea that has gun owners worried that the federal government could confiscate their guns.
Related: The recent rise and fall of the AR-15
"She wants to take your guns away," said Marty Daniel, owner and founder of AR-15 manufacturer Daniel Defense. "If Hillary's elected, we'll have the best four years [of sales] that we could ever have. But I would not trade that for what's best for our country, because it would be terrible for our country."
O'Dell and Daniel both said that their biggest concern about Clinton, if she's elected, is that she could appoint Supreme Court justices who adhere to her gun control philosophy. This, of course, depends on whether any of the existing justices die or retire during her potential term in the White House.
LaPierre said, in his speeches and his writings, that the 5 to 4 conservative to liberal majority that was in place when Antonin Scalia was alive benefited gun owners when the Supreme Court struck down handgun bans in Chicago and Washington, D.C. But he says the one-vote majority could swing the other way if a Democrat continues to occupy the White House.
"The destruction of the Second Amendment-protected rights of all Americans has emerged as the centerpiece of Hillary Clinton's presidential campaign," wrote LaPierre in a recent column.