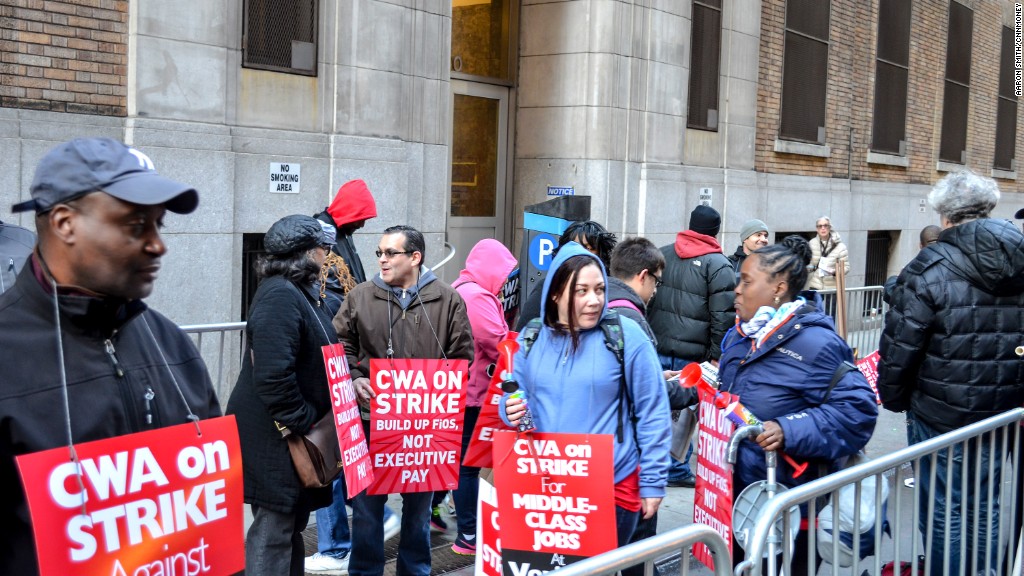 Verizon and its striking labor unions reached a tentative deal on Friday, potentially ending a six-week labor dispute involving 36,000 workers.
U.S. Labor Secretary Thomas Perez announced that Verizon and the unions have reached an "agreement in principle" on a four-year contract. He said he expects Verizon's (VZ) striking workers to be "back on the job next week."
Verizon and its unions confirmed the deal but did not release specific details. However, the Communications Workers of America said Verizon has agreed to add "good union jobs" on the East Coast as part of the agreement. The CWA also said the agreement will improve the living standards of working families, and paves the way for the first contract for wireless retail store workers.
"This proves that when we stand together we can raise up working families, improve our communities and protect the American middle class." Chris Shelton, president of the CWA, said in a statement.
The International Brotherhood of Electrical Workers said it plans to share details on the agreement with its members in the coming days.
The deal was reached after 13 days of talks at the Department of Labor aimed at ending the impasse. Perez said the parties are working to get the deal in writing, and will then submit it to union members for ratification.
Related: Verizon strike is hurting its stock
"This tentative resolution is a testament to the power of collective bargaining," Perez said in a statement.
After working without a contract since August, Verizon union workers walked off the job on April 13. The main sticking points were complaints about poor working conditions, pensions being capped at 30 years of service and jobs getting shipped overseas.
The strike, which is the biggest in the U.S. since a 2011 Verizon dispute, mostly involved workers who service the company's landline phone business and FiOS broadband services.
The labor dispute has taken a toll on Verizon's business. Lowell McAdam, Verizon's CEO, said earlier this week it's been harder for the company to sign up as many new customers as before the strike began.
Verizon stock has also lagged behind the broader market as well as peers AT&T (T) and Comcast (CMCSA). News of an agreement helped send Verizon stock 1% higher on Friday.
Two weeks after the strike began, Verizon said it was investigating 57 instances of network sabotage and suggested striking workers were to blame.
--CNNMoney's Paul R. La Monica contributed to this report.