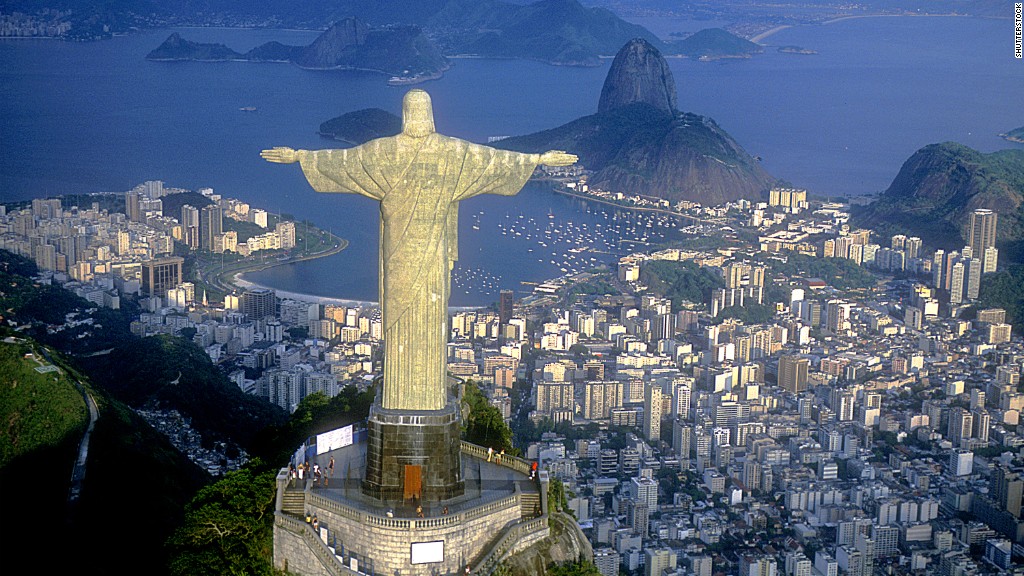 Amid a political crisis, Brazil has dived deeper into recession.
Brazil's economy, the largest in Latin America, shrank 5.4% in the first quarter of this year, according to government figures released Wednesday.
The news comes as Brazil is only 65 days away from hosting the Summer Olympics in Rio de Janeiro and the country is in the midst of immense political turmoil.
Just last month, President Dilma Rousseff was temporarily suspended by a congressional impeachment vote. Her vice president, Michel Temer, has taken over as interim president.
Experts had forecast Brazil's economy to shrink more than it did. The better-than-expected number reflected a last ditch effort by Rousseff to win over public support by increasing government spending in April prior to the vote.
"The breakdown of the contributions to [economic activity] still reveals extreme weakness in key parts of the economy," says Neil Shearing, chief emerging markets economist at Capital Economics, a research firm.
Brazil is in its longest recession since the 1930s. Inflation has spiked up, consumer confidence has plummeted and a massive corruption scandal continues to engulf public officials two years since it first began. The bad news doesn't stop there.
Related: Brazil recession: I've never seen anything like this
On Tuesday, government officials announced that unemployment in Brazil had shot up to 11.2% in the period between April and February. There are 11.4 million unemployed Brazilians, up nearly 20% from a year ago.
Brazil's recession began at the beginning of 2015 as prices of commodities -- its main engine of growth -- crashed, and the corruption scandal at the state-run oil company, Petrobras, engulfed politicians of all stripes and many business owners.
Put together -- the political crisis, recession and Zika virus -- have raised concerns about Rio's readiness to host the games. So far, Olympics officials say facilities are nearly all done and express confidence that it will be a successful Olympic games.
Related: Michel Temer: 5 things to know
Still, the political crisis will stand in contrast to any Olympic cheers heard in Rio. Temer, the interim president, has already hit road blocks. Three weeks into office, two of Temer's ministers have resigned due to corruption accusations.
On Sunday, leaked phone call recordings showed Temer's new Transparency Minister -- who was appointed to combat corruption -- advising a senator on how to dodge a corruption probe. The minister, Fabiano Silveira, resigned Monday. Planning Minister Romer Juca stepped down last week when recordings showed he was attempting to obstruct a federal investigation.
Political turmoil won't help Brazil battle a tough global economy. Commodity prices remain low as China, a major importer of commodities, is still in the midst of a slowdown. Brazil has greatly increased its dependence on China as a trade partner.
Brazil's central bank estimated in March that the economy would shrink 3.5% for all of this year. Last year, Brazil's economy contracted by 3.8%.