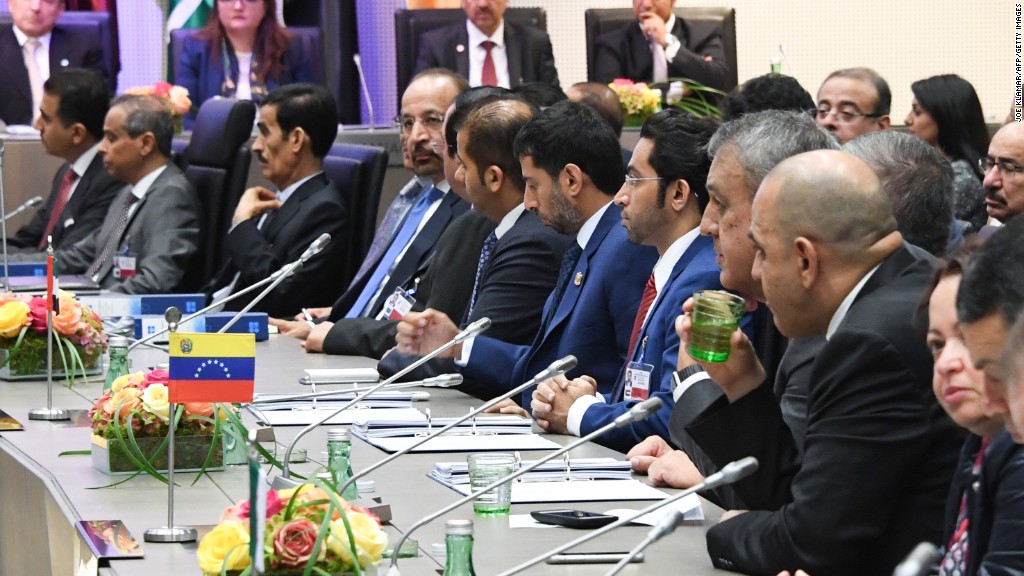 OPEC isn't going to stop flooding the market with oil any time soon.
The oil cartel wrapped up its summit in Vienna on Thursday by deciding not to change its output policy. It's a sign of continued dissension within OPEC as well as confidence that its strategy of all-out production is working to rebalance the markets.
But the OPEC summit wasn't without a bit of drama. The meeting discussed a proposal by Saudi Arabia to implement a cartel-wide production quota range aimed at restoring a sense of unity to the fractured group, a Nigerian delegate told CNNMoney's John Defterios.
However, OPEC members failed to agree on that idea.
The proposal, floated by new Saudi Arabia energy minister Khalid Al Falih, would have attempted to limit OPEC oil output to a range of 31.8 million to 32.5 million barrels per day. That would have been down from current production of 32.77 million barrels a day now.
Oil prices fell 1.5% to $48.25 a barrel following the OPEC summit.
OPEC did reach two lower-profile agreements. First, OPEC decided to name Nigeria's Mohammed Barkindo the group's new secretary general. He replaces Libya's Abdullah al-Badri, who had been serving as acting secretary-general.
OPEC also agreed to allow Gabon to rejoin the group. The West African country will be OPEC's smallest member.
Related: Don't write off American oil boom
The decision to avoid a production quota reflects increased confidence that the cartel's strategy is working. Despite an epic supply glut, OPEC in November 2014 decided to keep pumping away in an effort to steal market share back from higher cost producers in the U.S. and elsewhere.
"In the future we may need that (quota), but at this time the atmosphere is positive and the market is comfortable for us," Qatar's energy minister Mohammed bin Saleh al-Sada said during the press conference.
OPEC flooding the market with oil hasn't killed the American oil boom, but cheap prices have forced U.S. oil companies to pump less. As of March, U.S. oil production is down by roughly 500,000 barrels per day from the April 2015 peak.
OPEC said it believes non-OPEC supply peaked in 2015 and is likely to decline by 740,000 barrels per day this year due to shrinking cash flows and investment cutbacks.
"The market is moving through the balancing process," OPEC said in a statement following the meeting.
Qatar's energy minister expressed confidence that the rebalancing in the market has put a bottom beneath the price of oil, which has nearly doubled from $26 a barrel in mid-February to $50 a barrel last week.
"We've seen that the worst is over. We all tolerated the dropping of oil prices," al-Sada said.
Yet it's clear that tensions still exist within OPEC. That's especially true between Saudi Arabia and Iran, which is focused on ramping up production to pre-sanctions levels despite the recent supply glut. Just like after the failed Doha "freeze" summit in April, Iran wasn't on board with any output limits.
Despite the recent squabbles and failure to reach agreements, OPEC officials attempted to present a united front.
Al-Sada insisted the meeting was "successful" and OPEC is a "very valuable organization and we are all behind it."
OPEC's outgoing secretary-general also tried to ease concerns over OPEC's waning influence.
"Don't take that notion that OPEC is dead. OPEC is alive," said al-Badri.
The next OPEC meeting is set to take place November 30 in Vienna, though the cartel said it could meet earlier depending upon market conditions.